Utility Vehicles at Home on the Ranch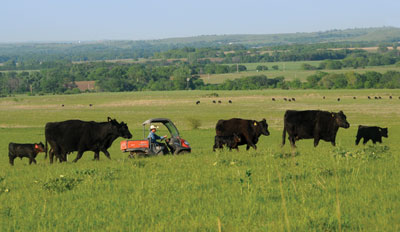 Horses, dogs and utility vehicles—it takes it all to get the job done on the ranch. At Downey Ranch, Inc., in Wamego, Kan., all three are utilized to help Joe Carpenter and his wife, Barb Downey, manage their 550-cow registered Angus and commercial operation. With the pastures of the ranch spread out about 5 miles, their livestock trailer often has a utility vehicle in the front and horses in the back.

Except for short trips to AI cows, Downey and Carpenter often just take their utility vehicle, modified with accessories to work on the ranch, and their laptop. If the cattle have been gathered the day before, they can go right to work—pulling up their Kubota RTV500 chute-side, turning on the computer to access breeding records and organizing their AI supplies on the utility vehicle's bed.

The farm's first utility vehicle purchase was in the late '80s, a John Deere demonstration model that Downey's father bought.

"I wasn't sure what we would use it for and named it the EGT for 'expensive green thing.' Turns out we used it for more than I thought we would," Carpenter says. "Now we also have a Kubota, and we use them both for nearly everything—fencing, gathering cattle and tagging calves. There are still things that a horse can do that an ATV can't, especially cattle handling, but most of the time, using a utility vehicle can really make a job easier."
Accessories that work. Ask Carpenter for instances when they've used their utility vehicle on the farm, and the list is endless. The utility vehicle is their chute-side AI workstation; their quiet, sneak-attack tool to tag day-old calves, their electric fence unroller; their generator to warm the thawing water for AI; and their throw-a-hay-bale-in-the-back cattle mover.

"When we go to the pastures to tag registered newborn calves, we also put in an engraved tag with their identification number on it. The power inverter lets us use our engraver right in the pasture," Carpenter says. "The utility vehicle is so quiet, you can get closer and tag the calves before they run away.

"When we AI, we use our utility vehicle and horses to gather the cattle and then drive the utility vehicle right up next to the squeeze chute to spread out the supplies we will be using that day. It's our mobile office in the pasture, " he says. "It makes it easier to plug in our thawing water right there instead of going back and forth to the office for warm water."

But there's even more their utility vehicle can do. Carpenter built a sprayer attachment for the vehicle, as well as a bulk feeder with auger, to make the ranch operation safer and more efficient.

"We built a sprayer on the back of the utility vehicle to help spray thistles and brush and to provide water during spring burning," Carpenter says.

In their Kansas Flint Hills terrain, thistle seedlings can quickly turn pastures into woody brushland. Their native-grasses pastures require nearly yearly burning in the early spring to stay in grazing condition.

Since having large amounts of available water is critical during spring burndown, Carpenter outfitted the sprayer attachment with a larger spray tank than a typical four-wheeler could carry.
He further modified the sprayer with a larger-capacity, 12-volt pump that can move more water per minute. "When we are burning pasture, the pump can output 5 gal. per minute, so we installed a regular garden hose and nozzle. It's a lot better than a 1.2-gal.-per-minute wand, and a lot safer," Carpenter says.

The second accessory Carpenter built was a bulk feed system. He took the hopper of an old Case IH combine, built a 600-lb.-capacity grain tank and installed a separate battery for power. He mounted the feed tank onto the back of his John Deere utility vehicle. The auger sticks out on the left side about 1½' to fill feedbunks as he drives by.
More tools to do the job. In recent years, utility vehicle manufacturers have fortified the machines to do more on the farm and ranch. Accessory packs from ATV and utility vehicle manufacturers have expanded as well. Small-scale manure wagons, front-end manure scrapers, three-point hitch trailers and low-drift boomless sprayers are just a few of the implements already on the market from a number of sources. For links to a variety of accessories and to view the latest models from ATV and utility vehicle manufacturers, go to www.BeefToday.com. BT

---
Farm Riders Need to Be Safe, Too
Farm utility vehicle operators should adhere to the safety guidelines of the respective manufacturer. Even at low speeds, accidents can happen. Farmers and ranchers should pay close attention to changes in terrain and watch for unusual animal reactions to vehicles in pastures.
Before you ride, consider these safety tips:
Always read the owner's manual carefully before operating a utility vehicle. Adhere to all of the warning labels posted on the vehicle, warnings and instructions in the owner's manual and safe operating manuals or videos.
Seat belt use is imperative when driving or riding in a utility vehicle. Do not carry more passengers than the vehicle is designed for.
Utility vehicles are designed for off-road use. Follow all local, state and national transportation laws.
Drive at safe speeds and stay alert to changing terrain. Properly secure the load when towing or hauling to prevent shifting weight.
Follow all directions included in the owner's manual regarding any riding gear, clothing or helmet recommendations, dependent upon utility vehicle model and manufacturer.
Visually inspect tires, wheels and attachments to ensure they are in good working condition.