Choose Sires Wisely
Your herd profitability depends on selecting the right one
The abundance of selection tools available make breeding decisions ever more complicated. So how do you select one bull, or a group of bulls, that will produce the most profitable calves for your operation?

"Bull selection accounts for 75% to 80% of the gene flow in your herd over time. So, while replacement female selection is important, sire selection is essential," says Bob Weaber, cow-calf Extension specialist for Kansas State University. "If you make a good choice, you will benefit over the long term. If you make a bad choice, you have to pay the price for quite a while, if you keep replacement heifers."
"Depending on what your market strategy is, it should influence what traits you use to select a sire. One of my pet peeves is the practice of some producers who have a particular marketing scenario in place, and then select bulls that have a completely different set of traits. When you uncouple those actions, you give up economic opportunity," Weaber says.

"I encourage producers to take bull selection in a two-step process," he continues. "First is actually a step before sire selection, per se. It's breeding system design—thinking through what product you want to produce, which should be tightly coupled with what is successful in the marketplace or your market region."

For example, will you sell the calf crop at weaning or retain ownership of them through finishing? Will you keep replacement heifers? If you sell calves at weaning, their weight, growth and hide color are important genetic factors in earning premiums. But if you retain ownership through finishing, yearling weight and carcass quality may be important factors to consider in bull selection.

"Too often, producers think about breeding systems and marketing systems in separate streams of thought," Weaber says. "These thoughts should be tightly coupled. It's where the costs are and where the revenues are. If you don't pay attention to that, you are missing the boat."

Consider your options. Cattle business consultant and Beef Today columnist Cheramie Viator agrees. "This single marketing decision will dictate the type of bulls that I'm going to buy and the type of cow herd that I'm going to run," she says. "Knowing the end that I have in mind and the environment the cattle are raised in tells me the type of bull I need to take my operation to the next level of profitability."

Environment selection is important for Viator, who works with several top ranches in Texas, Wyoming and New Mexico. Under environment, she includes weather, terrain and forage availability and type.

"My producer-clients run in similar environments, in terms of being low-input feed operations. That requires cattle that are low maintenance, good footed and heavily muscled," Viator says. "The operation I work with in the Midwest, a seedstock Charolais herd, can take more growth for their terminal breed bulls. Their forage base can support that, so we look for as much power and muscle as we can get and still maintain calving ease and fleshing ability. So, the environment and the end goal tells me what to select for."

In the Southeast and Gulf Coast, heat tolerance is one reason producers consider a structured crossbreeding program. Dick Beck of Three Trees Ranches in Georgia has incorporated more Brangus genetics with his Angus seedstock, for "Angus Plus" (13⁄16 Angus, 3⁄16 Brahman cross) bulls that are more tolerant of extreme summer heat.

Crossbreeding tools. "The typical U.S. commercial producer has been lulled into a straight-breeding program because of its simplicity and philosophy where market premiums are used as proxies for profit," Weaber says, "but they are giving up a lot more than what they realize. It takes a lot more than a few dollars per hundred weight premium on calves to offset the value lost due to decreased heterosis.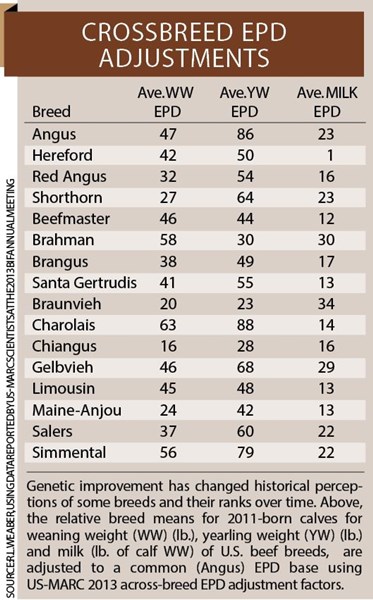 "There are a many crossbreeding systems that are easy to implement for medium-size producers that generate a lot of value on the cow side in reproductive efficiency, longevity and calf performance," Weaber says.

The first tool producers can use to select bulls in crossbreeding programs is across-breed EPD adjustments, which lets you convert animals from one breed EPD base to another—for instance, from a Simmental-base to an Angus-base. This allows producers who are familiar with one breed's EPD base to look at bulls of another breed, rather than try to learn a new base.

The second tool for selecting across breeds is the across breed EPD adjusted genetic trends. (See chart at left.) These trends provide valuable information on the selection pressure that various breeds are placing on different traits and the relative ranking of breeds.

"Angus, for example, used to be considered to be moderate in growth and moderate in lactation. Now, their genetic averages are nearly the same in terms of yearling weight performance as Simmental and Charolais, and similar in lactation potential to Simmental and Gelbvieh," Weaber says. "Thirty years ago, they were clustered with Red Angus and Hereford–separate from the Continental breeds. Today, a producer has to be really aware of genetic packages they get in terms of growth, mature size and lactation potential. The assumptions of breed differences from years ago are pretty much turned on their head."

Daughter decisions. Bull selection cannot be done without consideration of the heifers you might retain. "The drought has made cattlemen across the country really think about improving production efficiency," Weaber says. "One of the challenges is selecting replacement heifers that fit their environment."

"If you are picking a bull to produce replacement heifers, a different suite of traits become economically important," he explains. "You may want to pick a bull that contributes to the maternal heterosis of those replace­ment heifer candidates and matches your production environment in terms of moderate mature size and lactation potential—rather than the high growth and carcass traits a terminal sire would bring to the mating."

"Once you've got the mating decisions sorted out to produce replacement heifers, you can then focus on terminal traits for the rest of cow herd. One bull won't be able to do everything; you may want to pick different types of bulls to do specific things."

Keep it simple. "When choosing a sire, many producers are focused on end-product traits. While I think those traits are important, most cow-calf producers who sell at weaning in the traditional livestock market scenario have almost no opportunity to capture the value of end-product trait selection," Weaber explains. "When you make selection decisions that are all carcass focused, you give up valuable selection pressure on calving ease and weaning weight—two factors directly tied to how many calves you will raise each year and what they weigh at the time of sale."

"Genomics have increased the accur­acy value of EPDs," says Beck from Georgia. He goes so far as to only show a few of the EPDs from his bulls to potential customers. Otherwise, they overlook the values that will mean the most to them.

"Historically, we found that cattle that are in the middle of the road and hit a lot of targets are the ones that keep us in the cattle business long term," Viator says. "However, a bull that can't walk also can't breed. I'm going to use a combination of phenotype and structure selection, as well as EPDs, to select bulls that meet a variety of levels for my environment and end goals."

Never have the opportunities to increase the value of your herd and operation been better than they are now. The most important factor is to decide where you want to go; then you can blaze the trail.
Additional charts for across-breed EPD genetic trends and EPD adjustments are available at 
www.BeefToday.com/Maximize_the_Herd
To contact Sara Brown, e-mail sbrown@farmjournal.com.
Maximize the Herd
The Maximize the Herd Series equips cattle producers with the specific information they need to steer their herds to the next level of profitability. Here's what is in store:
Opportunity with Drought
Buy Bulls for the Long Term
Raise Heifers to Be Better Cows
The Best Forages for Your Cattle
Handle the Herd with Care

www.BeefToday.com/Maximize_the_Herd