Bluegrass Beef Revival
As tobacco demand continues to fall, beef production has become more important to the Bluegrass State
Plenty of Thoroughbred racing champions and bourbon distilleries can be found in Kentucky, but so can quality beef cattle. This past year, Kentucky jumped back above the million-head mark in beef cows at 1,007,000 head thanks to the addition of 15,000 more females.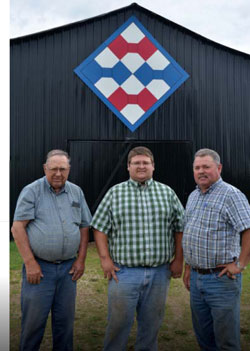 Three generations of the Downs family are actively involved in managing their diversified farm. Left to right, grandfather Doyle, son Mark and father Steve.
Part of that herd increase was thanks to producers like Steve Downs, who describes his Loretto, Ky., farming operation as being a "jack of all trades." Downs grows row crops, raises cattle and even plants some tobacco. 

This past year, Downs planted 94 acres of burley tobacco, but since demand for tobacco has dropped, he decreased to 60 acres this year. This trend is seen throughout the state: 91,700 acres were harvested in 2014 and USDA estimates only 76,500 acres in 2015. 

"I leased another farm this year, and we're putting some more cattle on it. We're raising more cattle and less tobacco," Downs says.

Downs Farms consists of 320 cows on 1,500 acres of owned and rented ground. The family also develops replacement heifers and backgrounds feeder cattle.

While Kentucky's agricultural economy doesn't depend as heavily on tobacco as it did in the past, beef operations like Downs' make a big impact for the state. Kentucky has the largest beef cow herd east of the Mississippi River and ranks eighth nationally in herd size. 

Some of the Bluegrass State's standing as a beef producing state can be credited to the Kentucky Agricultural Development Fund (KADF), a program created in 2000 to aid in local agricultural development. 

Two years prior to the KADF, the tobacco industry had a monumental settlement agreement to pay states across the country over a 25-year period. Half of Kentucky's Master Settlement Agreement funding has gone towards KADF, amounting to more than $440 million in revitalizing the farm economy. The beef industry has been one of the largest benefactors to the program.

Serving as the Kentucky Cattlemen's Association president in 2014, Downs has seen the value the tobacco settlement has brought local producers through improved genetics and cattle-handling facilities.

"Before all of that started 15 years ago, Kentucky cattle didn't have a very good reputation out at the feedlots," Downs says, adding it was tough to sell cattle as they were heavily discounted for perceived lack of quality and possible health risks compared to cattle raised out west.

"On the tobacco settlement dollars, I'd say the cattle industry in Kentucky has probably benefited more from that than any diversification program they've invested in," Downs says. There is now an expectation when entering a stockyard in Kentucky that all of the cattle will be high quality.

Downs is also a member of a group of area producers helping to raise the profile of bred females sold through the Central Kentucky Premier Heifer Sales (CKPHS).

David Sandusky of Sandusky Farms in Lebanon, Ky., serves as a chairman for CKPHS and says the group sells 175 to 200 bred heifers each June and November at an auction they host. Spring calving heifers are sold in November, while fall calvers will be auctioned in June.

In addition to the cattle sold at auction, another 1,000-plus heifer are sold via private treaty.

"We continue to try and grow our market base. We would like to be able to market 1,000 spring and 1,000 fall calvers— that's where we have our goal set," Sandusky says.

Heifers are bred to calving ease ( 7 CED or better) Angus bulls either by AI or natural service. Ninety percent of the heifers sold are Angus-based and are either home-raised by the member producers or purchased from local farms at the sale barn to be backgrounded.

"We are getting our heifer numbers where we want them, but our challenge has been finding enough customers to accommodate the supply," Sandusky says.
Most of the cattle stay in the state, but some go to southern Indiana and northern Tennessee. Heifers have been sent to North Carolina, South Carolina, Arkansas and Missouri.

"Right now, it is easy to sell bred heifers because the market is so strong," Sandusky says, "but the challenge is when the market is not as strong, it is harder to find and maintain that customer base."

CKPHS has also worked with Superior Livestock Auction and other Internet-based sales to help market cattle.

The group utilizes a consulting veterinarian for the heath program and receives guidance from local University of Kentucky Extension specialists on management practices.

Sandusky believes the quality of cattle would stack up against cattle from any other area, but the main problem could be the travel distance for producers in drought-affected states to the west. "As they get more moisture in that part of the country, they are going to want to rebuild herds. Cattle from Kentucky will work really well for that," Sandusky says.

He explains Kentucky-raised heifers graze endophyte-fescue grass and tend to still do well on a variety of forages, such as brome, Bermuda or native pasture, once they leave for other areas.
Hardy fescue grass and improved cattle genetics have helped stocker producers as well. Tim White of Lexington typically purchases small groups of cattle to background from local sale barns. He chooses only to buy heifers though. "I can buy the heifers at a discount," he says.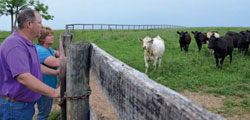 Stocker cattle are just one facet of Tim and Amy White's farm operation, which also includes commercial cows serving as embryo-transfer surrogates for registered herds in other states and a growing seedstock herd of their own.
Heifers weighing the same as steers tend to be $15 per cwt less than steers. When they are sold it is only $6 per cwt behind a steer, which results in an additional $9 per cwt gained by the heifers. "The mark-up is a lot of my profit," White says.

White runs between 1,500 to 1,800 heifers per year as stockers until they are ready to enter the feedyard. The heifers are forward contracted with feedlots in Kansas, Nebraska, Colorado or Texas. 

Gains in the feedlot have been good, too. Usually the heifers will keep up with 85% of the steers in terms of cost per gain.

"The feedyard mangers want to know why, but I can't answer that other than it has to be our fescue," White says. Before entering the feedlot, heifers will average 1.65 lb. per day during a summer grazing season on endophyte-fescue.

White doesn't put all his eggs in the stocker basket though."Our program is diversified. That's one thing I learned way back when we first started in 1990," White says of White Farm, which he owns with his wife, Amy.

"We learned that you don't do one thing, especially in the cattle business. Because when one thing is sour, something else is good," White adds.

White Farm raised tobacco for a few years but stopped in 1998. Now, the focus has been on multiple cattle ventures and 180 acres of row crops.

A herd of commercial cows serve as surrogate mothers to embryo transfer calves raised by the Whites for seedstock operations across the country. The remaining commercial cows that don't get an embryo will be bred by AI or natural service.

The recipient program has helped drive additional revenue and moved the Whites towards starting their own seedstock herd.

This past spring was the first bull sale at White Farm, with 43 bulls being sold. The majority of the bulls were Angus, with a few Red Angus and SimAngus sires offered.

"That's something that was new for us, and we're hoping that we'll continue," White says.

To help bring in more bidders, 35 open commercial heifers were sold. The Angus bulls averaged less than $4,100, while the replacement heifers brought home an average price of $1,857 per head.