The Best Farmer Ideas From Cattle Producers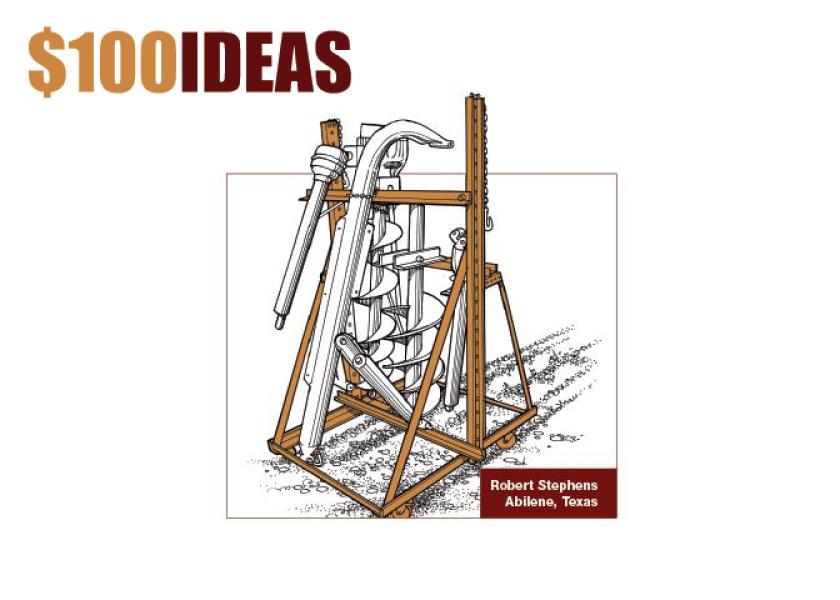 The best ideas for the farm are often born out of necessity. We've rounded up the best ideas from our media partner Farm Journal's $100 Ideas contest. Check out these ideas, and submit your own at the link on page 2.
Post Hole Digger Cart
Robert Stephens, Abilene, Texas
With my handy cart, attaching the post hole digger to my tractor is a one-man job. I built it from scrap angle iron, strap metal, the center frame of a chemical spray rig and caster wheels. I roll the cart under my shop's chain hoist to lift and attach the three-point digger frame. By removing the side bolt on the top bar, it swings down for easier access to the gearbox and auger. The hoist lifts the attachments, which are safely chained to the cart until needed.
Flexible Feedline Adapts to Cattle Size
Joshua Wipf, Alexandria, S.D.
We built a self-adjusting feedline that accommodates all sizes of cattle from calves to 2,000-lb. cows. We used a 1¼" pipe that floats within 11" long by 3" wide strap iron brackets, which are welded to upright 2½" pipes about 12" above the concrete wall. The bracket is bent 1½" at 90° and notched with a semi-circle on both ends so it fits tight against the post. Cows can lift the pipe with their head, yet the calves are not strong enough to lift the pipe and slip out.
Cattle Crossing Gate
Dale Wilson
Abbeville, S.C.
My calves jumped the cattle crossing, so I made a second gate. On each gate post, I installed two 1" PVC pipes joined in an "L" shape and used electrical pipe straps to hold them in place. Then I attached a long spring to the sides of each pipe. Tennis balls were also added to the ends of the pipe. Now I can open the gate with my truck and drive right through.
Want to read more great ideas? Read page 2.