I'm a Drover: Open Gates to Open Minds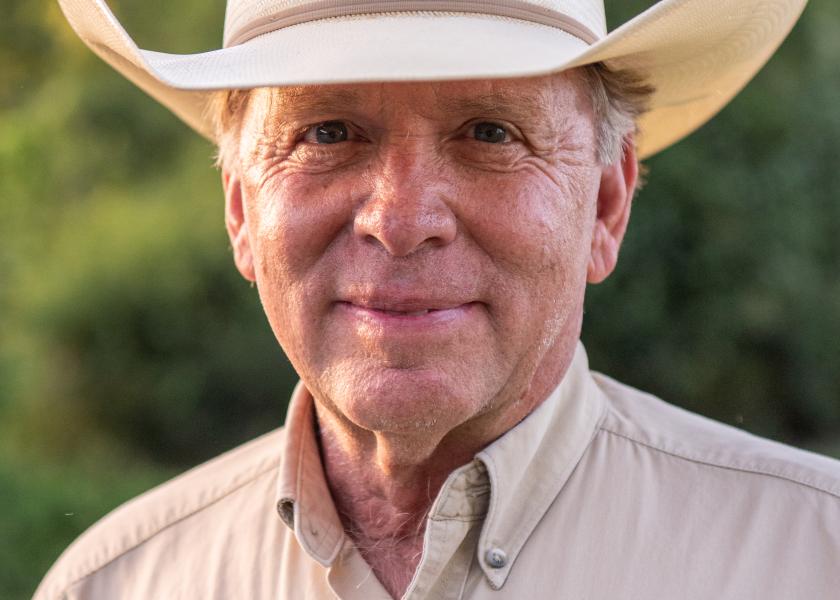 Nestled against the San Marcos river near Lockhart, Texas, Langford Cattle Company strives to produce high-quality black Angus seedstock, committing to continual improvement of the breed — a goal that's common for modern ranching. But what makes the ranch unique is its commitment to educational outreach and ambassadorship for the cattle industry. Through partnerships with Certified Angus Beef and the Texas Beef Council, hundreds of visitors travel to the ranch each year to learn about raising cattle, environmental stewardship and beef production. 
But as owner-operator and fourth-generation rancher Bodey Langford explains, it's all part of the day job. 
"I used to think it was just work, work, work and raise the cows and that was our day job, but our day job has to become more in tune with the public and the image that we portray to the to the general public. The educational end of it is just part of our day job now," he says. "You just can't be an independent cowboy anymore. You've got to let people into your world and explain the good things that you're doing."
Visitors from many backgrounds, from restaurant suppliers and salesmen, to international export partners tour his ranch, often meeting live cattle for the first time.
"A lot of the people that we host are urban people that are involved in marketing the products that we raised, but they know little about them. The very first tour I held was organized by Certified Angus Beef, and it was such an interesting and diverse group of people that came out. Their eyes were so big, and these were people that had a lot to do with beef but had never been around cows, never been around ranching and here they were, coming up to the ranch in a bus." 
Since then, thousands more have come to enjoy the hospitality and education Langford humbly offers. He tailors the tour based on the group coming to see the ranch, but each tour hits on the high points: Visiting the cattle in the pasture, looking at the crops, a stop out at the river to talk about land stewardship, and of course, enjoying some barbecue.
The importance of sharing the message, Langford says, outweighs some of the nervousness that can come with opening your operation to people you don't know. Agriculture, especially livestock production, has been subject to misunderstanding in media and legislation, and ranchers are key in setting the record straight. 
"Farmers and ranchers have always been very independent. For generations we just thought if we produced our products people will buy them. We didn't have to be public figures. But then the outside input started reflecting on our livelihoods and spreading misinformation about farming and ranching," he says. "It really became necessary not just to be a good producer, but a promoter and an ambassador for our business to try and explain to the general public, who keep us in business by consuming our products, that we do have good practices. We do good things with our crops and our livestock, and we're not abusing the environment or abusing cattle." 
It's good publicity for U.S. beef, he continues. If the people go back and explain to their friends and neighbors that beef is wholesome and safe and cattle are raised in a humane way and in a safe and natural environment, that's a powerful impact for the industry. 
Victoria Heller, senior manager of agriculture communications and education for the Texas Beef Council echoes that sentiment, and with Langford's willingness to open the gates, a long-term partnership was formed.
"We know that the best way for someone to fully understand something is for them to experience it. And experiencing a ranch firsthand — the sights, sounds, smells — you just can't replicate that," she says. "At the Texas Beef Council, we work to engage the public, or specific audiences in the beef industry, but we know we need to get them on a ranch to make a lasting impression. And that's a relationship that we've had with Bodey for a long time." 
At the heart of it, it comes down to creating a connection and a lasting impression, Heller says. Ranchers are the most qualified to talk to their communities about beef, whether it be on the ranch like Langford does, or even at their own supermarket. 
"Now more than ever, is the time for ranchers to welcome visitors to experience a day in the life of a beef producer," Heller says. "We often find that ranchers are nervous when asked to open their operations to a group. But at the end of the day, consumers want to feel that connection to another human who has a lifestyle completely different from their own. That's really where it starts. It can be as simple as having a conversation. There are really small opportunities for ranchers to make a really big impact each and every day."
And while state and national organizations, like the Texas Beef Council, are able to provide support and marketing and outreach, ranchers with their boots on the ground already have the connections and greater reach within their own communities to help keep the industry viable for generations to come. 
"There are 254 counties in the state of Texas. Texas is huge and vastly different from the east to the west and the north to the south. With over 149,000 ranchers in Texas, they know their communities better than we will ever know them. They have the opportunity to build upon those relationships in their communities that will have a greater reach than any organization could ever fathom," Heller says. "They're already plugged in. Now it's time to take it to that next level and promote what they do and why it's important, so that we can maintain that livelihood for generations. Organizations like the Texas Beef Council are here to help provide those tools and instill that confidence to help ranchers become advocates for their legacy and the future."
Heller says it's harder to find ranchers willing to have visitors, especially near larger cities that are easier for visitors to travel to but hopes that will change. We don't expect ranchers to have all the answers to every question, but sharing their day-to-day lifestyle is invaluable.
"Every time I get an opportunity to talk to ranchers, I beg them to let us come to their ranch," she says. "Bodey is a prime example of always being willing to open his gates for us. He really has been such a great resource for us and advocate for the beef industry. I would encourage other ranchers to follow his lead."
Langford's dedication to education hasn't gone unnoticed. He was awarded the Certified Angus Beef brand's 2020 Ambassador Award at its virtual annual conference.