Grazing for Profit
The market rally has increased more than just the value of calves. It's increased the value of your management, too.
Want to increase your payday next fall? The grazing plans you implement in the next few weeks will have a dramatic impact on the success of your business this year and in years to come. That's because, in good years and bad, no ranch strategy has a greater influence on your bottom line than grazing management.

Grazing versus feeding. The cattle market rally during the past few months has increased more than just the value of your calves. It's also dramatically raised the value of your management. For instance, weaned calves are projected to be 30% higher this fall, which means each additional pound you add to those calves through grazing management is worth 30% more than last year.

According to university research, feed and forage costs represent 50% to 70% of your annual cow costs, so placing more emphasis on grazing management that redu­ces total cow costs will improve your profitability.

What's startling about cow operating costs is the wide variation between low-cost producers and high-cost producers. USDA's Economic Research Service, for instance, found national total operating costs of $610 per cow in 2012. The low-cost producers in that national survey were found in the Gulf Coast region, where cow costs averaged $387 per cow. High-cost producers were found in the Northern Great Plains, where cow costs averaged $884 per cow. It's no coincidence the nearly $500 difference between low- and high-cost operations is due in large part to the longer grazing season in the Gulf Coast region, compared to the shorter grazing season in the Northern Great Plains.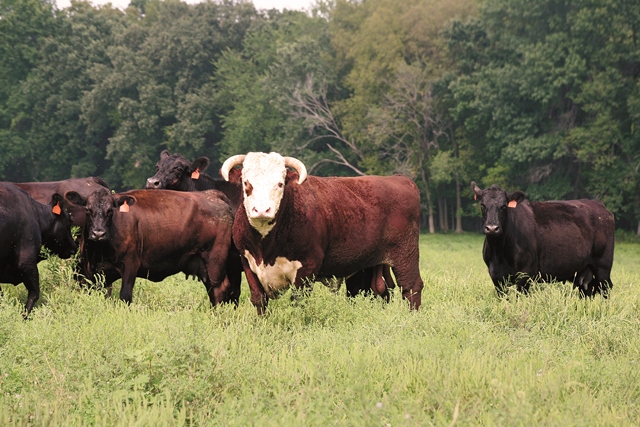 Increasing the number of days your cows are grazing each year will help lower annual feed costs and improve ranch profitability.
---
Even within states, however, dramatic variances are found in cow operating costs. In Kansas, for instance, the Kansas Farm Management Association (KFMA) cow-calf enterprise analysis reports the average cow cost for 2012 was $487 for the 93 ranches participating. "But considerable variability existed as costs ranged from less than $200 per cow to more than $800 per cow," says Kevin Dhuyvetter, Kansas State University farm management Extension specialist.

KFMA has compiled data on cow costs for 30 years, but since 2009, pasture costs and non-pasture costs have been split to provide a better understanding of how management can affect total costs. Not surprisingly, "producers who rely more on pasture and less on non-pasture feeds tend to have lower-than-average total feed costs," Dhuyvetter says. "That's consistent with the common belief that we should let the cow harvest as much of her feed as possible."

Grazing management. Recognizing that you'll lower annual cow costs and improve profitability by increasing the number of days your cows graze, however, is just the start to improving your ranch's grazing program. Range and forage specialists say you must commit to goals that:
Meet the nutritional needs of your cattle from standing forage for as many days as possible each year.
Harvest forage as efficiently as possible.

Proper grazing management requires an emphasis on management, and pasture and rangeland specialists suggest grazing animals be used in a management intensive or rotational grazing system.

"Grazing management is an art, but it is based in science," says Jim Gerrish with American Grazing Lands Services LLC in May, Idaho. "Livestock intensively graze by nature; only people can intensively manage." Gerrish, who spent 22 years in forages and grazing systems at the University of Missouri's Forage Systems Research Center in Linneus, Mo., believes ranchers will find many benefits from adopting management intensive grazing practices.

Management intensive grazing or rotational grazing is a system where livestock graze one portion of a pasture that has been divided into sev­eral paddocks. Livestock are sys­te­ma­ti­cally moved from paddock to paddock based on the stage of growth of the forages and on the objectives of the grazing system. While one paddock is being grazed, the remaining pasture rests. This rest and recovery time allows plants to stay in vigorous growth.

There are many benefits to management intensive or rotational grazing, researchers say: improved forage production, improved rainfall infiltration, reduced runoff, improved soil health, reduced soil erosion, diverse wildlife habitat, improved carbon sequestration, reduced costs of production, reduced fuel use, reduced machinery use, reduced fertilizer and pesticide use, reduced labor and improved animal health.

Regardless of the environment your cows live in, Gerrish says management intensive grazing delivers on those promises. "I have yet to travel to any environment where managed grazing was not being successfully implemented."

Spring turn-out. Management intensive grazing makes you responsible for more decisions about how your cattle will harvest the forage on your ranch. Rain and grass growth will dictate when cattle are moved and when pastures are rested.

The first day of grazing each year, for instance, can vary significantly. Research at University of Wisconsin's Dairy Forage Research Center found substantial reductions in forage production when cows were turned out too early.

"If we turn cows loose when grass is 4" tall in spring versus waiting until we're closer to a 12" level, the total seasonal yield of that paddock is reduced by a quarter ton of forage," says Gene Schriefer, University of Wisconsin Extension ag agent. "With current hay market prices in the $100 to $120 per ton range, we're losing $25 to $30 per acre in lower forage production from turning out too early, either in fewer days grazing or lower stocking rates."

Schriefer says spring turn-out is also influenced by how pastures were managed last fall. "Fall is the season when grasses are developing buds for next spring," he says.

"If we grazed tight and forced cattle to clean up the pasture down to a height of 1.5" or less in the fall, we may be grazing next spring's dormant buds," he says. "This will delay the average 12" growth date by about two weeks. That's an additional 1⁄4-ton of feed that we will need to supply or fewer head our pasture can carry."

How producers graze their pastures in the spring will have an impact on grass growth in the summer, and how pastures are grazed in the summer will have an impact on fall forage growth.
"When 50% of the grass is grazed, only 2% to 4% of the roots stop growing," Schriefer says. "At 60% grazed, 50% of the roots stop growing. As we get above 75% defoliation, 100% of the roots stop growing."

Grazing and genetics. Forage specialists and many ranchers often suggest that cows are a marketing system for photosynthesis. The point they are making is that without healthy soil and forages, cattle won't perform, and a ranch won't be successful. Cattle, however, have changed over the past few years, and that may require changes to your grazing strategies.

"The traditional pasture-forage management practices used in the Northern Plains were developed during the era of low-performance livestock," explains Llewellyn Manske, a North Dakota State University range scientist.

Cattle have become fast-growing, high-performance animals, but pasture and forage management strategies have not been adjusted to take advantage of that genetic potential, he says. When modern cattle's nutritional needs are not consistently met, their production efficiency is greatly reduced.

"Nutrient deficiency in cattle diets for two weeks results in calf weaning weights below potential and high annual expenses for cow maintenance," Manske says. "The effects are severe as the period of deficiency increases. With traditional management practices, cattle diets lack adequate nutrients 40% to 60% of the days in a year."

Effective management strategies for modern high-performance livestock, Manske says, provide nutrients at the times and in the amounts required during each production period to maintain efficient conversion of the nutrients into salable commodities such as calf weight.

Manske says grazing management can be improved by coordinating haying and grazing periods that match plant growth stages to better meet livestock's biological and nutritional requirements. The result is lower costs per unit of weight of nutrients, land area per animal unit, feed costs per day and cost per pound of weight gain.
To contact Greg Henderson, e-mail ghenderson@farmjournal.com.