Aggressive Herd Expansion is Underway
The factors of expansion have finally all aligned. Just as the severe drought from 2010 to 2012 reduced total herd numbers to 60-year lows, record-high prices in 2014 and abundant moisture have encouraged ranchers to rebuild herds at an unprecedented pace.
The USDA–National Agricultural Statistics Service (NASS) reports U.S. cattle inventory stood at 92 million head on Jan. 1—the first total inventory of more than 90 million since 2012 and the biggest year-over-year increase since 1981. That's also a 3.5 million-head increase in two years, and the largest total herd since the 92.9 million reported in 2011. Increases in the 2015 and 2016 inventories followed seven consecutive years of decline.
"Cattlemen have aggressively held back heifers for a few years," says John Nalivka, president of Sterling Marketing, Inc., Vale, Ore. "Higher prices and excellent cow–calf profits provided the encouragement to do so at a fast pace."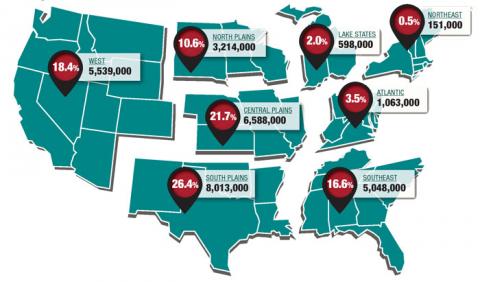 Nalivka's analysis of NASS data and his own balance sheet comparing slaughter numbers with herd counts suggest the current expansion phase is occurring at a record pace.
"Beef-cow slaughter totaled
2.3 million head in 2015," Nalivka explains. "That represents 7.7% of the beef cowherd—the smallest percentage of beef cows slaughtered since at least 1965."
Reductions in cow slaughter and increases in heifer retention helped increase the 2016 beef-cow inventory to 30.3 million head, an increase of 3.4%. This means producers should expect lower prices in 2016, even after the downtrend in 2015.
"We are coming off historic highs in the cattle market, created by unique conditions in both the global and domestic protein markets," said Randy Blach, CattleFax CEO, in January at the 2016 Cattle Industry Convention and National Cattlemen's Beef Association Trade Show. "Dynamics, specifically larger protein supplies, led to a significant correction in price in 2015. A large portion of the market downtrend is over now. However, the cycle shows prices continuing to trend lower in 2016, 2017 and 2018."
After a turbulent 2015, CattleFax analysts predict cattle feeders will have a slightly profitable year in 2016. Stocker operators will experience tighter margins, and cow–calf producers will remain profitable.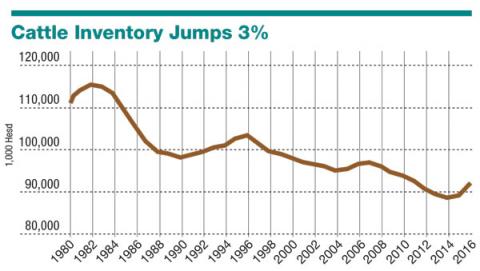 "Cow–calf producers will still be profitable but at substantially lower levels than the past two years," says Kevin Good, senior analyst and fed- cattle market specialist, CattleFax. "We predict the cattle feeder will have tight margins for the year with potential for profitability by midyear."
Ranchers have been primed to expand herds for the past decade, but Mother Nature intervened with a widespread drought that crippled many operations. In Texas, for instance, NASS reports 5.025 million beef cows at the beginning of 2011, but only 3.91 million at the beginning of 2013, a 22% drop.
Nationally, however, the latest inventory report from NASS shows beef replacement-heifer numbers totaled 6.285 million head, a 3% increase from 2015. It's also the fifth consecutive year of increasing heifer replacements, and an 18% increase from the 5.138 million head of replacements reported in 2011. Additionally, NASS says the number of beef replacement heifers expected to calve in 2016 is 3.92 million head, a 5.7% increase from 2015.
"This suggests the 2016 calf crop should increase by approximately 3.8% this year as compared to a 2.3% increase in 2015," says Brenda Boetel, professor of agricultural economics, University of Wiscon-sin–River Falls.
Regionally, the biggest increase in the cowherd happened in the Southern Plains where abundant moisture aided expansion plans. The region, including Texas, Nebraska, South Dakota, Oklahoma, Kansas and Missouri, accounts for 35% of the total cowherd increase from 2015 to 2016, totaling 469,000 head.
Five of those states are home to the  largest numbers of beef cows: Texas, Oklahoma, Missouri, Nebraska and South Dakota. "These states account for 38% of the U.S. beef cows and more than 46% of the increase in the beef-cow inventory. Texas, with 14% of U.S. beef cows, saw a 3.9% increase," Boetel says.
Oklahoma, Missouri, Nebraska and South Dakota all averaged increases of more than 4%.
Increasing numbers of cattle and calves will ultimately lead to increasing beef supplies. Feedyards will find more cattle available at lower prices this year, which will help improve the industry's capacity usage. That scenario will also come to the aid of the nation's beef packers, who have closed four plants in recent years due to dwindling cattle numbers.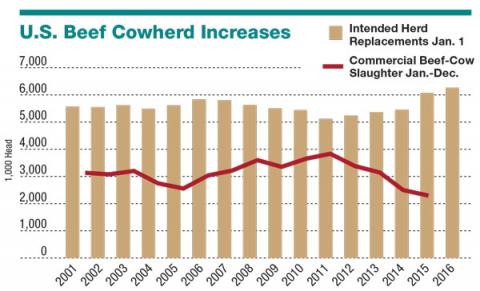 "Average cattle-on-feed inventories will be up 2.5% to 3% during 2016," Nalivka says. "Consequently, cattle slaughter will increase 3% from a year ago, and cow slaughter will be up 3% from the 4% drop we saw during 2015."
Cattle carcass weights were 20 lb. heavier this past fall than the previous year and posted a new record. By mid-January, steer carcass weights were down from the past fall's high, but still remained 22 lb. heavier than the prior year.
"Weights will again increase seasonally into the second half of 2016," Nalivka says. "When combined with increased slaughter numbers, beef production during 2016 will be 4% higher than 2015. On a per-capita basis, total U.S. beef supplies are
projected to be 54.8 lb., compared to 54 lb. in 2015."
Overall, the data suggest increasing cattle and beef supplies will produce lower average prices for calves and yearlings during 2016. While that's unwelcome news for many cow-calf producers, it doesn't mean that a disaster looms for 2016.
"We've seen four to five years of strong profits for cow–calf operations," Nalivka says. "Even with expected lower prices this year, average cow–calf profits should remain near $250 per cow. Historically, that's very good."