February Ends Uphill Run on U.S. Beef Exports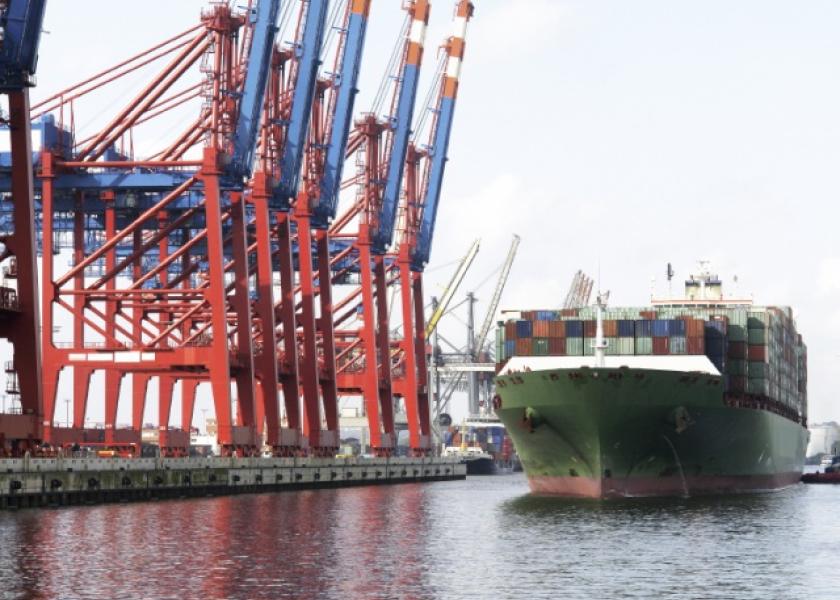 February exports of U.S. pork and beef fell below last year's levels while lamb exports trended higher, according to statistics released by USDA and compiled by the U.S. Meat Export Federation (USMEF).
Pork export volume was down 9% from a year ago in February to 186,745 metric tons (mt), while export value dropped 17% to $455.9 million — the lowest monthly value total since February 2016. For January through February, pork exports were 5% below last year's pace in volume (388,580 mt) and 13% lower in value ($950 million). See February Pork Export Values Fall to 2016-Lows.
February beef exports declined 6% year-over-year to 94,885 mt while value was down 3% to $581.6 million. January-February exports were 3% below last year's record pace in volume (199,651 mt) but steady in value at $1.22 billion. The volume decline is mainly due to lower exports to Hong Kong and Canada, as shipments to most other major beef markets have trended higher in 2019.
Beef export value per head of fed slaughter averaged $309.39 in February, down 4% from a year ago, while the January-February average was down 3% to $296.19. February exports accounted for 12.8% of total beef production and 10.1% for muscle cuts only, down from 13.6% and 10.8%, respectively, in February 2018. For January-February these ratios were 12.5% and 9.9%, each down one-half percentage point from the first two months of 2018.
"The stiff headwinds trade disputes have created for U.S. pork exports have certainly not subsided," said USMEF President and CEO Dan Halstrom. "USMEF is encouraged by reports of progress toward resolution of these disputes, but in the meantime missed opportunities for export growth are mounting. On the beef side there is still much to be excited about, especially with the launch of U.S.-Japan trade agreement talks. A great deal is at stake for both U.S. beef and U.S. pork in those negotiations, as exports to Japan deliver remarkable returns for the entire U.S. supply chain and it is essential that we get back on a level playing field with our competitors."
Impressive growth for beef exports to Japan, Korea; Hong Kong trends lower
Beef exports to leading market Japan remained strong in February, pushing January-February exports 8% above last year's pace in volume (47,695 mt) and 10% higher in value ($309.3 million). Frozen beef exports to Japan, primarily short plate and cuts in the clod/round category, rebounded from last year when frozen U.S. beef was still subject to Japan's 50% snapback duty rate. Variety meat exports (mainly tongues and skirts) have also performed especially well in 2019, soaring 35% in volume (8,707 mt) and 29% in value ($58.9 million). But the competitive landscape continues to intensify in Japan, as major competitors enjoyed another decrease in import duties on April 1. The duty rate for beef cuts from Australia, Canada, New Zealand and Mexico dropped from 27.5% to 26.6%, while the U.S. rate remains at 38.5%. The duty rate for beef tongues and skirt meat from these competitors is now 5.7%, while the U.S. rate remains at 12.8%.
Following a record-shattering 2018, beef exports to Korea continue to push higher, though at a more moderate pace. January-February exports to Korea increased 7% in volume to 35,529 mt while value was up 11% to $261.7 million. U.S. beef continues to make strides in the Korean supermarket and foodservice sectors, driven by red-hot demand for U.S. steaks. Prepared U.S. beef products are also increasingly popular in a wide range of home meal replacement items.
Other January-February highlights for U.S. beef include:
While beef exports to Mexico were steady with last year in volume (40,048 mt), value climbed 13% to $197.9 million. Beef muscle cuts achieved strong growth in both volume (24,434 mt, up 15%) and value ($155.5 million, up 19%).
Exports to Taiwan were 3% ahead of last year's record volume pace at 8,342 mt, but value slipped 6% to $73.7 million.
Beef exports to Central America cooled in February but January-February exports to the region were still up 17% year-over-year in volume (2,357 mt) and increased 14% in value ($13.2 million), with growth driven mainly by Costa Rica and Honduras. Beef exports to the Dominican Republic have surged in 2019, climbing 87% in volume (1,470 mt) and 78% in value ($11.5 million).
Africa has been a promising source of beef variety meat growth this year, with variety meat exports to South Africa (mainly livers) increasing 80% in volume (1,179 mt) and more than doubling in value ($1.1 million, up 113%). Variety meat exports were also sharply higher to Gabon, increasing 311% in volume (739 mt) and 157% in value ($529,000).
As noted above, a slow start to 2019 in Hong Kong and Canada partially offset solid growth in other markets. Exports to Hong Kong fell 40% to 13,712 mt, valued at $110.4 million (down 35%). Exports to Canada were down 15% in volume (15,908 mt) and dropped 13% in value to just under $100 million.
Related Articles: