Market Highlights: Cattle Price Up, Beef Down
Beef prices went down while cattle prices rebounded. ​
By: Andrew P. Griffith, University of Tennessee​

FED CATTLE: Fed cattle traded steady to $1 higher on live basis compared to a week ago. Live prices were primarily $158 to $160 while dressed trade was mainly $256 to $258. The 5-area weighted average prices thru Thursday were $157.87 live, up $1.18 from last week and $250.00 dressed, down $1.37 from a week ago. A year ago prices were $149.13 live and $238.29 dressed.

Cattle feeders and packers continue to haggle over fed cattle prices with neither party willing to bend, much less break. Cattle feeders continue to feed cattle to heavier weights which is one reason packers have slowed purchases.

Steer carcass weights averaged 880 pounds on the week ending February 21st which is 14 pounds heavier than a year ago. Similarly, the heifer carcass weight averaged 823 pounds which is 18 pounds heavier than a year ago.

Cattle feeders have hit a rough patch on closeouts with cattle being harvested. The one bright side is from the purchase of feeder cattle. Feeder cattle prices declined significantly from the end of November and beginning of December through the end of January. The price of feeder cattle have rebounded slightly the past month, but the past month's gains do not come close to making up the losses from December.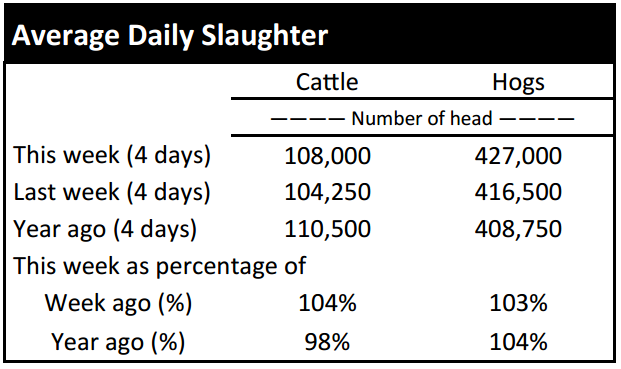 BEEF CUTOUT: At midday Friday, the Choice cutout was $248.99 down $0.21 from Thursday and up $1.15 from last Friday. The Select cutout was $245.63 down $0.95 from Thursday and down $0.30 from last Friday. The Choice Select spread was $3.36 compared to $1.91 a week ago.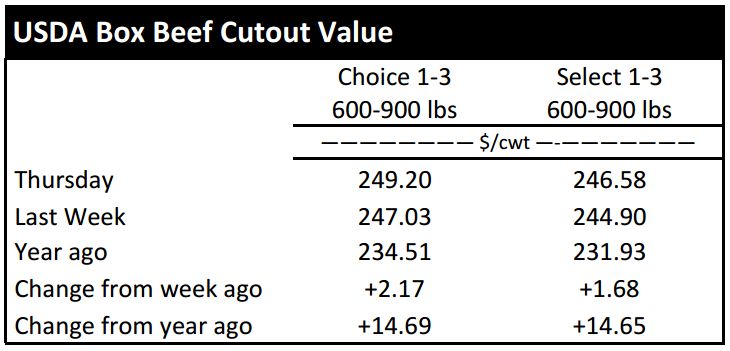 Packers were not able to maintain the momentum this week as beef cutout prices found little room to press forward compared to the previous few weeks. Even though they did not gain additional traction this week, they did not falter either.

Packers are continuing to manage harvest rates and artificially creating a short supply of beef which has allowed them to artificially support the cutout price. Packers will continue managing harvest rates to support cutout prices as the USDA's All Fresh retail beef price averaged $6 per pound for the first time.

Positive news was reported last week by the National Restaurant Association in their monthly Restaurant Performance Index (RPI). The index tracks the health of and outlook for the U.S. restaurant industry. The January index was 102.7 and marks the 23rd consecutive month the index exceeded 100 which is representative of expansion in the index of industry indicators. Expansion in the restaurant business is a good sign for beef and other meat industry markets as consumers continue to spend disposable income on food away from home.
TENNESSEE AUCTIONS: Limited receipts from one week ago inhibit the establishment of trends. However, on Tennessee auctions this week compared to three weeks ago steers and bulls under 550 pounds were $11 to $16 higher while steers and bulls over 550 pounds were $5 to $6 higher. Heifers were $2 to $8 higher. Slaughter cows were $3 to $4 higher while slaughter bulls were steady to $2 higher. Average receipts per sale were 616 head on 8 sales compared to 257 head on 2 sales last week and 0 head on 0 sales last year.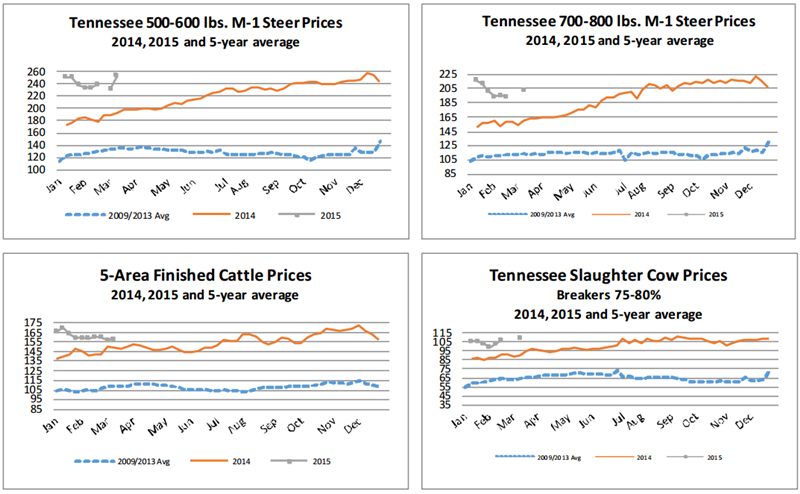 OUTLOOK: The winter weather held off long enough this week for a few markets to host sales, but mid-week rain and wintery precipitation resulted in many producers leaving calves standing in the field. It may not be a bad situation for many cow-calf producers as lightweight calf prices have caught fire in the past month as they normally do in the early spring.

Steers weighing 425 pounds and 525 pounds have increased $33 and $21 per hundredweight respectively since the end of January. Similarly, heifers in the 425 to 525 pound range have increased $18 to $20 per hundredweight.

The increase in prices will likely mean a few more dollars returned to cow-calf producers wallets. Alternatively, the failure of calves to make it to market and the increase in prices has made it difficult for stocker producers to secure spring grazing inventory.

What few calves were secured this week came at sharply higher prices than those witnessed in January and February. As has been discussed previously, stocker producers may want to consider purchasing a heavier weight class of calves than in past years.

The price slide from 425 to 525 pound steers has increased from $32 to $44 per hundredweight since the last week of January while the slide from 525 to 625 pounds has increased from $19 to $28. The increase in the price slide may mean a more favorable purchase lies in heavier calves.

The additional 100 pounds from 425 pound steers to 525 pound steers could have been purchased for $0.69 per pound while the additional hundred pounds from 525 to 625 pound steers could have been purchased for $0.81 per pound. A similar story can be told for heifers as the additional weight from 525 to 625 pounds would have only cost $0.66 per pound.

These price slides may continue to widen the next couple of weeks as stocker producers work to secure inventory. As the market moves into late spring and summer, the price slide will narrow again with most of the narrowing occurring due to declines in the price of lightweight calves. Thus, expected stability in the feeder cattle market may support the idea of purchasing heavier calves for some producers. It may also be wise to use price risk management on spring purchases as the market volatility is high.
TECHNICALLY SPEAKING: Based on Thursday's closing prices, April live cattle closed at $153.27. Support is at $152.68, then $150.91. Resistance is at $154.46, then $156.23. The RSI is 52.59. June live cattle closed at $146.02. Support is at $145.26, then $143.68. Resistance is at $146.83 then $148.41. The RSI is 53.11. August live cattle closed at $144.15. Support is at $143.50, then $142.08. Resistance is at $144.38, then $144.80. The RSI is 52.36. March feeders closed at $206.57. Support is at $205.00, then $202.15. Resistance is at $207.85, then $210.70. The RSI is 54.97. April feeders closed at $205.38. Support is at $203.67, then $200.62. Resistance is at $206.72 then $209.77. The RSI is 54.41. May feeders closed at $204.68. Support is at $202.70, then $200.53. Resistance is at $205.90 then $206.13. The RSI is 53.92. Friday's closing prices were as follows: Live/fed cattle – April $154.65 1.38; June $147.10 1.08; August $144.93 0.78; Feeder cattle - March $209.73 3.15; April $208.58 3.20; May $207.45 2.78; August $209.13 2.20. March corn closed at $3.79 down $0.04 from Thursday.