CAB Insider: Why Prime Still Pays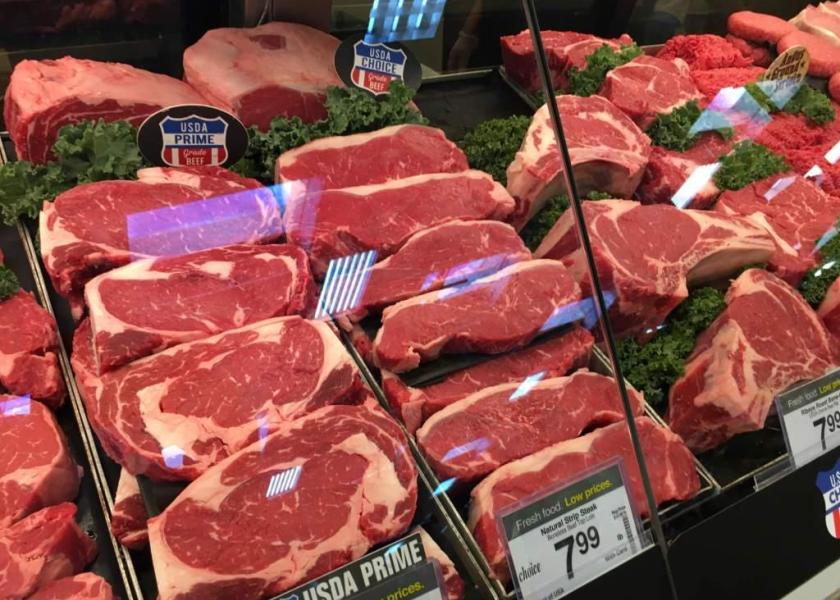 The proportion of fed cattle carcasses grading USDA Prime was up by one-third in 2018, bringing the annual share of Prime to 7.95%, over 2017's average of 6%. That surge narrowed the spreads between the year's Prime cutout value, USDA's "branded" beef category and commodity Choice. Those differences stayed wide through July, with a Prime-Choice spread averaging $14.50/cwt., but from August forward, supply overcame demand at times with the gap narrowing to $12.69/cwt. The Prime-Branded spread dipped from $10.13/cwt. to $7.59/cwt. on the same timeline. In step, packers adjusted their grid premiums as last January's Prime prize of $17/cwt. over low Choice steadily eroded to a December finish at $9.90/cwt.—just as the Prime grade volume trend peaked at 9.9% for the month.
Looking forward, some may question whether feedyards will continue to take cattle to the same days on feed for their grid or formula-bound pens in 2019 as they did a year earlier if the lower Prime value continues. Would they instead opt to forego a pursuit of carcass quality so as to cut inefficient final finishing days from the feeding period?
Lighter carcass weights and earlier marketing dates would also result, bringing total fed cattle tonnage lower and moving cattle ahead into the supply chain. The potential is there, but there are sound arguments against it.
First, the ability for feeders to take cattle to heavier finished weights effectively lowers the breakeven by spreading the purchase cost over more pounds gained. Current math suggests a 1,400-lb. finished steer has a $2.16/cwt. lower breakeven sale price advantage over a 1,330-lb. steer, both placed on feed at 750 lb. This, and the desire to increase total revenue per head are likely the primary reasons why industry "days on feed" have crept higher in recent years. Second, if cattle are committed to a carcass-based pricing system then dressing percentage is important and negatively impacted when feeding period is shortened below optimum fatness endpoint. Incremental feed conversion at the end of the feeding period is also rather good on a carcass gain basis, compared to liveweight feed conversion (see graph). Finally, even a $10/cwt. Prime premium on a carcass weighing 860 lb. nets $86 per head, certainly worth having.
We'll grant that when feedyards are faced with a rapidly declining fed cattle market near the end of the feeding period, it is realistic that live cattle sales and some groups deemed "safe but not great" for carcass quality could be short-fed to take advantage of a better market.
Market Update
The last holiday-shortened week for a while has just past, providing a fairly small 520,000 total head harvested. Fed cattle market prices continued their stronger tone from the week prior as packers were still hungry for cattle, consequently maintaining the $123/cwt. level for a second week. Feedlot conditions in much of the central and northern reaches of the major cattle feeding areas are very poor with the late-December moisture. The current scenario suggests at least the start of a "weather market" where gains are well below expectations, resulting in lighter carcass weights and poor dressed yields.
While weekly carcass weights are unavailable due to the government shutdown, much of the pertinent data to the cattle trade is still being reported. Of interest most recently, the past 4 weeks featured an average of 10% USDA Prime-grade carcasses across all U.S. graded fed cattle. Certified Angus Beef (CAB) acceptance rates will likely finish 2018 with every week above 30% and a calendar-year average of 33% acceptance, 3 points higher than the 2017 average.
Two weeks ago we saw a steady beef cutout for Christmas, but last week's Urner Barry report shows some uptick: CAB cutout up $2.45/cwt., Choice up $1.04/cwt. and Select up$1.92/cwt. Note, the Choice/Select spread narrowed rapidly after holiday buying to average $6.90/cwt. a week ago.
Ribs and tenderloins continued their descent from pre-holiday price highs with the charts showing a perfectly matched price curve compared to the end of December the prior two years. Other loin items saw a bit more demand and discounting wasn't an issue.
All eyes are on end meats here in early January and so far, retailers haven't reached out to ring the bell. While the UB report shows some price gains, those were small to instances lower on chuck items. Though higher, we'd still call demand for round cuts soft last week as the prices eased lower Friday, despite a higher weekly average on all but bottom round flats.
Briskets are in high demand at this time with the latest reports at $3/lb., about 46¢ higher than a year ago. Tri-tips also caught a decent price bump of 20¢ to average $2.97/lb. Outside skirts are way up at $6.90/lb., compared to $5.22/lb. a year ago. Inside skirts are also very pricey at $5.15/lb. in contrast to $3.84/lb. a year ago.
CAB subprimal grinds remain subdued and virtually unchanged as yet. Commodity 90% lean was at roughly $2/lb. and 50% trim at 67¢/lb.; 81% lean grinds were at $1.92/lb., slightly lower over a 3-week period.
2018 Review: Cutout vs. Dressed Beef Price
Heading into a new marketing year, cattle feeders have a firm starting price position, most recently a $123/cwt. live cattle weekly average, just about a dollar ahead of the first week of 2018. Feedyard leverage was paltry in 2018, the third such year in the dwindling phases of the rapid cow herd expansion. As seen in the table, the comprehensive cutout price (wholesale subprimals calculated on carcass value) advanced 2% over 2017 while dressed, delivered steer carcass prices suffered a 4% setback in the USDA data. Packers pushed head counts through their plants at all possible speed, posting some record head-count weeks as Saturday shifts maximized returns under restricted labor availability. While beef demand has been strongly supported with exports as the "darling" of the past 12 months, fed cattle prices are predicted lower again in 2019. This, basis steep price competition from record total protein supplies and approximately 1% more fed cattle numbers. Predictions are often unreliable, but the year ahead will not be for the faint of heart.