Planes, Boats, and Trucks: Getting Cattle to the Mainland
Moving cattle to greener pastures or a feedlot has never been as simple as going from point A to point B. Most producers in the U.S. gather cattle up on horseback, with ATVs, on foot or a multitude of ways. Then those cattle are typically loaded onto a trailer and hauled to their destination. For Hawaii beef producers the Pacific Ocean makes transportation a little more complicated.
The Hawaii beef industry traces its roots to a gift of cattle given to King Kamehameha I by Captain George Vancouver in 1793. Cattle would grow wild for decades until the 1830s when the kapu (forbidden killing) was lifted. Then cattle were hunted or domesticated again leading to the birth of Hawaiian ranching. Beef for a longtime was eaten by those who lived on the islands or traded with ships that sailed to port. Shortly after World War II a feedlot and packing plant were established on Oahu to help feed the growing population of Honolulu.
"We went through the iterations of that up until boxed beef," says veterinarian Tim Richards. "Boxed beef changed that whole dynamic and that put cattle feeding out of business here because cost of gain couldn't compete and that's where we shifted the industry to export the calves to the continental U.S."
The introduction of boxed beef forced ranchers to change their business model in the late 1980s and early 1990s. Their alternative was to ship cattle via the air or sea.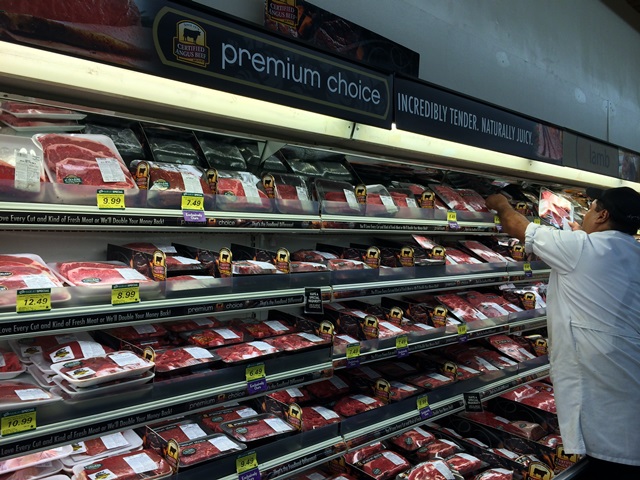 The vast majority of beef in Hawaiian grocery stores comes from the mainland. Most cattle are also sent to the continental U.S.

Richards oversees the setup and coordination of health programs with shipping cattle to the mainland for several ranches in Hawaii.
"The biggest difference is the size of the ranches and the way the industry is most people of size retain ownership," Richards says. "They have a longer influence down range into the feedyards."
At the top of the list for size is Parker Ranch, one of three ranches on the Big Island of Hawaii to rank in the top 25 nationally for cow herd size. The Parker Ranch is home to 9,000 cows, but approximately 5,300 head of their calves have to be shipped to the mainland for finishing.
Calves are typically weaned for 30 days and shipped at 400 lbs. of weight says Keoki Wood, livestock operations manager at Parker Ranch.
"Shipping is a concern, anytime you have to ship cattle that far. On the mainland trucking is one of those necessary evils, the less you have to do the better," Wood says.
To reduce stress Parker Ranch prefers shipping to the continental U.S. via 747 cargo planes. Calves are loaded into specially designed 8 ft. by 10 ft. boxes. Twenty boxes can be carried by a plane for a load of 100,000 lbs. which makes two truckloads on the other end.
"The challenge with that is you dribble cattle out all year long. It is a back haul for the 747 so whenever they can displace you with higher paying freight they will," Wood relates. "During the Holidays when there is more freight they tend to skip weeks so your schedule is 200 head if you're lucky every week. You can't afford to charter a plane strictly for cattle."
Door to door whether it's by air or sea it costs at least $0.47/lb. to ship an animal, that's approximately $200 for a 425 lb. calf.
While shrink isn't detrimental to the calves it is a consideration when shipping cattle.
"We actually see more shrink on air freight than we do on the ocean. Air freight they recover a lot quicker, but you're going to have 10% shrink," Wood says.
For a typical journey cattle are loaded onto a plane at Kona International Airport on Saturday morning, by early Sunday morning they'll have landed in Los Angeles and be loaded onto trucks headed to Oregon or Texas.
"You put them on a little feed and water and by a week they'll be in good shape," Wood adds. "Ocean freight is a little bit tougher."
Since mid-July, Parker Ranch has shifted back to transporting the majority of calves via the ocean to the port in Seattle. The move has reduced trucking costs and allowed larger amounts of calves to be hauled in fewer shipments.
Ponoholo Ranch on the northern side of the Big Island has also preferred the ocean route. Ranch owner and operator Pono von Holt estimates that 70% of his calves born from 3,000 cows are sent to the mainland with specialized shipping containers called "cowtainers" each year.
The cowtainers are equipped with waterers and feeders and have a second deck on them.


Cattle are loaded into double decker "cowtainers" at ranches before the specialized shipping containers are loaded onto the ship.

"For shipping it's really important for us to get the loads right because these cattle are in the containers for eight or nine days. They're on feed and water but you've got to get them loaded right for their square footage," von Holt says.
Calves are loaded onto the cowtainers at the ranch according to weight and based off of a USDA calculation.
The shrink on calves is only 6 to 7% because of the access to feed and water, but much of that shrink is tissue loss. It takes a little longer to gain back that weight von Holt says.
"From a cattle standpoint the airplane is a better trip," von Holt relates that he does use air transport for some smaller shipments. "For us shipping larger and larger amounts of cattle the ship is more efficient."
To load 100,000 lbs. of cattle onto trailers, haul them to the airport and load them on the plane requires nearly the same amount of effort went through loading 600,000 lbs. in containers destined for a boat.
Availability of the planes is another reason von Holt prefers transport on the ship with cowtainers.
"You can schedule it out, but you can't just pick up the phone and say 'send me the airplane tomorrow.' You don't do that in Hawaii, or 'send me a container for the ship tomorrow.' You schedule it out 60 days or longer in advance," von Holt says.
Calves from the Ponoholo Ranch typically arrive at the port in Seattle and are sent to pastures in the northwestern U.S. After adding weight half of the cattle go to a feedlot in Texas while the other half end up at a feedlot in Oregon where they can be marketed through the Country Natural Beef program.