Learn About Genome Editing in Animals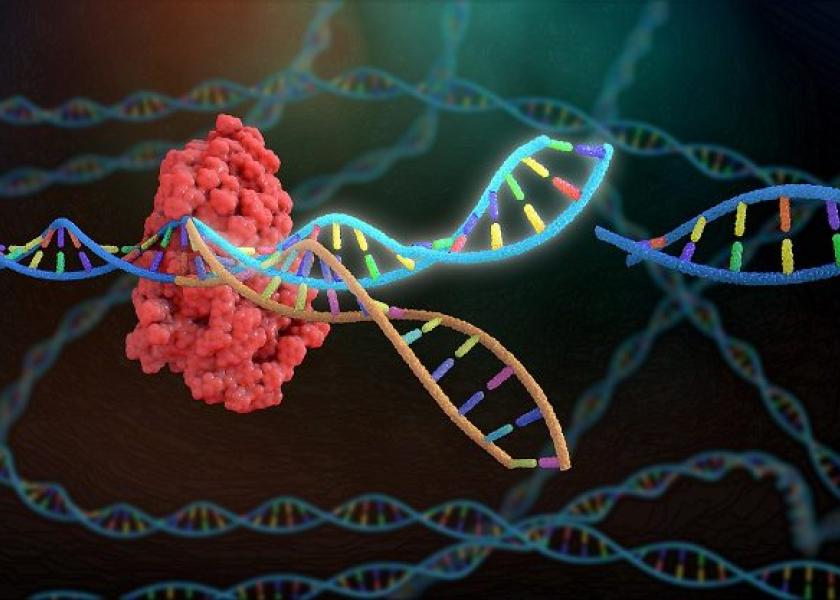 Long before humans understood the biology of genetic inheritance, they selected their domestic animals with the most desirable traits for breeding. We've come a long way since then, with EPD's genomic prediction tools and reproductive technologies such as artificial insemination, in-vitro fertilization and embryo transfer, which help accelerate genetic progress.
That progress remains slow though, especially in animals with long reproductive cycles such as cattle. Genome editing technology, which can selectively add or delete genes and associated traits within an animal's genome, has tremendous potential for quickly and accurately introducing desirable traits for productivity, health, fertility, animal welfare, food quality and safety in livestock populations.
On December 3, 2018, the U.S. Food and Drug Administration's Center for Veterinary Medicine (CVM) and Center for Biologics Evaluation and Research (CBER), will hold a public webinar about genome editing in animals.
The webinar advances FDA's public communication strategy to help innovators understand FDA regulation and show support for safe and responsible innovation that benefits public health. According to FDA/CVM, the webinar will focus on current scientific evidence, promising uses of this technology in animals, and the potential risks. "It will also provide information about CVM's flexible, risk-based approach to the regulation of intentional genomic alterations to animals and address common misconceptions associated with the regulation of these products."
The hosts have scheduled time during the webinar to answer stakeholder-submitted questions, which you can submit upon registration or during the webinar.
The webinar is open to the public, but advance registration is required to participate in the live-cast webinar. To register, please visit CVM Public Webinar Genome Editing in Animals – Dec. 3, 2018, 1:00 – 3:00 pm ET.
For more on genomic editing, read these articles from BovineVetOnline:
Gene Editing: Potential and Perceptions
Editing for Health and Fitness
USDA Clarifies Gene-Editing Oversight
For more information from FDA:
Registration: CVM Public Webinar about Genome Editing in Animals
FDA's Regulation of Plant and Animal Biotechnology Products
FDA Plant and Animal Biotechnology Innovation Action Plan
CVM Update: FDA Announces Plant and Animal Biotechnology Innovation Action Plan
Statement from FDA Commissioner Scott Gottlieb, M.D., and Deputy Commissioner Anna Abram on the FDA's new plan to advance plant, animal biotechnology innovation