USDA-ERS Predicts $119.6 Billion Net Farm Income For 2020 – The Highest Since 2013
In a year of many lows and few highs, some silver linings are finally showing up in the form of farm income, according to the December 2020 Farm Income Forecast from USDA-ERS.
The report says net farm income is forecast to reach $119.6 billion in 2020. If realized, that would be the highest net farm income the U.S. agriculture sector has seen since 2013.
In addition, net cash farm income is forecast to reach $134.1 billion this year.
The difference between the two: net farm income is a broad measure of profits, while net cash farm income encompasses cash receipts from farming as well as farm-related income (including government payments) minus cash expenses, the report explains.
The USDA-ERS report says total crop receipts are expected to increase $6.5 billion (3.3 percent) from 2019 levels. Higher receipts for fruit/nuts and soybeans are projected to offset lower receipts for corn and cotton. Direct government farm payments are forecast at $46.5 billion for 2020, an increase of $24.0 billion in nominal terms. The expected increase is because of supplemental and ad hoc disaster assistance for COVID-19 relief.
Other news is not as positive. Total animal product receipts are expected to decrease $9.7 billion (5.5 percent) with declines in receipts for broilers, cattle/calves and hogs.
USDA-ERS reports that total production expenses, including operator dwelling expenses, are forecast to decrease $5.2 billion (1.5 percent) to $343.6 billion (in nominal terms) in 2020. Interest expenses, livestock/poultry purchases, and oils/fuels expenses are expected to decrease, but fertilizer expenses and net rent to landlords are expected to increase. The complete report is available at https://bit.ly/39GZ2V3
Farmer sentiment on the 2020 economy has also been a mixed bag, as evidenced by the most recent Purdue University CME Group ag economy barometer. James Mintert and Michael Langemeier, Purdue Center for Commercial Agriculture, manage the barometer survey and write the monthly report.
While farmer sentiment showed positive gains in October, it dropped significantly in November, following the 2020 elections. The latest report, issued on Monday, showed the barometer dropped from an October reading of 183 to a November reading of 167—a decline of 16 points. The decline in the barometer was a result of weakened expectations for the future on the part of ag producers, Mintert says.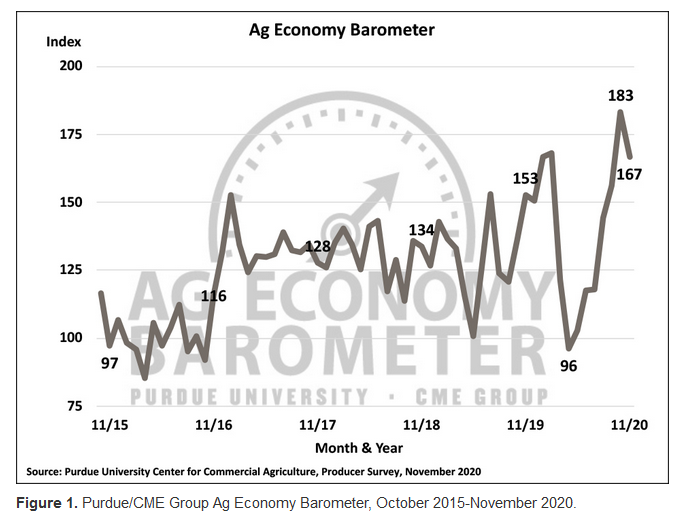 "We asked a series of questions in both the October and November surveys to learn more about changes in farmers' attitudes before and after the November election. And overwhelmingly the farmers in our survey told us that following the November election, they expected to see more restrictive environmental regulations facing agriculture," Mintert told AgDay TV's Clinton Griffiths. "They expect to see higher state taxes, higher income taxes, a weaker farm income safety net and reduced support for the U.S. ethanol industry.
Mintert's complete comments are available here: