Meat Companies Seek High-Priority For COVID-19 Vaccine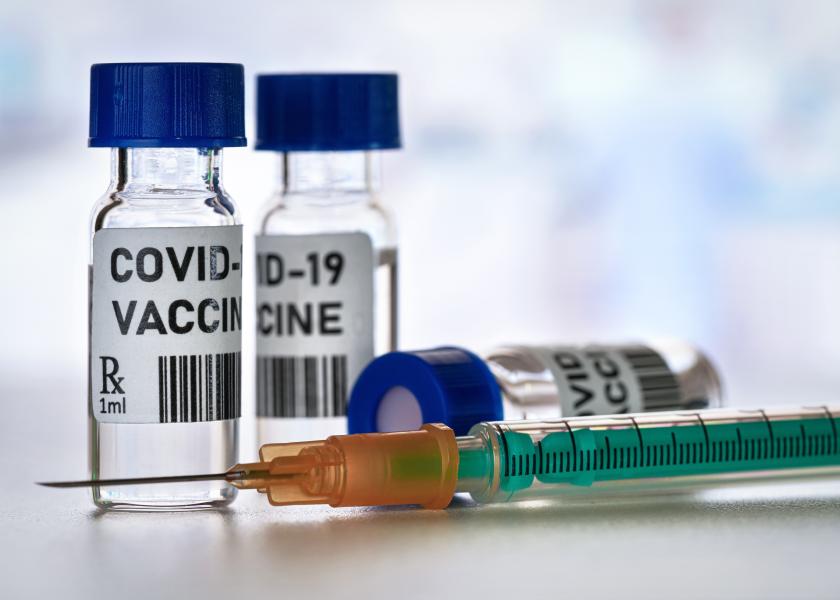 Three meat industry trade groups sent a letter to the nation's governors seeking to prioritize meat and poultry workers for COVID-19 vaccinations following healthcare workers and those in long-term care facilities.
The North American Meat Institute (Meat Institute), the National Cattlemen's Beef Association (NCBA), and the National Pork Producers Council (NPPC) sent the letter Dec. 4, urging governors to help meat and poultry workers by giving them access to the vaccine immediately after workers in healthcare and long-term care facilities.
"Earlier this year the Department of Homeland Security identified food manufacturing as a critical infrastructure sector, which included meat and poultry workers and livestock producers," the letter said. "Those people have been on the front lines ensuring Americans have access to safe, nutritious, and affordable food. The challenges packing plants and their producer suppliers in particular faced in the early stages of the pandemic were unprecedented and yet were endured. The meat industry is resilient and the supply chain remains intact."
The three groups said meat and poultry companies have spent more than $1 billion on procedures and controls to support and protect their employees, including implementation of health recommendations from the Centers for Disease control (CDC) and the Occupational Health and Safety Administration since last spring. The expenditures include physical adaptations to facilities, personal protective equipment, enhanced sanitation, advanced ventilation systems, extensive testing and contact tracing, enhanced health care services, and more.
"The challenges packing plants and their producer suppliers in particular faced in the early stages of the pandemic were unprecedented and yet were endured," the letter said. "The meat industry is resilient and the supply chain remains intact. Critical components of that resilience are the programs and protocols packers implemented in the spring and summer, programs that have proven effective in limiting the spread of the virus even while the curve nationally has been soaring in the opposite direction. Those programs and protocols, coupled with the education programs packers will undertake to explain the importance and safety of vaccination, put meatpacking facilities in an ideal position to administer the vaccine to many people in an orderly and efficient fashion."