Out to Pasture: Should We Consider Steak a Byproduct?
Those of you who discount the value of beef exports should hush for a while. Exports will be more important than ever in the next few years, and the industry should do everything it can to keep them moving.

We need more people eating high-quality, high-value beef. That means we need people with enough spare cash to luxuriate in steak. The rising tide of the global economy means more and more of those people are living offshore. You know, where the jobs went.

I've always thought of export markets as important to byproducts—the stuff you and I won't eat. But if this economy doesn't improve, or corn prices don't come down, we may have to start thinking of the loin as a byproduct—not something Americans won't eat so much as something they can't afford to eat.
Retail education. I spent an evening last month with a group of Caribbean retail meat buyers, invited to Texas by the U.S. Meat Export Federation (USMEF). They had toured ranches, a hog outfit and a feedlot and were on their way to West Texas A&M University's Meat Laboratory to learn about postharvest processes.

If I had any doubt about the value of USMEF's checkoff-funded work, it was dispelled by a conversation between one of the Caribbean meat managers and Ty Lawrence, who runs the Meat Lab.

The buyer wondered why his meat—he was more worried about pork than beef, but that's the luck of the draw—didn't have more shelf life. Lawrence asked about the temperature in his cooler. The buyer wasn't sure. Lawrence asked how long the product had been in transport. The buyer didn't know, hadn't read a packaging label and hadn't asked his supplier.

These guys don't have meat science degrees. They've learned what they know from the guys who did it before them. But no matter how much trouble you and National Beef go to produce a safe, prime product, they're the ones who may not know to wash their hands daily or to keep the ribeyes refrigerated.
Less demand in U.S. market. U.S. consumers are going to eat less beef this year than they did last year. And they'll eat even less next year. There are two reasons for this: Per capita consumption continues its long-term decline and the cowherd is the smallest it's been in most of our lifetimes, partly because record prices are being gobbled up by record production costs.

In late February, break-even projections for cattle going on feed were more than $1.20 per pound. (Live weight, for my fellow old-timers; not carcass.) With $7 corn, feeders must have prices like that down the line if they are to continue paying $1.20 and $1.30 for yearlings.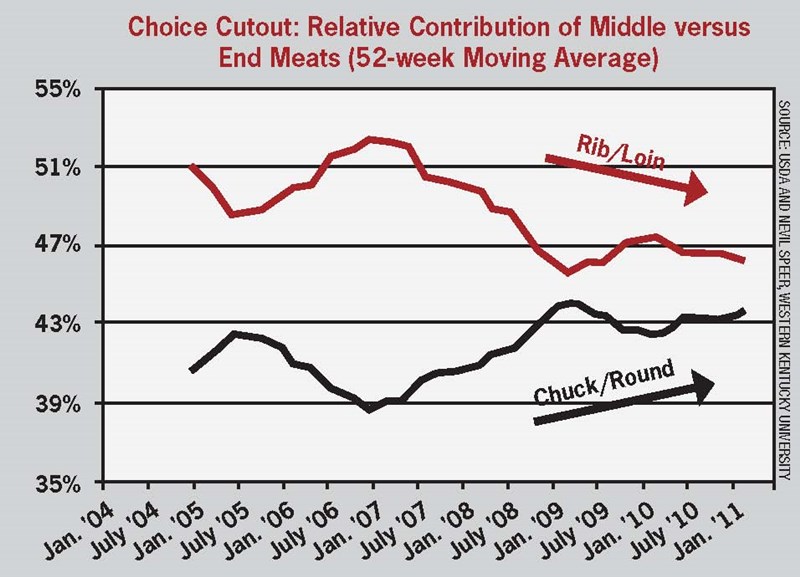 To get that $1.20, retail prices will have to climb nearly 20% in the next few months. I asked a couple of numbers guys and they're not convinced that can happen. They point out that the middle meats (the steaks) have been facing price resistance since the economy fell off the cliff. To get into those price ranges, it will take more economic progress than anybody expects or greater
export demand.

The fact is, the relative value of high- and low-value beef cuts is out of whack. The Choice–Select spread has been narrow throughout the recession. The chart at left shows middle meat prices are the weak link. To get those $1.20 fed cattle prices, you have to see more demand for the best cuts.

In early February, CattleFax projected fed cattle prices to average $1.03 for 2011 and retail beef prices at $4.20 per pound, just 20¢ more than last year. Nobody has more faith in cattle feeders' eagerness to overpay for feeder cattle than I do—but I wonder about this ration price nightmare.
In either situation, exports are going to be more crucial than ever.
Where demand is. The Caribbean guys said they have lots of potential demand. When Argentina quit exporting grass-fed beef, a lot of their customers developed a taste for higher-marbled product. Their customers aren't interested in animal rights or arguing over CAFOs. They worry about the price. (A couple of the buyers worry more about the short supply of age-verified cattle, but that's another story.) U.S. beef is not a mainstay menu item for most of their people, but they seem to regard that as upside potential. They want U.S. beef to succeed in their markets.

I won't argue that fish- and chicken-loving islanders will ever be big customers. Too many of them are poor. But a few of them are rich. They will be better customers if we can help them find, properly care for and prepare U.S. beef.

The same is true around much of the world. A small but increasing percentage of third-world consumers can afford U.S. beef. As their economies gain on ours, a higher percentage of the world's steak eaters, the ones who drive middle meat prices, will be outside our borders.

The obstacle between here and the $1.20 or $1.30 level is this: How high can beef prices go in the U.S. and remain a major part of everyone's diet? If feeders are to get those prices, somebody is going to have to pay those prices. If costs mean that beef must be the rich man's protein, it needs to go where the rich men are. And, increasingly, that isn't the U.S.