Kansas Considers Quarantine To Control Invasive Species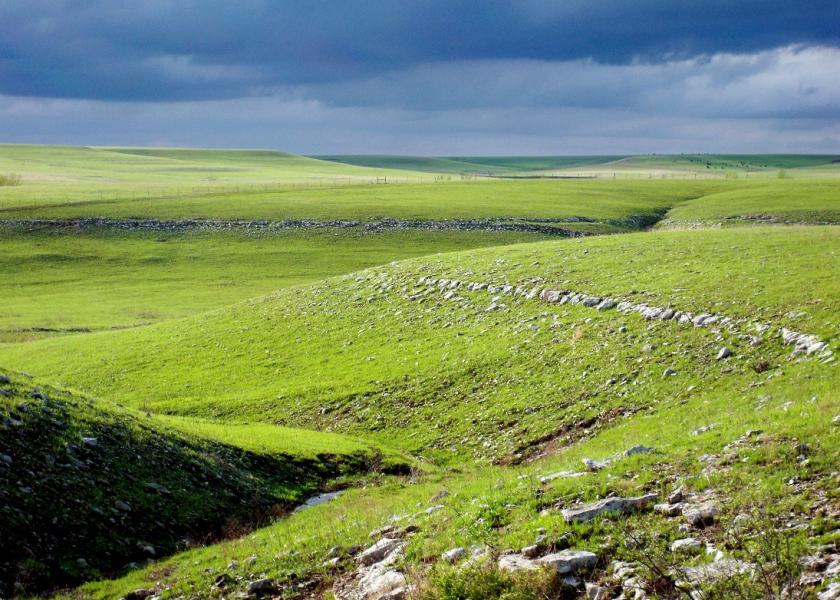 The Kansas Department of Agriculture is considering implementing a plan that would quarantine caucasian and yellow varieties of old world bluestem grasses. The old world bluestems are an invasive species that have threatened all but three counties in the state, and pose a threat to survival of the state's native grasses.
If implemented, the plan would prohibit movement in Kansas or across the border into the state of all seeds, plants or parts of those invasive bluestems. Ranchers say it could have a dramatic effect on their ability to raise and harvest hay to feed livestock.
A 17-county region of eastern Kansas dominated by the Flint Hills is the largest remaining area of native prairie in North America. The region, which is up to 60 miles wide and stretches more than 250 miles from the Nebraska border into northern Oklahoma, has shallow soils that were never plowed by settlers. Cattle ranching is the dominant agricultural enterprise.
During a public hearing in Manhattan, Kan., to consider the permanent quarantine, The Topeka Capitol-Journal reported the consensus among ranch, livestock and environmental organizations was the bluestems were a pest that should have been challenged decades ago. Dissent arose when discussion pivoted to how best to control spread of these old world grasses, which flourish along state highways and county roads and maneuver into pastures across the state.
Ron Klataske, executive director of Audubon of Kansas, said he supported the agriculture department's call for a quarantine of the ominous bluestems. He said the plants were inferior to native grasses in terms of livestock forage, erosion control and wildlife habitat.
Old world bluestems are difficult and expensive to eradicate and have proven adept at leaping into tallgrass prairies of the Flint Hills, The Capitol-Journal reported.
"It has a dramatic detrimental impact," Klataske said. "It basically destroys all native plants."
A quarantine is opposed by the Kansas Livestock Association. Aaron Popelka, an attorney with KLA, said the quarantine would economically harm producers, though the group acknowledged old world bluestem posed a threat to Kansas' biodiversity.
Popelka said KLA was wary of a quarantine because would prevent hauling of hay containing the invasive bluestems and would undercut farmers and ranchers operating in areas where the targeted grasses weren't an overwhelming challenge. He also said Kansas producers shouldn't be compelled to deal with a problem largely manufactured by government.
"This isn't something most of our producers planted," he said. "Most of this came from the (state) Department of Transportation allowing it to be seeded along roadways."
Popelka said the agency should instead consider blocking sale and planting of the seed in Kansas. An alternative would be for the state to declare the bluestems a noxious weed and handle infestation on a county-by-county basis.
Related stories:
Scientist Works With Flint Hills Ranchers To Manage Noxious Weed