Faster Line Speeds At Chicken Plants Criticized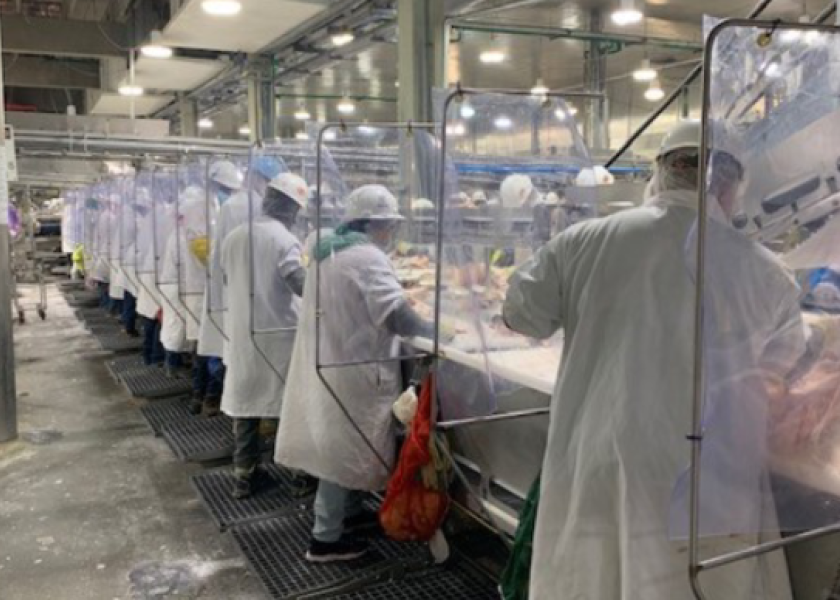 The Trump administration is rushing to finalize a rule that would make faster line speeds at poultry plants permanent, according to a story in the Washington Post. Last year the Trump administration allowed 15 poultry plants to increase slaughter line speeds during the coronavirus pandemic, an action that makes it more difficult for workers to maintain space between one another. Critics also claim it appears to have helped spread COVID-19.
Finalizing the rule by the outgoing Trump administration would expand the faster line speeds to other poultry plants, and be a odds with views of President-elect Joe Biden, the Post says.
"Whether it's cattle, whether it's beef, whether it's pigs, whether it's chicken, they're moving down that line faster and faster and faster to increase the profit rate," Biden said last year. "People are getting sicker. . . . People are getting hurt. The very thing we should be doing now is making sure these people are protected, that they have space six feet apart, that they have shields around them. Slow the process up."
Since 2018, the Trump administration has issued — or reissued — temporary waivers that grant permission to 54 poultry plants to increase line speeds, The Post reported. These plants are allowed to speed up lines from 140 to 175 birds per minute, a 25 percent increase.
They are also 10 times as likely to have coronavirus cases than poultry plants without the line-speed waivers, according a Washington Post analysis of data collected by the nonprofit Food and Environment Reporting Network (FERN). The Post analysis mirrors academic research that shows more coronavirus cases in counties with plants that have waivers to raise line speeds.
Meat plants have been among the most virulent hot spots during the pandemic. More than 51,000 workers in beef, hog and poultry plants have become ill from the coronavirus, with at least 347 dying after becoming infected, according to FERN data.
The USDA said a "direct link" between line speeds and the prevalence of coronavirus cases has not been established. The National Chicken Council said there is no correlation among line-speed increases, problems with social distancing and coronavirus case rates.
"The line speed rule cited by the Post might be the most deliberative and studied proposed rule that has ever been issued by USDA. It spans three decades, four administrations — Republican and Democrat — countless scientific studies and various court cases. While the industry has been safely increasing line speeds over the past 25 years, the poultry's injury and illness rate has fallen 86% and is now at an all-time low," said Tom Super, vice president of communications for NCC, citing the latest data from the Department of Labor for 2019, before the coronavirus pandemic had hit the U.S.