Burger King to Start Selling Plant-Based Impossible Whopper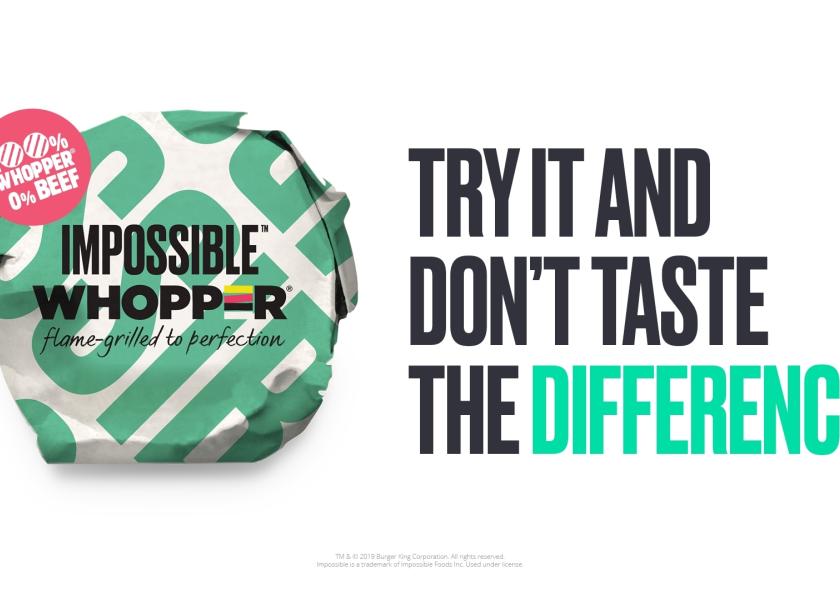 The fifth largest U.S. fast food chain in terms of sales is entering the plant-based alternative protein market in a partnership with Impossible Foods.
In an announcement that might have appeared to be an "April Fool's Joke" after being made on April 1, Burger King and Impossible Foods declared their intention to start selling the Impossible Whopper, a plant-based version of the fast food chain's primary sandwich.
Burger King will start selling the plant-based burger at 59 restaurants in the St. Louis area as a pilot project. Outside of not featuring an all-beef patty, the rest of the ingredients for the Impossible Whopper will feature freshly sliced tomatoes, fresh lettuce, creamy mayonnaise, ketchup, crunchy pickles, and sliced white onions on a toasted sesame seed bun.
In the joint press release the companies say, "The Impossible WHOPPER is, "All WHOPPER. No beef." It's as juicy, craveable and delicious as the original WHOPPER. The limited-time offer makes BURGER KING restaurants the first coast-to-coast quick-service restaurant to serve the award-winning, plant-based meat from food startup Impossible Foods, maker of the Impossible Burger."
If sales of the Impossible Whopper are successful, the plant-based burger patty could make its way into the more than 7,000 retail locations that Burger King has nationwide. According to restaurant industry magazine QSR, Burger King ranks fifth nationally for sales among fast food chains after accumulating $9.75 billion worth of sales in 2016.
Burger King is the largest fast food chain to start selling a plant-based meat alternative, but in the past few years several national restaurant chains have started partnering with companies like Impossible Foods and Beyond Meat. Carl's Jr. is currently the largest restaurant to sell a plant-based burger after it started marketing a Beyond Meat product called the Beyond Famous Star at more than 1,100 locations in January 2019. Beyond Meat Burgers started selling nationally at 469 of TGI Fridays' locations on January 2, 2018. In September 2018, White Castle began selling the plant-based Impossible Slider nationwide.
For more on plant-based and lab-grown meat labeling read the following stories: