What Makes A Bull Worth $ Millions?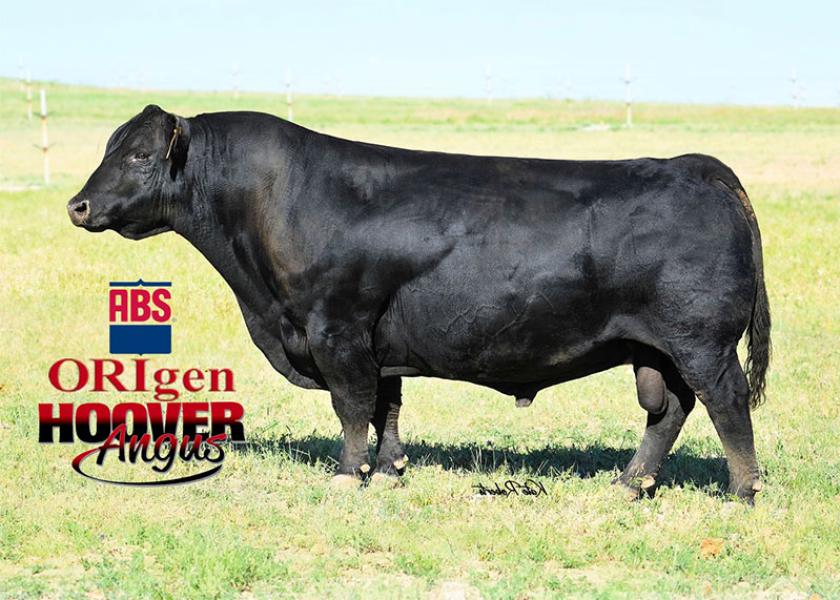 On a cold February day in North Dakota this year, an Angus bull named SAV America 8018 sold for a world record price of $1.51 million. Sold at Schaff Angus Valley's annual production sale at the ranch near Saint Anthony, N.D., the bull's hefty price suggests his genetics are superior. But what could possibly make a bull worth that much money, you ask?
The answer may be in the life story of Hoover Dam, a recently departed bull raised by Iowa breeder Hoover Angus. Born in January 2008, Hoover Dam spent the final 10 years of his life at ORIgen, a breeder-to-breeder bull stud service where his semen was collected on 901 days. Those collections produced 238,813 units of semen approved for sale.
By the time the bull's owners made the decision to bring his life to a dignified conclusion, 233,396 units of Hoover Dam semen had sold for a total of $4,514,565, with 15,406 A.I. certificates sold to register the progeny with the American Angus Association.
Sold at $40 each, those A.I. certificates generated another $616,450 in gross sales to push his total of semen and certificate sales to $5,131,015. Hoover Dam was the ORIgen semen sales leader in 2012, 2013, 2014, 2016, and 2017. 
As of his passing, Hoover Dam has 15,821 Angus progeny with AHIR weaning records.  He has been used on four continents with semen exported to Australia, New Zealand, Brazil, Canada, Mexico and Russia.
Although there are no official public records with which to compare, Dick Beck, Vice President of Sales and Marketing at ORIgen, says "Hoover Dam is the only sire in history owned exclusively by Angus breeders to have ever reached or surpassed that sales total."
Hoover Dam was so popular with breeders, Landi McFarland-Livingston with Hoover Angus said, because "he was a calving ease bull, so he was used on a lot of heifer herds. But both purbred and commercial breeders liked his calves so well that they used him again for the second, third and fourth calves. Hoover Dam had a lot of repeat customers."
If SAV America 8018 matches the sales totals for Hoover Dam, his $1.51 million price tag will be a good investment.
However, it might be a stretch to think sales of SAV America 8018 semen can equal the ROI that Hoover Dam produced. That's because two-thirds interest in Hoover Dam sold in 2009 for $47,500, according to McFarland-Livingston. That would put the value of Hoover Dam at $71,250.
Therefore, Hoover Dam's total semen and certificate sales equaled about 72 times his purchase price. To match that, semen and certificate sales of SAV America 8018 would need to reach $108 million.
Yet, it is early in the life of SAV America 8018, so we won't know how that investment develops for a while.
The details of Hoover Dam's influence on the Angus breed, however, are much clearer with detailed records. For instance, Hoover Dam was among the top 10 bulls of the Angus breed for progeny registrations in 2012, 2013, 2014, and 2015.  He was one of only four bulls in the breed on the "Top 10" list of sires each of those four years, and the only bull of those four bred in a herd that registers less than 1000 head per year.
In the 2019 American Angus Association Pathfinder Report, there are 85 daughters of Hoover Dam that are active Pathfinder Dams, nearly five percent of the daughters that have enough age to be eligible.  Hoover Dam himself earned Pathfinder honors his first year of eligibility.
Related stories:
Angus Bull Smashes World Record Price Selling for $1.51 Million