Wendy's Maintains Focus on Quality Beef from North America
"Where's the beef?" The catchy slogan could be updated to "Where's the fresh, quality beef?" And the answer would still be the same: Wendy's.
Wendy's foundation and brand was built on the key ingredient of 100% fresh, never frozen beef when founder Dave Thomas started the restaurant chain.
"When I started Wendy's in 1969, 'Quality is Our Recipe' was our motto. Our focus on quality hasn't changed, and it never will," Thomas, who died in 2002 once said.
Wendy's long history of burger success begins with cattle producers, says Liliana Esposito, chief communications officer at Wendy's.
Esposito outlined how the fast food franchise has remained near the top of a competitive and evolving fast food market at this year's Cattle Industry Convention and Trade Show in San Diego, Calif.
"We're proud of our business, but I think we're prouder of our values that guide the business," Esposito says. "At the center of that value chain is 'Quality is Our Recipe.'"
Esposito adds the most important product for quality is beef.
With 6,479 restaurants in 29 countries, one could assume Wendy's would follow the lead of other international fast food brands and utilize imported beef. However, Wendy's has 5,722 restaurants in the U.S. and another 354 in Canada, the remainder are split between 27 countries.
Restaurants in the U.S. utilize North American beef.
"Serving your beef in our restaurants is something we feel really passionately about," Esposito says.
Thomas believed that everyone had a right to quality food at an affordable price. Wendy's has maintained that mission with the "4 for $4" meal featuring a Junior Bacon Cheese Burger.
For the past 35 years Dennis Hecker, senior vice president of quality assurance, has been part of Wendy's 46 year history. Hecker served alongside Thomas for the majority of that time until the founder's passing.  Along the way Hecker picked up a hall of fame ring from the company for his service and he has helped preserve his mentor's legacy.
Hecker believes it is everyone's responsibility for quality from the company to the distribution network to the supply chain.

"If you supply Wendy's, no matter how small a part you are of the Wendy's brand, you hold a piece of that logo in your hand," Hecker says. "We trust we will get quality products from you guys (beef producers)."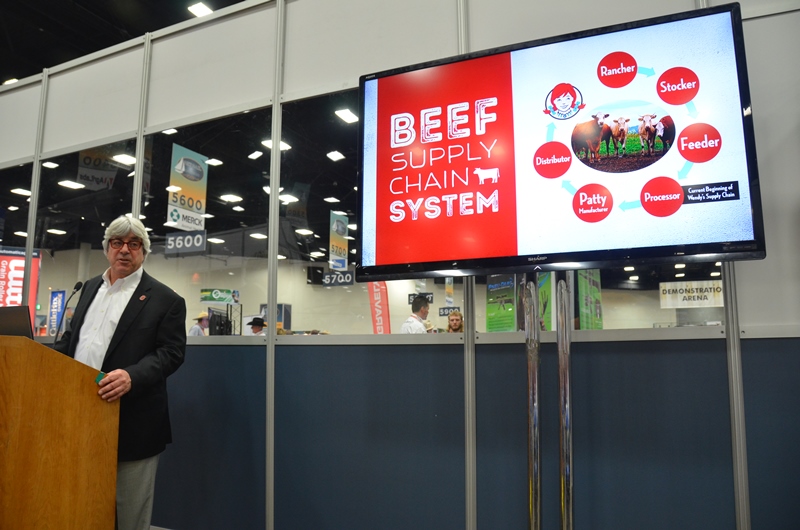 Dennis Hecker with Wendy's discussed how the beef supply chain plays a vital role in continuing the company's motto of 'Quality is Our Recipe.'

Wendy's receives beef from 16 processors across the country and two audits are performed at each facility per year. The raw product is shipped to six patty manufacturing plants and company personnel conduct routine visits 6 times per year at each plant. Relationships are established and maintained with those suppliers through face-to-face interaction with people working on the production line.
"It is a personal relationship. These folks have skin in the game just like we do," Hecker says. "You build your relationships in times of calm, so you can leverage those relationships in times of crisis."
Much like expected progeny differences and feed-out results direct the decisions of beef producers, Wendy's depends on data to dictate quality decisions.
"Scientific data and our values drive our decisions on food safety. In other words we're not going to make snap decisions on food safety," Hecker says.
Beef originates from grain fed steers or heifers that are 42 months of age or younger. Fresh beef is never older than six days after it leaves the processing plants in the U.S. The finished product beef patties have a shelf life of 13 days.
Food safety has made plenty of headlines the past year with problems arising for companies like Chipotle Mexican Grill and Blue Bell Creamery.
"Food safety is not a competitive issue. A food safety issue for anyone in the industry is a problem," Esposito says.
Dealing with fresh products, Wendy's monitors its processes regularly to ensure product safety.
All raw materials are tested for E. coli. Every 15 minutes patties are tested as they go across the line.
"It is done out of respect for our customers and for trust in the system," Hecker says of the testing.
Twenty-three distribution centers help send out the five million beef patties produced daily by the manufacturing plants. Restaurants receive two to three deliveries per week for a total of 12,000 t0 18,000 deliveries nationwide.
Animal welfare plays an important role in Wendy's beef supply chain quality. Both processors and producers are audited for animal welfare on a regular basis.
The last 15 years there have been 1,300 animal welfare audits conducted. All auditors must be certified through the Professional Animal Auditor Certification Organization (PAACO).
Wendy's has an internal animal welfare council featuring departments within the company along with several well-known veterinarians and university faculty members. Serving as consultants are:
Temple Grandin, animal handling expert and professor of animal science at Colorado State
Linda Detwiler, former veterinarian in charge of USDA-APHIS
Henry Zerby, chair of the Department of Animal Science at Ohio State University
Mike Apley, veterinarian and professor at Kansas State College of Veterinary Medicine
The council meets quarterly each year to discuss audits and any new scientific data in regards to animal welfare.
Requirements for Wendy's suppliers include employee training programs, monitoring and recording systems, and yearly audits by a third party and Wendy's.
Hecker notes antibiotics are an animal welfare concern, but it presents an opportunity for further relationship building with suppliers.
"The goal for us is to work with our supplier partners to refine, reduce and replace antibiotic therapy through judicious use and exploring animal management practices," Hecker says.
Wendy's officials understand antibiotics are necessary to treat sick animals.
"The best beef comes from healthy, well-cared for animals. A sick animal needs to be treated, and you're not going to hear anything different from us," Esposito says.
The company would like to see use of antibiotics refined so it is under the guidance of a veterinarian and only as prescribed.
"We do recognize the realities of production and what you won't see from Wendy's is a statement or policy that makes a good headline, but actually isn't feasible for people who are raising livestock," Esposito says.
Consumers are looking for more information and transparency in the food they eat, but Wendy's will not make any changes unless scientific data backs it up.
"The shared commitment that we'd ask for in return is to come with us on this journey and recognize consumers aren't staying in the exact same place that they were 40 years ago. We do need to be transparent and we need to constantly look at ways to make our practices as great as they can be," Esposito adds.