JBS USA Removes At-Risk Workers Amid Community COVID-19 Surge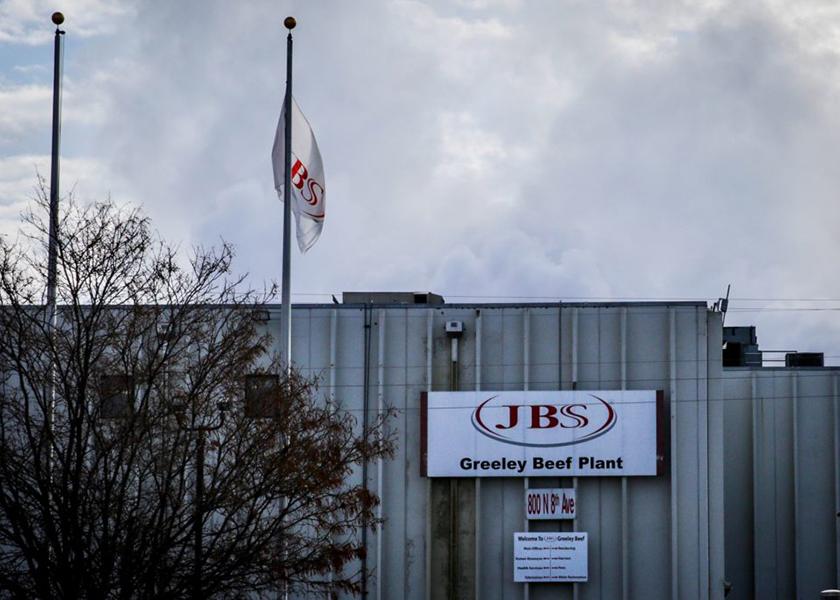 To protect essential frontline workers, JBS USA has voluntarily removed hundreds of at-risk workers from a Greeley, Colo., beef plant in response to rising COVID-19 infections in the community. However, the impact in the plant itself has been minimal.
Most recently, there have been 32 cases among its Greeley plant workforce of 3,500 in the most recent wave of community outbreak in Weld County where the plant is located. Only 18 of these cases are active, a JBS spokesperson notes. Meanwhile during this same time period, Weld County has had more than 4,450 cases and Colorado has had more than 69,120 cases. 
The state of Colorado classifies an outbreak as two confirmed positives in a workforce, whether that is a workforce of five or 5,000. 
JBS, the largest U.S. beef processor, has been removing vulnerable populations throughout the pandemic with full pay and benefits since March. Some of these employees returned in August as numbers subsided in the community, a company spokesperson noted. However, team members were only allowed to return if they passed a company-paid physical. 
Across all of its U.S. facilities, JBS has removed approximately 8% of the workforce with full pay and benefits during the latest wave of COVID-19 spreading across the country.
Increased Protection for Employees
The company recently enhanced its health benefits to retroactively cover 100% of all COVID-19 related health expenses for our team members and their family members enrolled in our health insurance plan.
"With implementation of this policy, which is retroactive to March, no JBS USA or Pilgrim's team member enrolled in our plan will pay an out-of-pocket health expense associated with coronavirus," a JBS spokesperson says. "We are also actively working with state and local health departments, as well as our union partners, to coordinate vaccination of the workforce as soon as vaccines become available to essential workers."
In addition, the company noted the following moves to protect its employees: 
-Implemented free, random surveillance testing of asymptomatic team members across its U.S. facilities. To date, JBS has conducted more than 20,000 random surveillance tests of asymptomatic team members.
Closely monitor community case rates, community positivity rates and internal testing data on a daily basis
Invested $5 million in surveillance testing to quickly identify potential introduction of COVID-19 from the community into plants and mitigate spread through immediate quarantine and contact tracing procedures
At the Greeley plant specifically, the company has implemented the following safety precautions:
Partnered with the State of Colorado last week to offer testing to the entire workforce at a location near the Greeley beef plant
Screening and temperature checking all employees prior to entering our facility
Staggering start times and break times to promote physical distancing
Requiring the use of masks and face shields
Erecting physical barriers where possible
Installing UV germicidal air sanitation and plasma bipolar ionization technologies to neutralize potential viruses in the air
Removing vulnerable populations with full pay and benefits. 
Amended attendance and bonus policies to remove any potential unintended incentives to work while sick
In addition, any symptomatic employee, or any employee who answers questions during the triage process that would indicate exposure, is tested on-site. 
"We also believe surveillance testing gives us the opportunity to continually assess and validate the effectiveness of our preventive measures and entrance screening protocols as the virus continues to spread across the country," the JBS spokesperson says. "We are optimistic that this, coupled with our weekly surveillance testing and contact tracing protocols, has contributed to the low number of positive cases at our facility despite the high rate of spread in the surrounding community."
U.S. Meatpacking Industry Advocates for Vaccine Priority
The U.S. meatpacking industry continues to look for ways to keep essential, frontline workers safe as they report to work each day. 
On Dec. 3, the North American Meat Institute (Meat Institute) urged federal authorities on Dec. 3 to prioritize COVID-19 vaccination for the men and women who work on the front lines of the meat and poultry industry, following healthcare workers and those in long-term care facilities.
More from Farm Journal:
Meat Institute Advocates for Meat Industry in COVID-19 Vaccine Priority List
JBS To Pay COVID-19-Related Healthcare Costs for Employees
Meat Industry Reaches All-Time Low Injury Rate Despite Activist Claims