Market Highlights: Summer Doldrums
The cattle markets have hit the brakes a bit as the peak of grilling season arrives.
By: Andrew P. Griffith, University of Tennessee   
FED CATTLE: Fed cattle traded $2 lower on a live basis. Prices on a live basis were $155 to $157 while dressed trade occurred between $245 and $249. The 5-area weighted average prices thru Thursday were $155.99 live, down $1.61 from last week and $247.22 dressed, down $2.26 from a week ago. A year ago prices were $121.24 live and $191.73 dressed. Fed cattle prices normally struggle through the dog days of summer due to an increase in the quantity of cattle coming off feed and a reduction in beef movement. However, the seasonal weakness in fed cattle prices remained in hibernation through the Independence Day holiday.
It appears the seasonal weakness has finally surfaced for 2014 as finished cattle prices declined for the first time in six weeks. Trade is likely to move lower the next few weeks before catching support heading into the fall market. Cash markets are trading at a $7 to $9 premium to the nearby live cattle futures contract which is a strong summer basis. The basis is likely to remain strong, but a narrowing of the basis the next few weeks is highly likely as cash markets converge to futures.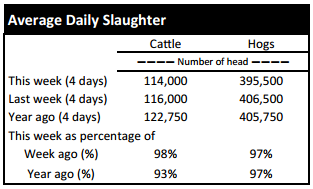 BEEF CUTOUT: At midday Friday, the Choice cutout was $251.29 down $0.88 from Thursday and up $2.64 from last Friday. The Select cutout was $244.66 up $1.14 from Thursday and up $3.41 from last Friday. The Choice Select spread was $6.63 compared to $7.40 a week ago. Though fed cattle prices have started to cool, wholesale beef prices continue to establish record high prices. Choice beef prices have increased $21.35 over the past five weeks while the Select beef price has increased $23.50 over the same time period.


Consumers continue to approach the meat counter and make purchases in spite of record retail beef and pork prices. Most cuts of beef are performing well in the current market. The beef ribeye price is about 21 percent higher than a year ago while the chuck price is about 24 percent higher than a year ago. Loin prices have underperformed much of the summer compared to a year ago, but that is due to extremely strong loin prices in 2013 relative to previous years. Grinding products have also contributed significantly to boxed beef prices as 50 percent lean beef is 24 percent higher than a year ago and 90 percent lean beef is about 37 percent higher than a year ago. The price of pork cuts share a similar story to beef cuts which has provided support for beef products.
TENNESSEE AUCTIONS: On Tennessee auctions this week compared to a week ago steers and bulls were unevenly steady. Heifers were steady to $5 higher. Slaughter cows were steady to $4 lower while bulls were steady. Average receipts per sale were 689 head on 9 sales compared to 792 head on 5 sales last week and 736 head on 11 sales last year.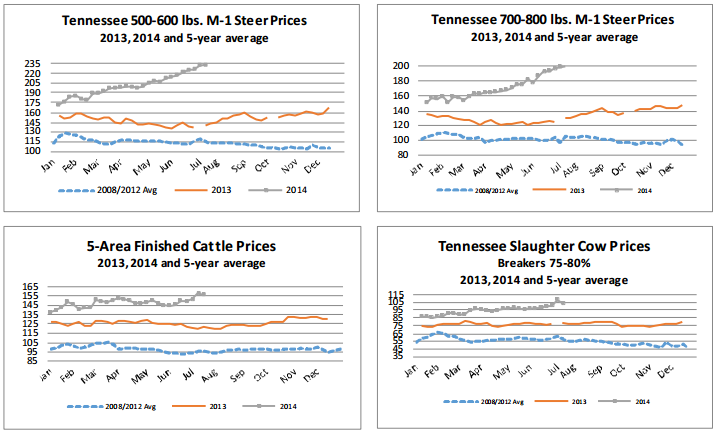 OUTLOOK: A few signs of weakness are starting to appear at weekly auction markets as prices recorded for many classes of cattle this week were mixed. Many producers as well as industry analysts and experts have been asking where the top is and when the market is going to break for the summer. It would appear the break may have arrived this week. Feeder cattle futures have closed lower most every day this week with a $3 per hundredweight limit move down from Wednesday to Thursday.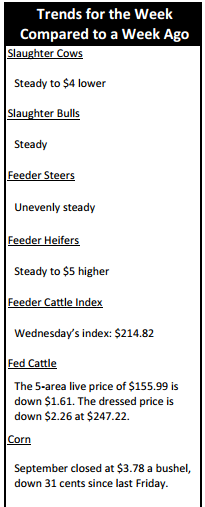 Most feeder cattle future contracts have declined $7 to $8 since Monday, and it would appear the market may have a little more downside potential. There is little at this junction for cattle producers to get excited about as the market is attempting to correct from an overbought situation. There was likely a missed opportunity to price cattle for a higher price in the risk management strategy. However, there still exist a good opportunity to establish a sale price now for future delivery of feeder cattle that will result in strong profits for both the cow-calf producer and the stocker producer. It is not likely feeder cattle or fed cattle prices are going to plunge into the deep abyss in the near future based on market fundamentals. However, risk continues to exist in the market place, and it would be advantageous for many producers to manage risk in such a manner to either reduce the risk or transfer the risk to someone else.
Managing price risk may be even more important for producers who are considering preconditioning calves and adding weight prior to marketing. There is always a risk in cattle prices declining from the time the preconditioning decision is made, but producers can use price risk management strategies to insure a price as well as continue to add value to their animals through weaning and vaccinating. Lightweight calves will be more prone to price declines over the next few months than yearling cattle ready to enter the feedlot because grass resources will be waning and the fall rush of calves coming to town.

 
TECHNICALLY SPEAKING: Based on Thursday's closing prices, August live cattle closed at $148.15. Support is at $146.86, then $143.18. Resistance is at $150.53, then $154.21. The RSI is 51.53. October live cattle closed at $150.73. Support is at $149.44, then $145.77. Resistance is at $153.12, then $156.79. The RSI is 50.44. December live cattle closed at $152.40. Support is at $151.05, then $150.50. Resistance is at $152.70 then $154.05. The RSI is 52.95. August feeders closed at $210.60. Support is at $209.07, then $204.50. Resistance is at $213.65, then $218.22. The RSI is 54.87. November feeders closed at $211.85. Support is at $208.83, then $207.70. Resistance is at $214.85 then $217.35. The RSI is 55.75. January feeders closed at $207.00. Support is at $204.38, then $202.75. Resistance is at $210.00 then $213.00. The RSI is 55.35. Friday's closing prices were as follows: Live/fed cattle –August $149.13 +0.98; October $151.65 +0.93; December $153.00 +0.60; Feeder cattle - August $210.38 -0.23; October $211.45 -0.43; November $210.88 0.98; January $207.00 +0.00; July corn closed at $4.00 down $0.01 from Thursday.