Market Highlights: Sink or Swim
The cattle markets have been in a bit of a sink or swim mode lately, and right now they're slowly sinking.
By: Andrew P. Griffith, University of Tennessee

FED CATTLE: Fed cattle traded $2 lower on a live basis this week compared to last week. Prices on a live basis were mainly $152 to $153 while dressed trade occurred between $240 and $242. The 5-area weighted average prices thru Thursday were $152.82 live, down $1.92 from last week and $241.85 dressed, down $1.84 from a week ago. A year ago prices were $123.44 live and $197.65 dressed.
Fed cattle prices are in sink or swim mode, and they appear to be slowly sinking. Even with placements of cattle on feed declining for the sixth consecutive month and total cattle on feed below year ago levels every month this year, talks of low production and limited cattle supply can only take the market so high. Fed cattle prices have the potential to continue their current descent the next several weeks.
The average price decline from the spring price peak to the summer or fall low has averaged about 13 percent the past several years. Thus, a 13 percent decline would mean fed cattle prices falling to $142. Such a price decline may or may not happen, but if it does many feedlot managers will be filling in the closeout sheet with red ink.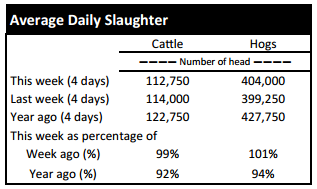 BEEF CUTOUT: At midday Friday, the Choice cutout was $250.20 down $0.26 from Thursday and down $5.84 from last Friday. The Select cutout was $240.07 down $0.75 from Thursday and down $10.14 from last Friday.
The Choice Select spread was $10.12 compared to $5.83 a week ago. It is difficult to discuss declining beef prices when they just set an all-time record high three weeks ago. However, the Choice cutout has declined more than 5 percent the past three weeks while the Select cutout has declined more than 7 percent over the same time period. These price declines may sound small, but these price declines could have been much larger if packers were not consciously monitoring the harvest rate.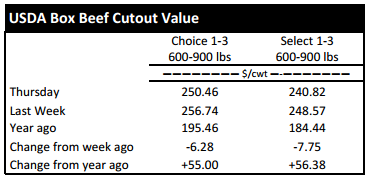 Packers have been paying less for fed cattle the past several weeks, but the declines in the cutout price have continued to keep packer margins in check. Cutout prices may find some limited support with last minute Labor Day purchases next week, but little is expected to materialize during that time period. Similar to the expectations of the fed cattle market, boxed beef prices will continue to come under pressure as we glide by the last official grilling holiday of the summer. Beef prices tend to stagnate through late summer and early fall before finding the holiday boost.
TENNESSEE AUCTIONS: On Tennessee auctions this week compared to a week ago steers and bulls were $2 to $5 higher. Heifers were $1 to $4 higher. Slaughter cows were $3 higher while bulls were steady $1 higher. Average receipts per sale were 730 head on 12 sales compared to 660 head on 10 sales last week and 770 head on 10 sales last year.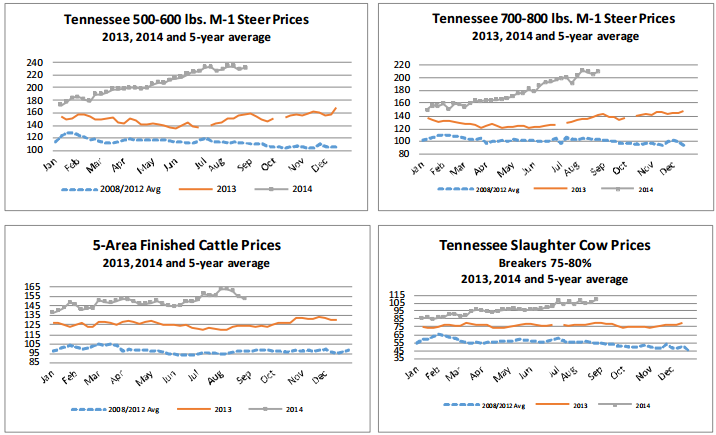 OUTLOOK: Feeder cattle futures continue to have a great deal of volatility, but the Tennessee cash market appears to have found some stability.
Prices for most classes of cattle took a dive last week, but modest gains were witnessed this week. It may be difficult for calf and feeder cattle prices to push much higher the next few months as many spring born calves will be coming to market. On the other hand, prices for many classes of cattle will continue to find support because many producers marketed calves this summer to capitalize on high prices instead of waiting to market cattle during the typical fall cattle rush. Thus, there will be a run of calves this fall, but it is unlikely there will be as many cattle available to purchase.
Stocker producers should be analyzing their fall cattle purchase strategy in order to secure a favorable number of calves for a favorable price. Cow-calf producers and stocker producers alike have witnessed strong profits the past eight or nine months as calf and feeder cattle prices have continued to escalate. Cow-calf producers will continue to witness strong profits while it is likely stocker producer margins will decline the next several months.
Prices will continue to provide stocker producers profit potential, but margins will tighten once cattle prices level off. Though it sounds as if there has been little change for the stocker producer the fact remains that higher prices have increased risk in the stocker business.
Financial risk is tied directly to price and production risk. Prices have been volatile in recent months but the real financial risk is related to the capital cost of purchasing the animals with little to no improvement in production risk. If margins return to previous year averages and operators experience an average death loss rate greater than zero then total profits will likely decline.
The August cattle on feed report for feedlots with a 1000 head or more capacity indicated cattle and calves on feed as of August 1, 2014 totaled 9.84 million head down 1.9% compared to a year ago, which is on the high end of pre-report estimates with an average of down 2.4%. July placements in feedlots totaled 1.56 million head, down 7.4% from a year ago with the pre-report estimate average expecting placements down 9.1%. July marketing's totaled 1.79 million head down 9.3% from 2013 which is with in pre-report estimates for marketings. Placements on feed by weight: under 600 pounds up 9.0%; 600 to 699 pounds down 3.7%, and 700 pounds and over down 14.6%.
TECHNICALLY SPEAKING: Based on Thursday's closing prices, August live cattle closed at $149.65. Support is at $148.58, then $146.98. Resistance is at $150.18, then $151.78. The RSI is 42.68. October live cattle closed at $145.55. Support is at $144.62, then $142.92. Resistance is at $146.32, then $148.02. The RSI is 32.92. December live cattle closed at $148.60. Support is at $148.45, then $147.50. Resistance is at $148.80 then $149.10. The RSI is 36.79. August feeders closed at $215.20. Support is at $214.25, then $212.55. Resistance is at $215.95, then $217.65. The RSI is 48.35. November feeders closed at $207.35. Support is at $207.23, then $205.48. Resistance is at $207.60 then $209.55. The RSI is 36.63. January feeders closed at $202.53. Support is at $202.25, then $200.75. Resistance is at $203.10 then $204.85. The RSI is 37.43. Friday's closing prices were as follows: Live/fed cattle –August $151.85 +2.20; October $147.00 +1.45; December $149.85 +1.25; Feeder cattle - August $216.10 +0.90; October $209.48 +0.88; November $207.78 +0.43; January $203.18 +0.65; September corn closed at $3.65 up $0.03 from Thursday.