5 Beef Market Lessons Learned in 2014
The 2014 beef market had one common theme: record prices. From those record prices there are some lessons to be learned.
Lesson #1: Perfect Storm You Could See Coming
The high prices that were witnessed in 2014 really weren't that difficult to project. Economists and producers knew coming into the year that the beef herd was at low numbers and corn was cheap. Also, competition from other meats like pork wasn't as strong because PEDv kept pig numbers low.
"We've seen improvements in forage production and declining grain prices. That translates into improved cow-calf profitability in 2014," said Glynn Tonsor, Kansas State University Extension economist, at the end of 2013.
At this time last year Tonsor said the Livestock Marketing Information Center data suggested that returns over cash costs will exceed $300 per cow in 2014. Now those numbers look more like $400-450 in profitability for cow-calf producers in 2014. "The main reason for that was the calf price was even better than expected," Tonsor says of the increased returns.
Tonsor projects that 2015 should hold the same kind of returns.
He notes the last 10 days have scared some producers because the markets have dropped, but the fundamentals have not changed. Cheaper oil could be a concern because it may mean the global market is not increasing leading to a bearish cattle market.
"We may ease off of those record setting levels that we were expecting a month or so ago, but I don't think it changes the herd expansion story," Tonsor says.
Lesson #2: Lack of Water Means a Lack of Cattle
In 2014, the heart of the cattle feeding business moved from Texas to Nebraska.
Texas relinquished its title of the state with the most cattle on feed to Nebraska, according to USDA's annual cattle inventory report. In the past year, Texas saw 2.44 million head enter feedlots compared to 2.46 million in Nebraska. The 7% slide in Texas is part of a national trend that has about 10.76 million head of cattle on feed versus 11.07 million a year ago.


Much of Texas' losses are attributed to drought in the Southern Plains that forced cow-calf operations to liquidate herds. Since 2011, Texas saw the hardest hit with 1.1 million cows leaving the state.
While Nebraska did go through some drought the state has been able to feed more cattle because of the ability to grow cheap corn thanks to greater access to the vast Ogallala Aquifer.
"We don't have a water issue; that's the one thing we have on them," says Jordan Feller, general manager of Feller and Company Cattle Feeding in Wisner, Neb. "The feed is all around us, too."
Lesson #3: Bumper Corn Crops Are a Good Thing
Corn production was up this year and that kept feed prices low. The latest WASDE report had season-average corn farm price from $3.20 to $3.80 per bushel this year.
Heading into next year it looks like corn will go up in value. March 2015 corn traded for $4.115 on Dec. 15.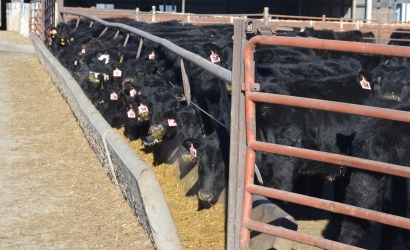 Cheap feed helped keep feedlot margins in the black for much of the year. According to the Sterling Beef Profit Tracker feedlot margins just dropped to a loss for the first time in several months this past week.
Profits ranged from $100-$200 per head for many weeks and even topping $300 in July.
 "If we wouldn't have had corn down where it was there is no way we'd have these feeder cattle prices where they're at. That's been good, but at the same time these cattle that have been placed over the past couple of months their breakevens are going in the $170s," says John Nalivka, co-owner of Sterling Marketing, Inc.
"It's been a good year in the industry for everyone, and certainly the cow-calf guy has received the greatest benefit from these markets," Nalivka adds.
Lesson #4: Despite Record Prices Packers Will Close
Two major packers in the U.S. were forced to close plants this past year because cattle numbers are at their lowest mark since 1951. National Beef closed the company's Brawley, Calif., facility in April.
"This was a very difficult decision for us to make because of the impact on our employees and suppliers," says Tim Klein, chief executive officer, National Beef. "We are optimistic about the long-term prospects for U.S. beef demand and we will continue to focus on expanding our position as the industry leader in value-added beef products."
At the start of August a Cargill beef plant was closed in Milwaukee, Wisc. The processor was the second Cargill packing facility to shut its doors in less than two years after the Plainview, Texas, location halted operation in January 2013.
"The closure like Milwaukee is never an easy decision. It's regrettable and unfortunate. It's a sad day when we have to announce these things," says Cargill Director of Communications Mike Martin.
Lesson #5: Weight Keeps Piling On
Reduced beef supply and lower feed costs allowed feedlots to put more weight on cattle before reaching the packer.
According to USDA's Livestock Slaughter Report, from September 2013 to 2014, the average dressed weight of the carcass rose from 799 pounds to 822. In September 2011, it was around 775.
Oklahoma State Livestock Marketing Specialist Derrell Peel says this could create some demand problems if we're not careful.
"These carcasses are very big, creating large cuts of meat and in some cases, those run counter to what consumers really prefer in terms of size of cuts," Peel says.