Worker Absenteeism in Packing Plants is No Surprise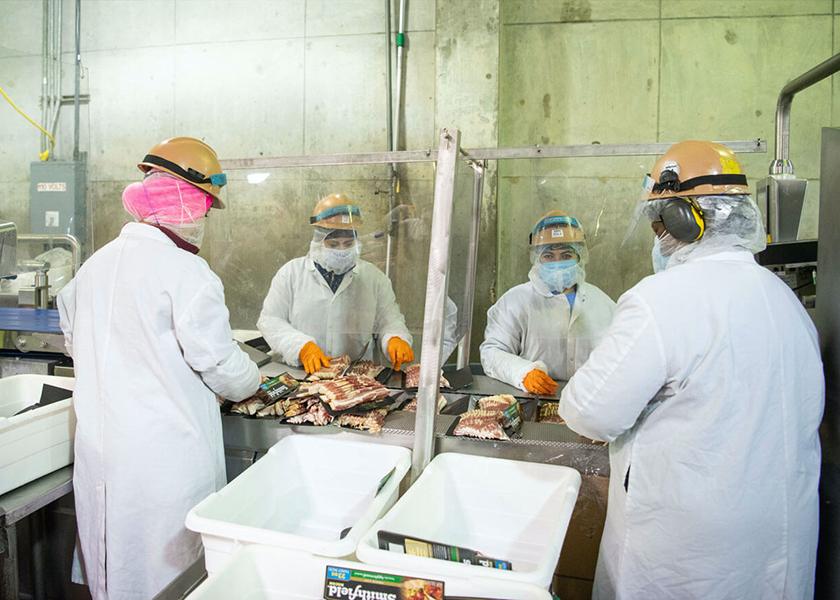 When rumors circled a few weeks ago of pork packing plants refusing loads because of diminished capacity from worker absenteeism due to COVID-19, how could anyone really be surprised? With COVID-19 on the rise and mixing in influenza, the list just continues to grow with reasons why workers may not be able to report to work.
But society blaming it all on COVID-19 and trying to say packing plants aren't trying to protect their workforce simply isn't fair. A new analysis of independent data for the full month of November shows that reported new COVID-19 infection rates amongst meat and poultry workers were more than 8 times lower than rates in the general population.
According to data from the Food and Environment Reporting Network, the meat and poultry sector was reported to have an average of 5.57 new cases per 100,000 workers per day in November. Infection rates amongst meat and poultry workers have declined steeply in the last six months, while surging across the U.S. – but that's the story mainstream media doesn't cover.
During this same period, the New York Times reports the average new case rate for the U.S. population was 45.36 cases per 100,000 people per day. 
That's a big difference. 
The new analysis follows the Centers for Disease Control (CDC) vote Dec. 20 to prioritize vaccination for frontline meat and poultry workers, joining a growing consensus that vaccinating the sector's diverse workforce is the next step for building on the major investments made last spring to implement effective protection measures. 
"This new analysis is encouraging evidence that more than $1.5 billion in comprehensive protections implemented since the spring have reversed the pandemic's impact on the selfless men and women who have kept Americans' refrigerators full and our farm economy working throughout this crisis," says Meat Institute President and CEO Julie Anna Potts.
Illnesses will happen. No one can predict how influenza is going to mix with COVID-19 this winter. As we move into 2021, I think it's more imperative than ever that we find solutions to our labor problems. The U.S. pork industry suffers from a serious labor shortage – both in processing plants and on farms. We have struggled to solve the labor problem domestically and need to find alternatives.
Labor Reform Needed
The H-2A visa program, created in 1987 under the Immigration Reform and Control Act, allows a foreign national entry into the U.S. for temporary or seasonal agricultural work. Because this program is designed for seasonal agriculture, the H-2A visa program can't meet the workforce needs of pig farmers. Livestock production is a year-round job that requires different provisions and support. We need to rally our decisionmakers to find solutions for livestock production because the labor need is not going away. 
"We strongly support reform of the H-2A program or creating a new program," says NPPC Science and Technology Legal Counsel Andrew Bailey. "For us, the big thing we need is a year-round allowance for temporary agricultural workers. We are a year-round business; a lot of our farms are in very rural areas where the population is either aging or declining."
Packing plant capacity was a concern before COVID-19. 
"You can raise all the pigs in the world, but if you can't turn them into food, it doesn't really help anybody," Bailey says.
How Can Pork Producers Help?
Legislators would rather hear from constituents, he adds. 
"If you do talk to your legislators, let them know how labor shortages on farms or plants impact your day-to-day business or livelihood," Bailey says. 
More from Farm Journal's PORK:
CDC Prioritizes Frontline Meat Workers for COVID-19 Vaccination
AgriTalk: Final Days of 2020 Provide Hope for Pork Producers
UFCW, Meat Institute Ask Governors to Prioritize Vaccinations