BRD: Treatment Failures Add Up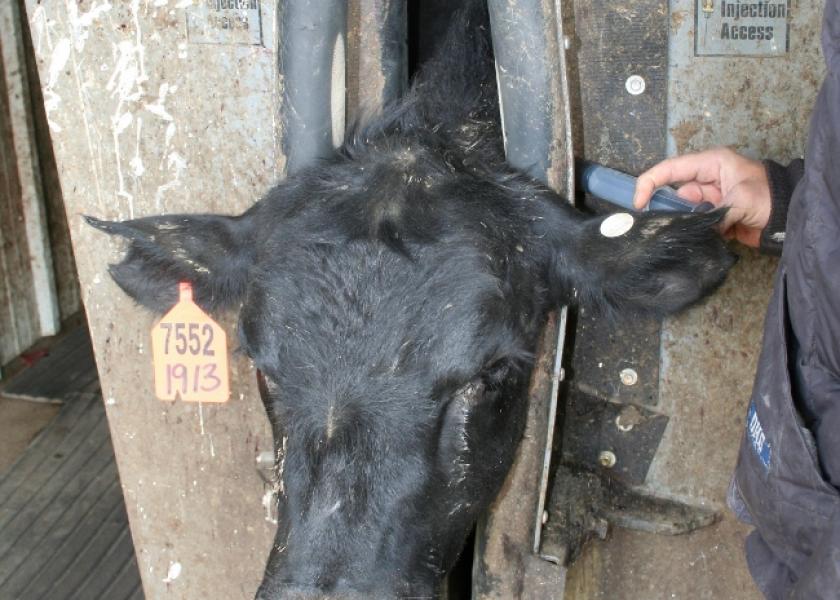 Editor's note: We'll have a series of articles summarizing highlights from the recent Bovine Respiratory Disease Symposium and Academy of Veterinary Consultants Conference on this site over the rest of this month. Check back often.
While researchers and the industry work to develop systems to better prevent bovine respiratory disease (BRD), timely treatments with antibiotics will remain a critical tool for minimizing losses associated with morbidity. However, in spite of the best efforts of veterinarians and producers, some animals need two, three or more treatments and some never recover.
During the recent BRD symposium in Denver, several veterinarians outlined potential reasons for treatment failures and the long list of direct and indirect costs to cattle feeders when treatments fail.
Calvin Booker, DVM, a managing partner with Feedlot Health Management Services in Okotoks, Alberta, listed several indicators of treatment failure including relapse therapy or retreatment, chronic illness, sale for salvage and euthanasia or death. He notes that according to data from the USDA's National Animal Health Monitoring System (NAHMS), initial treatments for BRD fail between 10% and 20% of the time. Second treatments fail in 30% to 40% of cases. Those producer-reported figures probably fall short, as sub-clinical BRD can cause significant performance losses while remaining undetected.
Booker lists these direct impacts or costs of treatment failure:
Cost of treatments, including labor for pulling, treating and managing pulls, diagnostics and record keeping.

Managing chronic cattle, including facilities, labor and managing withdrawal times.

Losses from salvage, which usually pays only 25% to 50% of the animal's original value.

Loss of accumulated expenses invested in cattle that die.

Carcass disposal.
 Indirect costs include:
Animal welfare and consumer acceptance.

Necropsy for mortalities or euthanized cattle.

Employee morale – Crew members take pride in keeping cattle healthy, and become discouraged when protocols fail.

Antimicrobial exposure – public opinion will continue to pressure the industry to reduce antibiotic use on livestock operations.
Brian Lubbers, DVM, PhD, from the Kansas State Veterinary Diagnostics Laboratory, discusses some of the biological reasons for treatment failures, and encouraged veterinarians and producers to investigate, rather than accept failures. Evaluation of efficacy is a key component in antibiotic stewardship, he says.
Treatment failures typically can be associated with interactions between the drug and the pathogen, the host and the drug, the pathogen and the host or the human and the drug, and could involve some of each. The most common problems he says, relate to the host/drug or the human/drug interactions.
Host/Drug interactions: The effects of BRD on the animal's physiology can affect the pharmacokinetics of the antibiotic. Animal research on these effects remains sparse, but tests in humans have shown that pathogens, such as those involved in sepsis cases, can modify the host's physiology to protect the infection from treatment.
Human/Drug interactions: This could involve choosing the wrong drug, the wrong timing, improper drug storage and handling, improper administration or dosing, prescription or transcription errors and other errors.
Lubbers encourages veterinarians to investigate clinical drug failures to identify causes and minimize future problems. Steps can include:
Report failures to the FDA or the pharmaceutical company. Lack of efficacy is an adverse drug event, and field experience can provide information beyond the results of clinical trials conducted for new-drug approval.

Develop and implement data systems to track failures.

Rule out producer mistakes in handling or administering the treatment.

Confirm the clinical diagnosis.

Submit samples for laboratory diagnosis.

Revise treatment protocols, standard operating procedures (SOPs) and possibly case definitions based on data.
For more summaries from the BRD Symposium and Academy of Veterinary Consultants Conference, see these articles from BovineVetOnline:
BRD Risk: Look at the Big Picture
Poster Session Highlights BRD Research
FDA Plans Next Moves on Antimicrobials