Beat the Heat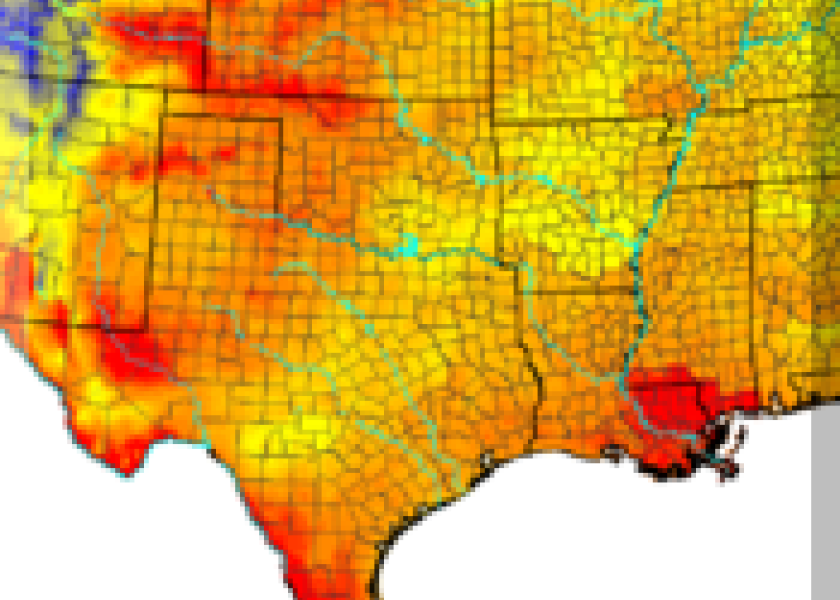 For most of us, July 4th means cookouts, parades and fireworks. But for livestock, it's the unofficial entry to the "dog days of summer," with the associated threat of damaging heat stress.
And right on schedule, the heat-stress forecasts provided by the USDA's Agricultural Research Service show relatively high risk of heat stress through the holiday weekend. The forecast maps indicate much of the Southern Plains region including Texas, Oklahoma and Louisiana rated at "Emergency" or "Danger" levels for heat stress though the weekend. The high-risk ratings reach north through Kansas, Nebraska and neighboring states, particularly on Thursday and Friday.
Heat stress results from the cumulative effects of high daytime temperatures, high humidity and high temperatures overnight, which prevent animals from cooling sufficiently before the next day's heat. Following a wet spring across much of the United States this year, humidity levels likely will reach higher-than-usual levels as temperatures rise.
The USDA website that offers the Cattle Heat Stress Forecast maps also includes a number of resources related to heat stress in cattle. These include:
ForecastingHeatStress

ImpactOfHeatStress

CattleRiskFactors

Environmental Risk Factors

Recognizing Heat Stress

Actions To Minimize Heat Stress
The Iowa Beef Center also provides a selection of heat-stress resources on its website.
At Iowa State University's Veterinary Diagnostic and Production Animal Medicine website, Beef Extension Veterinarian Grant Dewell, DVM, MS, PhD, outlines precautions producers, and cattle feeders in particular, can take to minimize the effects of extreme heat on their cattle. Dewell reminds producers to work cattle early in the morning during hot weather, and not during the heat of the day or even in the evening after ambient temperatures drop. In cattle, core body temperature peaks two hours after the air temperature, and it takes them at least six hours to dissipate the heat load.
Dewell also offers suggestions and guidelines for drinking water, sprinkling pens, feeding times, potentially reducing the energy content of rations and other aspects of recognizing the signs and managing cattle at risk for heat stress. Evaluate your cattle in the morning and again in the afternoon to make sure they are coping with the heat. Make sure cattle have access to plenty of fresh water and provide shade or sprinklers if possible. Pay close attention, as the rapid change in temperature may catch some at-risk cattle (cattle at end of feeding period or cattle with previous respiratory disease) dealing with excessive heat stress.
For more information on heat stress in cattle, see these articles from BovineVetOnline:
Heat Stress Affects Unborn Calves
Warnings Signs of Heat Stress in Cattle