Profit Tracker: Modest Profits For Cattle And Hogs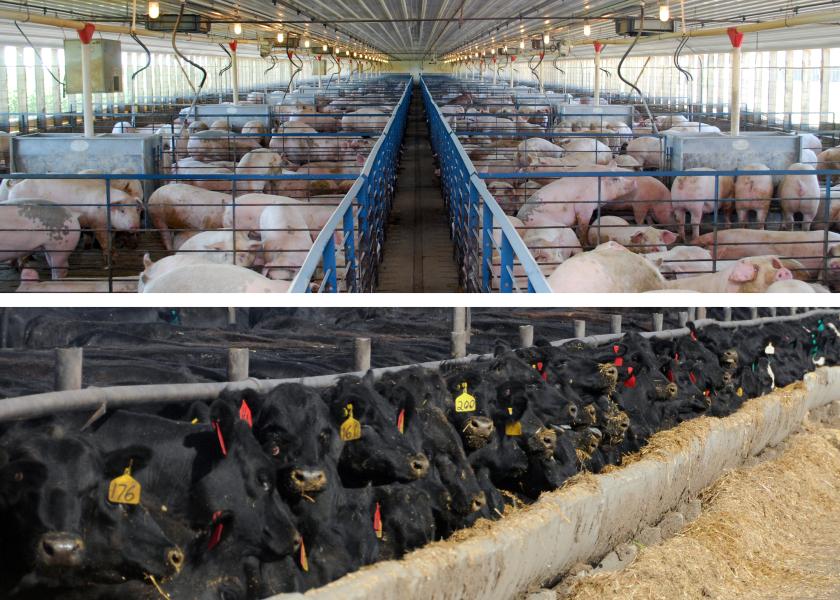 Cattle and hog finishing margins are both positive for the fourth consecutive week.
Cattle feeding margins posted average profits of $136 per head last week, $14 per head less than the previous week. Cash prices for fed cattle declined nearly $1 on average to $107 per cwt., but margins held positive due to significantly lower feeder cattle prices calculated in closeouts, according to the Sterling Beef Profit Tracker.
Cattle marketed last week were purchased last spring at prices diminished significantly by the onset of the coronavirus pandemic. Feeder steer prices factored into last week's Profit Tracker were $122.16 per cwt., which is $19 per cwt. lower than last year. Those lower feeder cattle prices produced an average breakeven of $97 for cattle marketed last week. The previous week's breakeven price was also $97 per cwt., and a year ago the breakeven was $111 per cwt. A year ago cattle feeders lost an average of $10 per head.
Packer margins declined $46 per head last week, though profits remain at $267 per head. Last week's beef cutout price averaged $210 per cwt., a decline of $4 per cwt.
Feedyard margins reported by the Sterling Profit Tracker, by Sterling Marketing, Vale, Ore., are calculated on a cash basis only with no adjustment for risk management practices.
(Note: The Beef and Pork Profit Trackers are intended only as a benchmark for the average cash costs of feeding cattle and hogs.)
Sterling Marketing projects 2020 feedyard margins to average a $10 profit per head, while annual packer profits are projected at $314 per head. Cash cow-calf margins for 2020 are projected at $57 per calf.
Farrow-to-finish pork producers have seen their margins improve significantly over the past month with rising lean carcass prices.  Last week saw average closeouts post $20 per head profits, about $4 lower than the previous week, and $2 per head better than a month ago.
Lean hog carcass prices traded at $66.29 per cwt., $1.24 per cwt. less than the previous week. Lean carcass prices are $2.47 per cwt. higher than a month ago, and $5.61 higher than the same week a year ago. A year ago pork producers lost an average of $7 per head.
Pork packers saw average profits of $59 per head last week, about $9 per head more than the previous week.
Sterling Marketing projects 2020 annual per head losses for pork producers at $18 per head, while projected packer profits are $59 per head.
(Editor's note: Sterling Marketing is a private, independent beef and pork consulting firm not associated with any packing company or livestock feeding enterprise.)
Related stories: