May Cattle on Feed Report Neutral
May Cattle on Feed report indicates fewer cattle in feedlots and less placements coming.
By: Darrell Mark, SDSU Economics Adjunct Professor

USDA's May Cattle on Feed report (released May 16) confirmed analysts' expectations for continuation of the trend towards lower placements and shrinking cattle on feed inventories. USDA's survey of 1,000+ head capacity feedyards indicated there were 10.648 million head of cattle on feed as of May 1, 2014, which is 1% less than a year ago (Table 1). Consistent with the multi-year decline in beef cow numbers, this is the 21st consecutive month with a smaller-than-a-year ago cattle on feed inventory. South Dakota's cattle on feed inventory has bucked this national trend thus far in 2014 with higher year-over-year on feed numbers. As of May 1, 2014, there were 235,000 head of cattle on feed in South Dakota feedyards with greater than 1,000 head capacities. While part of this is attributable to sharp declines in the state's on feed numbers in 2013, it also reflects the general trend toward growing on feed numbers in the Northern Plains during the last several months. Interestingly, Nebraska's cattle on feed inventory has equaled or surpassed Texas' cattle on feed since March 2014, making it the largest cattle feeding state in the nation.
As a proportion of total placements in the country, placements in the Northern Plains states of South Dakota, Nebraska, and Iowa have grown this winter as placements have declined in the southern states of Texas, Oklahoma, and Kansas. Since the beginning of the "ethanol era" in 2007, the proportion of cattle placed between October and June in the Southern Plains states declined from about 52% to 48% while cattle placed in the Northern Plains states increased from about 26% to 31%. So far this winter (from October 2013 to April 2014), placements in the Northern Plains states have accounted for 33% of total placements while Southern Plains placements have declined to 46% of national placements. This trend for the last seven years resulted from cheaper feeding cost of gain in the Northern Plains states due to their proximity to distillers grains from ethanol plants. While distillers grain feeding has moderated in the past year due to lower corn prices, an abundant corn harvest in the fall of 2013 in the western Corn Belt, along with continued dry conditions in the Southern Plains, has helped the Northern Plains feeding states maintain their cost-of-gain advantage.
In April 2014, total placements were 1.636 million head, which was 4.9% less than a year ago (Table 1). South Dakota, though, placed 7.7% more cattle on feed in April 2014 than in April 2013. Still, the state's placements were as much as 16% lower than its 5-year average for April placements. While the decline in national placements was relatively close to pre-release expectations (Table 1), it is also important to note that net placements (i.e., gross placements less other disappearance) were 5.9% lower in April 2014 than a year ago. This is actually the largest year-over-year decline in net placements since August 2013. The decline in net placements in April this year was due to an increase in other disappearance (e.g., feedyard to feedyard transfers, death loss, etc.). Other disappearance has increased substantially in March and especially April in California due to worsening drought conditions and lack of feed. As a result, cattle have been shipped out of that state to areas with better feed availability.
In April 2014, feedyards marketed 1.778 million head of cattle, 2% less than a year ago and close to pre-release expectations (Table 1). That's the smallest April marketings figure since the current data series began in 1996. South Dakota's feedyards marketed 30,000 head during April 2014, unchanged from a year ago.
Overall, the numbers in the May Cattle on Feed report were very close to expectations and market reaction to the report is expected to be neutral.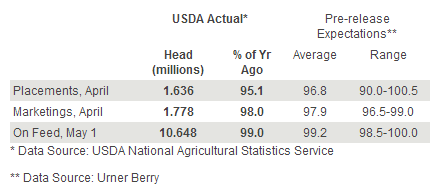 The information in this report is believed to be reliable and correct. However, no guarantee or warranty is provided for its accuracy or completeness. This information is provided exclusively for educational purposes and any action or inaction or decisions made as the result of reading this material is solely the responsibility of readers. The author and South Dakota State University disclaim any responsibility for loss associated with the use of this information. There is substantial risk of loss in trading commodity futures contracts and traders should consult their brokers for a full disclosure of these risks to determine whether such trading is suitable for them in light of their circumstances and financial resources.