Market Highlights: Stocker Cattle Run
Stocker and backgrounding operations have been foaming at the mouth to secure the inventory needed to harvest spring grass.
By: Andrew P. Griffith, University of Tennessee
FED CATTLE: Fed cattle trade was not well established at time of publishing. Bid prices on a live basis were $163 while ask prices were $167 to $168. A stronger market is expected. The 5-area weighted average prices thru Wednesday were $166.73 live, up $2.75 from last week and $262.00 dressed, up $2.00 from a week ago. A year ago prices were $150.35 live and no dressed price.

It appears feedlot managers will again be able to squeeze a few more dollars out of packers this week as live cattle look poised to make another run at the $170 mark. Fed cattle could reach the $170 mark again, but they better do it in the next few weeks before fed cattle marketings begin to seasonally increase.

Though fed cattle prices have been strengthening for several weeks now, it does not mean cattle feeders are hitting it out of the park with profits.

Calf and feeder cattle prices peaked in late November and early December so many of the cattle coming off feed today and those being harvested the next several weeks will be feeder cattle that were bought at record prices which has severely limited profit potential on a cash-to-cash basis.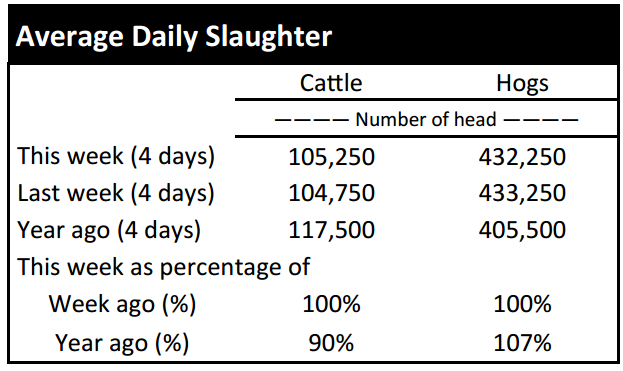 BEEF CUTOUT: At midday Thursday, the Choice cutout was $256.40 up $0.98 from Wednesday and up $5.97 from last Friday. The Select cutout was $250.82 up $0.61 from Wednesday and up $4.20 from last Friday. The Choice Select spread was $5.57 compared to $3.81 a week ago.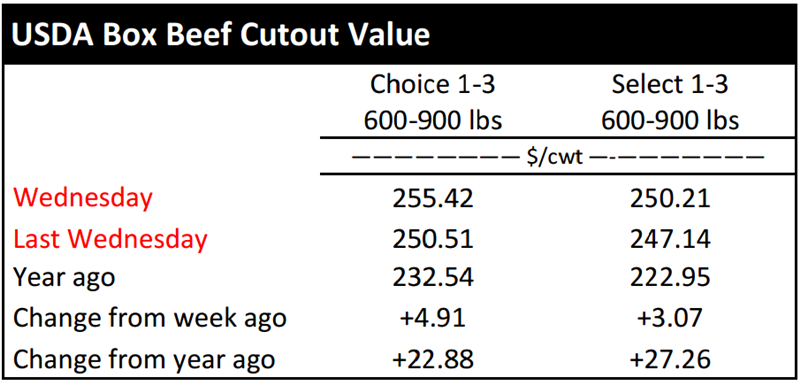 The spring beef market is beginning to heat up in both a literal and figurative manner. The unofficial start to summer is still two months away, but warmer weather has resulted in some consumers pulling the cover off the grill and firing it up. Warm spring time weather generally bodes well for the meat industry and 2015 should not be any different.

Another couple of factors that should positively impact the beef industry are the end of Lent which impacts meat consumption to a certain degree and the beginning of baseball season. Packers will continue to manage production through the spring and summer since retail beef prices will experience little to no relief.

Thus, packers will be looking to take advantage of the seasonal increase in available cattle to gain leverage on feedlot operators. It is going to be an uphill climb for packers to force beef cutout prices higher than the records already set. There will be strong pushback from retailers, restaurants, and other food service customers as consumers show some resistance.
TENNESSEE AUCTIONS: On Tennessee auctions this week compared to a week ago feeder steers and bulls were steady to $4 higher. Heifers were $1 to $3 higher. Slaughter cows were $1 to $4 lower while bulls were steady. Average receipts per sale were 932 head on 9 sales compared to 980 head on 10 sales last week and 633 head on 12 sales last year.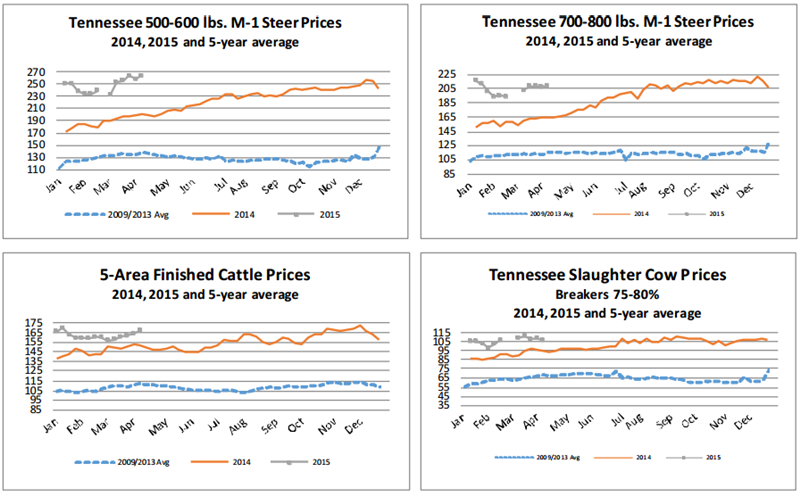 OUTLOOK: Weather conditions have been favorable for marketing cattle the past several weeks which has allowed a large number of calves to be moved from cow-calf operations to stocker and backgrounding operations. A large number of cow-calf producers continue marketing last year's late summer and early fall calf crop in order to capitalize on what is thought will be the highest price of the year for 400 to 600 pound calves.

At the same time, stocker and backgrounding operations have been foaming at the mouth to secure the inventory needed to harvest spring grass. The warm temperatures coupled with timely precipitation were welcomed by many producers as hay supplies were becoming tight and the need for forage was becoming crucial.

The spring flush is also hitting at the right time for spring calving herds as peak lactation is nearing and cows' nutrient needs are increasing. The abundance of spring grass will also be beneficial to cow-calf producers who wean and pre-condition calves before marketing. This time of year allows such producers to capitalize on relatively cheap gain while also adding value to the calves by providing a health program and introducing calves to the feed bunk.

Producers who are purchasing stocker calves or producers who are making the decision to pre-condition calves may want to consider price risk management as part of the marketing strategy, because the current investment for 450 to 550 pound steers is between $1,300 and $1,450 per head. Such an investment leaves little room for error as margins are already tight and may become tighter by marketing time.

Cow-calf producers should be vigilant in keeping an eye on market cow prices this spring. If there are any cows that did not calve or if there are cows that need to be culled from the herd then May and June will likely provide an opportunity to capitalize on strong slaughter cow prices. A 1,200 pound cow in good body condition could easily bring $1,300 on this week's market. Thus, producers may want to market some older less productive cows and purchase some younger breeding stock.
TECHNICALLY SPEAKING: Based on Wednesday's closing prices, April live cattle closed at $161.80. Support is at $160.92, then $159.24. Resistance is at $162.59, then $164.27. The RSI is 64.17. June live cattle closed at $152.23. Support is at $151.25, then $149.18. Resistance is at $153.33 then $155.40. The RSI is 62.49. August live cattle closed at $149.18. Support is at $148.80, then $148.10. Resistance is at $149.50, then $150.28. The RSI is 60.22. April feeders closed at $218.63. Support is at $215.46, then $212.86. Resistance is at $218.06 then $220.66. The RSI is 65.20. May feeders closed at $216.65. Support is at $215.46, then $212.86. Resistance is at $218.06 then $220.66. The RSI is 62.15. August feeders closed at $217.93. Support is at $217.20, then $216.08. Resistance is at $218.28 then $218.90. The RSI is 62.17. Thursday's closing prices were as follows: Live/fed cattle – April $163.03 1.23; June $153.38 1.15; August $149.83 0.65; Feeder cattle - April $220.38 1.75; May $217.45 0.80; August $218.55 0.63; September $217.65 0.43. May corn closed at $3.87 up $0.05 from Wednesday.