Market Highlights: Cattle and Beef Slide
Both beef and cattle prices continued to slide.
By: Andrew P. Griffith, University of Tennessee
FED CATTLE: Fed cattle traded $3 to $4 lower on a live basis compared to a week ago. Prices were mainly $159 to $160 on a live basis while dressed trade was mainly $256 to $257. The 5-area weighted average prices thru Thursday were $159.51 live, down $3.63 from last week and $256.03 dressed, down $7.47 from a week ago. A year ago prices were $148.25 live and $238.86 dressed.

Live cattle prices declined 6.1 percent the past two weeks while the dressed price declined 5.4 percent during the same time period.

Additionally, the live cattle price is only 7.9 percent higher than the same week last year and dressed trade is only 7.2 percent higher. However, the interesting story lies in that 500 to 600 pound steer prices in Tennessee are still about 30 percent higher this week than the same week in 2014 while 700 to 800 pound steer prices are currently 29 percent higher than a year ago.

If considered from a sell-buy standpoint, feedlots are paying about $340 more dollars per 750 pound steer to replace an animal in which they received an additional $165 over last year. This difference is not advantageous for feedlots which will result in added pressure to feeder cattle prices if fed cattle prices do not rebound soon.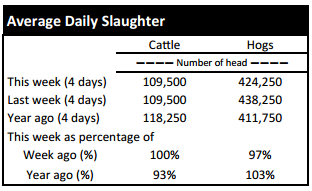 BEEF CUTOUT: At midday Friday, the Choice cutout was $253.88 down $1.77 from Thursday and down $7.25 from last Friday. The Select cutout was $249.43 up $0.54 from Thursday and down $2.77 from last Friday. The Choice Select spread was $4.45 compared to $8.93 a week ago.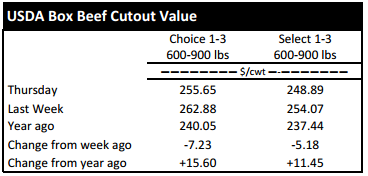 The Choice and Select beef cutout prices have had a good run since moving from December to January, but about half of the gains in the Choice beef market disappeared this week while Select cuts are working to maintain their own.

This is normally a time of year when Select grade beef flexes its muscle relative to Choice beef as consumers move from middle meats to end meats such as rounds and roast. This seasonal movement has resulted in a narrowing of the Choice Select spread which was essentially cut in half this week.

Beef prices will continue to be pressured the next several months by pork and chicken prices. Increasing production in the poultry industry as well as in the swine industry will place more chicken and pork on the market resulting in lower prices for beef's two primary competitors. A number of consumers are already substituting other meats for beef and this substitution effect will likely increase as the price of other meats decline.
TENNESSEE AUCTIONS: On Tennessee auctions this week compared to last week steers and bulls were $7 to $13 lower. Heifers were $3 to $12 lower. Slaughter cows were $1 to $3 lower while slaughter bulls were $2 lower. Average receipts per sale were 916 head on 12 sales compared to 658 head on 12 sales last week and 875 head on 12 sales last year.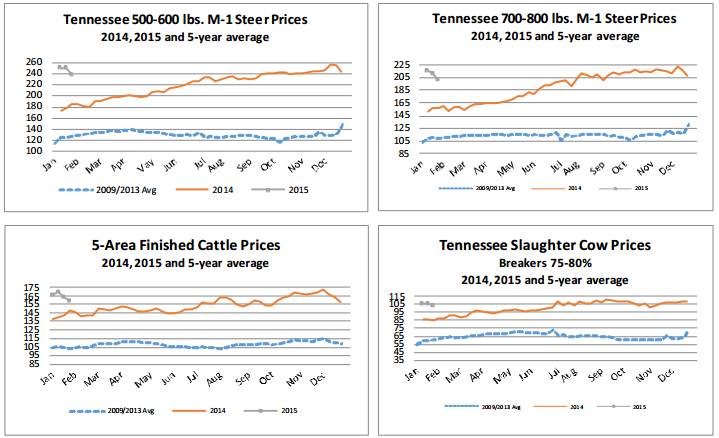 OUTLOOK: Producers set wheels under a lot of cattle this week in Tennessee and hauled them to town. The first week of the year with warm and dry weather provided many producers the opportunity to gather and market calves.

Many of the producers marketing cattle this week were on their normal marketing schedule which is to market cattle after the first of the year. However, there were a number of cattle that would have normally been marketed in the fall that were held until the new year to defer income.

Many folks in the cattle industry have been asking why the feeder cattle market has witnessed softer prices the past few weeks. There are likely a number of factors impacting this price softening. One of those factors may be the fact that there are actually more calves and feeder cattle still in pastures than what many market analysts actually thought.

The market, even with this week's price decline, is still paying producers to continue adding weight to calves and stocker cattle regardless if the ration is pasture or grain based. Another factor may be as simple as buyers paying too much for feeder cattle in the fall, and now those same buyers are trying to purchase cattle for a price that will result in a profit in the feedlot.

The factor of prices for feeder cattle and calves being too high may not be a popular idea to cow-calf producers, but there are probably a number of stocker operators, backgrounding operations and feedlot managers that welcome prices moderating to some extent. The feeder cattle market is likely to trade in a $15 to $20 range the next several months, but there is little concern of prices dropping significantly.
The January cattle on feed report for feedlots with a 1000 head or more capacity indicated cattle and calves on feed as of January 1, 2015 totaled 10.69 million head, up 0.9% from a year ago, which is on the low end of pre-report estimates. December placements in feedlots totaled 1.54 million head, down 8.0% from a year ago with the pre-report estimate average expecting placements down 3.5%. December marketing's totaled 1.66 million head down 4.7% from 2013 while the pre-report estimate expectation was down 4.3%. Placements on feed by weight: under 800 pounds down 11.2% and 800 pounds and over up 2.6%.
TECHNICALLY SPEAKING: Based on Thursday's closing prices, February live cattle closed at $153.35. Support is at $152.58, then $150.63. Resistance is at $154.53, then $156.48. The RSI is 29.77. April live cattle closed at $151.80. Support is at $150.97, then $148.82. Resistance is at $153.12, then $155.27. The RSI is 29.40. June live cattle closed at $145.78. Support is at $145.70, then $145.40. Resistance is at $147.10 then $147.55. The RSI is 31.60. January feeders closed at $215.98. Support is at $215.23, then $213.58. Resistance is at $216.88 then $218.53. The RSI is 38.69. March feeders closed at $206.32. Support is at $204.48, then $200.68. Resistance is at $208.28, then $212.08. The RSI is 35.52. April feeders closed at $207.05. Support is at $207.00, then $206.35. Resistance is at $210.58 then $211.48. The RSI is 35.07. Friday's closing prices were as follows: Live/fed cattle –February $150.35 -3.00; April $148.80 -3.00; June $142.78 -3.00; Feeder cattle - January $213.70 -2.28; March $201.83 -4.50; April $202.55 -4.50; May $203.43 -4.50. March corn closed at $3.87 up $0.03 from Thursday.