CAB Insider: Weather, Heifers Drive Lower Weights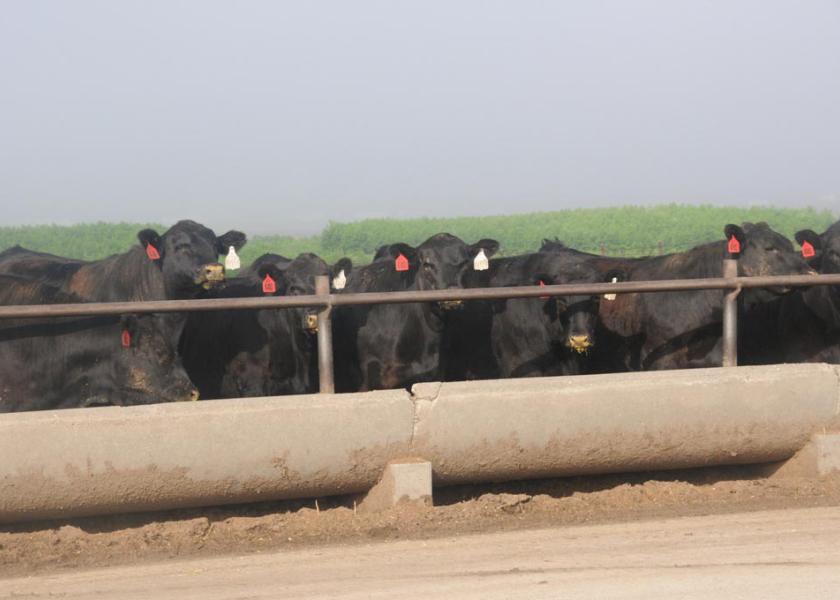 By: Paul Dykstra, Certified Angus Beef
The beef cattle trade has been highlighting this winter's "weather market" for several weeks now, but the impact from last week's bomb cyclone through the northern U.S. reaches of the cattle feeding belt has escalated what will be a very measurable draw-down on cattle performance through spring. 
In our last CAB Insider, we highlighted elevated feedlot cost-of-gain expectations along with poorer feed conversions already evident in the January closeout data. The latest confirmed fed-cattle data for the week of February 25th shows the weighted average steer/heifer carcass weight of 851 lb. was 12 lb. lighter than for the same week a year ago, down sharply from a 9-lb. deficit just the week before. 
Heifer carcasses are decidedly lower at 15 lb. under a year ago while steers in the latest report were just 9 lb. lower. The heifer impact is also greater so far in 2019 than in several years since they've constituted 38% of fed cattle supplies, a number we associate with cow herd liquidation years. This stands in contrast to last year's 36% heifer share of the fed cattle harvest through early March. 
Year-to-date the domestic fed-beef supply is showing these impacts through a tonnage reduction. Despite the fed-cattle harvest since Jan. 1 coming in 0.9% larger than a year ago (up 4,212 head/week), the carcass production estimate is 0.19% smaller than a year ago, as lighter weights offset an equivalent to 5,086 head/week fewer.
While that reality is decidedly negative for cattle feeders capturing smaller pay weights and returns, there may be a much needed silver lining coming in terms of market values this spring. Expectations are, as more data becomes available, we'll see carcass weights decline at a much faster pace than they did a year ago based on recent weather events.
Market Update
Last week's federally inspected cattle harvest was curtailed by temporary shutdowns at several Nebraska packing plants. Late-winter storm impacts brought much commerce and traffic to a halt mid-week as flooding in eastern Nebraska had plants unable to operate. All of that said, other plants were able to ramp up production enough to make up for quite a bit of the lost time, generating a 593,000 harvest total for the week. The week's average fed-cattle trade came in at $127/cwt. after early pressure from weakness in Live Cattle futures.
Steer carcass weights remained at 874 lb. again last week, 9 lb. lighter than a year ago at this time. With the storm further compounding weather impacts to much of the northern feeding areas, we'd anticipate the divergence in weights this spring compared to a year ago to continue to worsen into early May. Supplies of Certified Angus Beef  brand product, however, are ample as we have just completed 4 weeks averaging 110,000 carcasses certified per week, a rate of 37.5% of the eligible steer and heifer mix.
Seasonal Peaks, Pending Valleys
The calendar says we should already be past the seasonal peak in percent Choice and Prime quality grading and Certified Angus Beef  brand certification rates. Simultaneously, beef buying to fulfill spring grilling demand will pull a juxtaposition. Spot market values for highly marbled, branded middle meats will surge just as grading slips toward the seasonal lows in May. These rules of thumb fold in with the annual trend whereby the first week of April has marked the beginning of the steep, rapid incline in the Choice/Select price spread as modern genetics and management have relegated less than 20% of fed cattle carcasses to the Select grade. However, the Choice/Select spread remains important in the fact that most if not all packers adjust their grid base (price of a Choice, Yield Grade 3 carcass) by a factor of the Choice/Select spread and the plant's running average percentage of carcasses grading Choice and higher. Thus, as much as we've begun to move past much discussion about Select grade product on the end user side, we're yet heavily reliant on the price of a Select carcass to help determine the underlying "par" carcass value in the feedyard/packing transaction. The season is upon us to reap the high-quality carcass value spreads for the Certified Angus Beef  brand and Prime on top of the Choice spread.