Plant-based Meat Brand Heura Sued by Spanish Meat Associations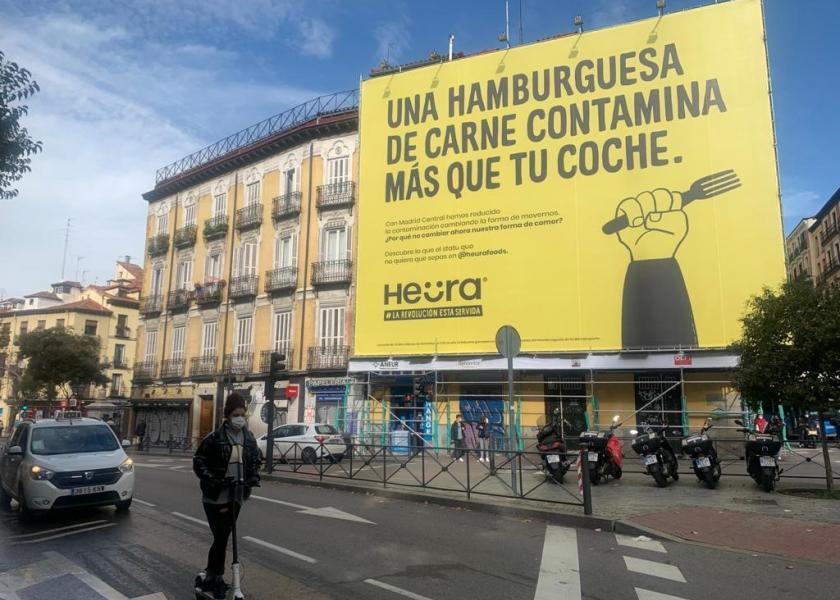 Heura, Europe's fastest-growing plant-based meat brand, has withdrawn a provocative advertising campaign following legal action from the meat industry.
The meat industry had taken initial measures to sue Heura after it launched a provocative campaign highlighting the pollution caused by the livestock industry entitled 'One beef burger pollutes more than your car.'
The campaign quickly went viral, prompting major meat industry associations to sue the brand.
Heura has responded to the lawsuits by agreeing to take down the billboard in central Madrid and has invited key players in the meat industry to start a dialogue about how to jointly find solutions to create a more sustainable industry.
The billboard in central Madrid highlighted the monumental role of the livestock industry as a major contributor to climate change.
Speaking about the suit, Heura co-founder Bernat Añaños said:
"We hope that we can utilise this moment to begin a dialogue between all parts of the food industry to figure out how we can ensure a sustainable, healthy and ethical food system."
"The current food system needs to evolve just as the transportation system is beginning to evolve. If there is already a more efficient and sustainable way to feed ourselves, what is the reason for not looking forward?"
"We do not want to start a confrontation with anyone. As proud food activists, we want to be part of the transformation that the sector so desperately requires, and we want to do it without leaving anyone behind."