6 Ways to Makeover Your Cow Herd for the Future
Home remodeling shows are all the rage on cable television and they have some resemblance of changes needed in the beef industry. You might not consider your cows as a Fixer Upper, but it could be time to remodel your breeding strategies.
A panel during the opening session of Cattlemen's College at the Cattle Industry Convention and NCBA Trade Show in San Diego discussed strategies to do a whole herd makeover. Panelists included:
David Daley, Interim Dean for the College of Agriculture at California State University-Chico and family rancher in northern California
Patsy Houghton, Heartland Cattle Co. in Tipton, Kan., specializes in developing heifers for customers
Tom Brink, founder and owner of Top Dollar Angus, also CEO of the Red Angus Association of America
Don Schiefelbein, co-owner of Schiefelbein Farms, a registered Angus operation near Kimball, Minn. 
The conversation touched on an array of topics centered on genetics and how to improve a growing cow herd after reaching a 60 year low just two years ago.
Many cow herds won't be total rebuilds. They have good foundations, so there is no need to work from the ground up. Here are six approaches to renovate your cow-calf operation:
 
1. Genomics
Schiefelbein thinks the tools we have today with just a few drops of blood are just unbelievable.
The technology and data behind genomics have skyrocketed in just 5 years. "This genetic revolution is coming and it is coming hard," Schiefelbein says.
Brink encourages commercial producers to use genomic testing to select replacement heifers.
Testing doesn't have to be done on all heifer calves. A producer can take out the youngest or smaller calves out of the testing pool. Those that don't fit as replacements phenotypically don't need to be tested either.
Genomics can knock out the bottom part of the heifers genetically. Brink says, "Every herd has a tail end" and testing with DNA can help improve selection along with visual appraisal.
Daley believes genomic testing won't work because he has large herd numbers and grazes in rough terrain. He runs cows on a mix of public and private pastures. Because of drought conditions in California he's culled down from 1,000 head to 700 head.
"For me testing those heifers doesn't have any value," Daley adds.
 
2. Crossbreeding
Crossbreeding has a lot of value, but it needs to be done right, Brink says. "There is such a thing as crossbreeding done wrong." We need to have crossbreeding with a true plan that we can stick with overtime, Brink adds.
 "I'm not going to criticize anyone who has a true breeding program," Brink says. Straightbreeding can work, but the biggest problem is those people who don't have any sort of set breeding program.
 
3. Work with Your Seedstock Producer
Seedstock producers are genetic creators. Commercial cattlemen are genetic multipliers, Houghton says. Houghton has been doing heifer development for the past 25 years and has developed 100,000 head for her clients.
"There is a license to be a veterinarian and doctor. There is no license to be a seedstock producer," Daley says.
"People forget we are competitors. There are seedstock breeds competing with other breeds," Schiefelbein says.
"I want a seedstock producer who is good at what they do and does what they say," Daley says. He recommends buying the best bull you can from a seedstock producer you trust.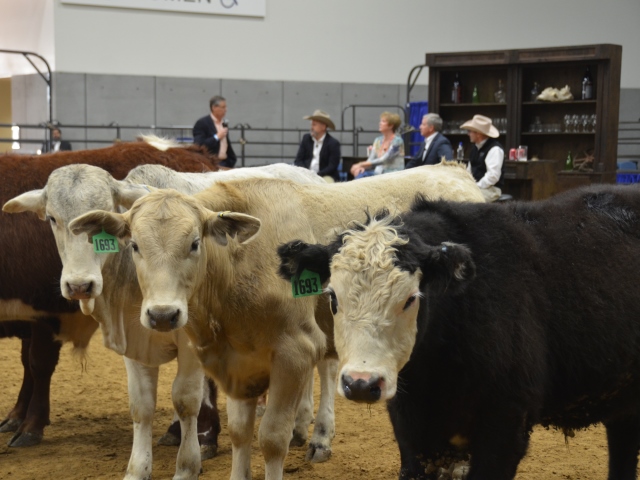 The panelist talked shop in front of a packed crowd and a pen of feeder cattle. Photo by Wyatt Bechtel
4. Expected Progeny Differences
"We need to use our information," Brink says. EPDs are only as good as the data collected to create the values.
Brink believes using selection indexes to make genetic decisions is a good start for producers buying bulls.
 
5. Don't Follow the Lead of Dairy
Daley points to the Holstein breed as an example not to follow. The breed's genetics can be traced to seven cow families causing some lethal recessives and pulling down performance.
We do not want to go down the same road as the dairy industry says Houghton of chasing numbers and straightbreeding.
 
6. Expansion Tactics
"What I always say is 'You want to expand smartly,'" Schiefelbein says.
If Daley sees an opportunity to expand he'll do it, but he'll have the feed, water and land in place first.
What you're seeing in the heifer market is we've got a two-tier market: High Quality and Low Quality says Houghton. High quality heifers didn't drop in price as bad, but the market for those low quality heifers dried up.
Schiefelbein estimates he lost $400 per head on heifers held back to sell as replacements. Maybe the reigns should be pulled back on heifer development. It is now a buyers' market.
Brink's advice: "Expand with marbling." He recommends making genetic decisions that will improve carcass quality, while not sacrificing other traits to help advance the cow herd during expansion.
"If I don't have longevity in my cow herd I can't expand," Daley says.