Double Standards and Faux Meat, Page 2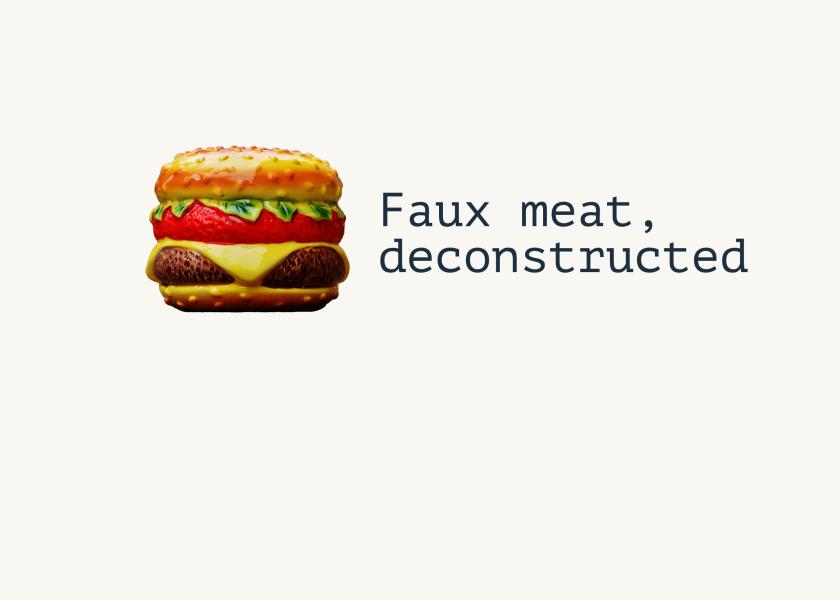 Lastly, and this one may get me thrown out of the beef business, is the bold statement that "there's no alternative to beef." Quite clearly, there is – maybe not from a flavor standpoint but from a "spot on the plate" standpoint, for sure. There are hundreds of thousands, maybe even millions, of people who think faux meat and alternative proteins ARE perfect alternatives to beef. 
Case in point, I was in Denver in June at a Bar Louie restaurant and, on a whim, I thought I'd order the Impossible Burger to give it a try. It was sold out … indefinitely. It had been so popular at that locale, and at other chains nationwide, the manager hadn't a clue when the alternative patty would reappear on the menu. I was somewhat shocked but after reading Technomic's 2019 Burger
Consumer Trend Report that stated 44% of millennials who eat burgers expect restaurants to offer at least one plant-based burger option, my shock turned to acceptance. Notice that says "at least." Yes, there are alternatives to beef, and many people love them. 
Now that I've dropped my thoughts on the messages that give me pause, here are a few pro-real beef statements I am using a lot on my social properties as well in consumer presentations.
-    Nothing compares to the flavor of real beef, so if shoppers want that flavor they should go for a real hamburger. Beef has the special characteristic of having its own distinct flavor, no seasoning or marinade necessary, that people crave. How many other proteins – real or faux – can make that claim?
-    At a restaurant in Whitefish, Montana, earlier this week I overheard a conversation between a waiter and a customer:
Waiter: And what will you have, ma'am?
Woman: Is there any meat in the garden burger? It's all vegetables, right?
Waiter: No meat, just veggies.
Woman: I'll have that, thank you.
Waiter: Our burgers are vegetarian, too, ma'am. Cows eat grass ….
ZING! My husband actually shook the waiter's hand later for that comment. Beef is the original and best-tasting plant-based protein, and my sarcasm-loving heart shares that fact whenever I can. While it is a bit on the snarky side, this line of verbiage doesn't tear down the alternatives, it promotes beef in a witty and memorable way. 
-    Nearly half the land in the U.S. is unsuitable for grazing crops – raising cattle for real beef on that land allows farmers and ranchers to take land that won't support lettuce, peas or kale and turn it into a protein of the very highest quality. Beef is nature's multivitamin and there isn't an alternative patty on the market that can match the protein and nutrition profile of real beef.
-    While beef producers are always pursuing ways to lessen our impact on the environment and become more sustainable, while staying profitable, it's critical to recognize that ALL FOOD has an environmental footprint – even alternative protein patties. Trading out beef for the other doesn't have that much of an impact. 
I did an interview with CBS last week and the anchor asked me, more than once, that even though U.S. beef production (which is the most sustainable in the world) only accounts for 2% of GHG emissions, shouldn't we do more to get that number to 0%? Again, I had to say each time, all food has an impact on our environment – eliminating livestock would have a minimal effect, while also increasing fertilizer use and increasing soil erosion.
I am by no means the expert on alternative proteins, shopper purchasing patterns or sustainability. I have colleagues and peers in these realms and rely on them to share with our industry the most recent and scientifically sound data they analyze. I do however, lurk on social media like a champ and can tell you quite confidently that the role of "hypocrite" is not one that beef wants to take on anytime soon and if we keep criticizing alternative proteins for being processed, we are fast-approaching that label. I am, however, encouraged by the fact that the beef industry is finally taking notice of the legitimate threat these alternatives pose. 
Brandi Buzzard Frobose is a rancher, ranch wife, mama, agriculture advocate, calf roper and the director of communications for the Red Angus Association of America. You can read more of her work at BuzzardsBeat.com or follow her online on Facebook or Instagram.
Read more from Brandi here:
Should We Stop "Educating Consumers?"
When the Title Match is Big Ag vs. Hobby Farms, PETA Wins
How Important is Transparency When it Comes to the "Ick" Factors?