Kessler Livestock named Limousin commercial producer of the year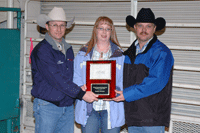 Kent Anderson, NALF executive vice president, presents the award to Delarie and Tim Kessler.
 
A dedication to learning, improvement and good animal husbandry helped earn the North American Limousin Foundation (NALF) Commercial Producer of the Year award for Tim and Delarie Kessler of Kessler Livestock, Leola, S.D. The enterprise topped a field of five nominees that also included Gerald and Jason Mootz, Dubuque, Iowa; English Family Farms, Bernard, Iowa; Eastview Cattle Co., Balaton, Minn.; and Jim Hager, Velva, N.D.
Kent Andersen, Ph.D., NALF executive vice president, presented the award Jan. 14 during the Limousin pen and carload shows at the National Western Stock Show (NWSS) in Denver, Colo.
"The Kesslers exemplify what can be achieved with hard work, good management and smart use of performance information when making selection decisions," Andersen said. "NALF is pleased to recognize their progressive use of Limousin genetics."
Twelve years after first incorporating the breed into their herd, the Kesslers now manage about 450 commercial cows. They have used performance records to select bulls that entire time and to cull cows for the last nine years. Individual identification of their cows and calves allows them to track birth and yearling weights. It also allows them to maintain complete health records.
They market their weaned calves to Ainsworth Feed Yards in Nebraska, and they have seen their average finish weight increase about 100 pounds over the past decade. They also are able to collect carcass data for 60 percent to 70 percent of their calves each year.
"We have been striving for better quality beef and are purchasing higher quality breeding stock," Tim said. "We research EPDs (expected progeny differences) and continue to work closely with three Limousin seedstock suppliers to find the right genetics. Across the board, we have improved all traits 25 to 30 percent."
Because they raise their own replacement females, keeping back about 40 heifers each year, the Kesslers emphasize fertility through scrotal circumference in their sire selections. They also pay close attention to genetic merit for birth, weaning and yearling weights and a bull's actual performance data.
To see more North American Limousin Foundation awards, go to www.nalf.org.
---