How to Select and Develop Productive Heifers
Select and develop heifers to be productive cows
As you rush to sort calves in the light of high calf prices, be careful with the ladies in the lot. Your replacement heifers need a little more TLC than you may have thought.

In our previous article in the Maximize the Herd series, ("Choose Sires Wisely," October 2013), Bob Weaber, cow-calf Extension specialist at Kansas State University, clued us in to the next step of taking your herd to a higher level of profitability: selecting replacement heifers that fit their environment.

Seems easy, but Kris Wilson, the general manager of the Bell and TO Ranches of the Silver Spur, has firsthand experience that it takes discipline to choose and develop heifers that can go the long haul. Rough canyon terrain and drought-stressed native grass pastures are the two biggest challenges he faces on the semi-arid desert environment of New Mexico.

"Because of our environmental challenges, I really think that if we are going to keep heifers in this area they need to be raised right here and taught how to be successful cows in this environment," Wilson says. "One thing that I think has been lost is the sheer animal husbandry aspect of heifer development—being able to physically select the right animals for our herds."

While other operations may experience different forage, environment and management challenges, or elect to utilize professional heifer development services, the key in any situation is to select and develop heifers to fit your environment, feed resources and future marketing goals.
"If we are going to change our production system to use fewer inputs, such as supplemental feedstuffs, and being more profit-minded, we must make sure we are selecting cows that have the appropriate biological size and type for their environment," Weaber says.

"The two pieces that play the biggest roles in those nutrient demands is the mature weight of the cows and their lactation potential," he explains, "because we know the cows with larger mature weights have higher main­tenance requirements 12 months a year. The cows with higher lactation potential also have higher maintenance requirements, due to larger organ mass, 12 months a year, and more when they are lactating. About half the calories consumed in the beef value chain are attributed to dam maintenance requirements. So focusing on this area can have big benefits for the industry."

"In some higher precipitation environments, we can do things to change forage availability, such as intensive grazing using improved forage species. However, in the Flint Hills of Kansas and other western states where we rely on native range, it is very difficult. The easiest thing is change the cows to fit the environment," Weaber says.

Select her dam first. "On the Bell Ranch, one of the big keys to our heifer development program is to select heifers based on their dam side," Wilson says. "We'll ride through our cows and calves and evaluate what the dam looks like. Is she the kind of cow that has been able to remain fleshy in a droughty environment? Does she have proper structure and feet? Is she handling the rocks that we encounter in this environment? Does she have a good udder?" Wilson says. "Once the cow fits a certain type of physical criteria, then we evaluate the heifer at her side."

As producers consider growing their herd sizes, Weaber says to be very mindful of what your forage resources are and select heifers appropriately.

"Our natural tendency—and I'm as guilty as anybody—is to sort out the biggest, fleshiest, nicest-looking set of heifers out of that group. In the long run, that results in increased cow size and lactation production in your cow herd—which means they will have higher maintenance needs," Weaber says.

"These heifers probably have a great assortment of growth genes from their parents and are from a cow with above-average lactation potential. So you get into this cycle of selecting bigger and higher-milking heifers year after year. Selection should be for the optimum size based on your resource base, rather than selecting to make cows too big or too small, both of which have consequences."

"What you should do is pick heifers based on age with acceptable levels of growth. Choosing heifers born early in the calf crop and that are in the middle of the calf crop for weaning weight helps insulate you from increasing the maintenance costs due to selection of high growth, high lactation potential replacement heifer calves," Weaber says.

Early born heifers have additional benefits in fertility and longevity, adds Scott Lake, University of Wyoming associate professor and beef Extension specialist. "There are data from Nebraska and Wyoming that show heifers born early in the calving season have greater longevity and reach puberty earlier, which means they have a higher likelihood of breeding during the first cycle of their breeding season. There are a lot of little reasons all playing together to explain why profitability and sustainability increase with these early born heifers," Lake adds.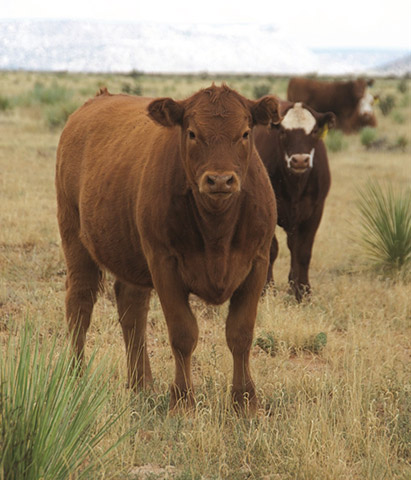 Develop her potential. Heifer development begins at selection. Proper growth and development of the replacement female from birth until she produces her first calf is of critical importance for her to become a highly productive part of the cow herd, says Patsy Houghton, owner of Heartland Cattle Company, a professional heifer development and research center in McCook, Neb.

"A good nutritional program is only one facet of heifer development," Houghton says. "In our 23 years, we've worked with many ranches to provide a full-service heifer development program that includes genetic consultation, estrus synchronization and heat detection, AI and embryo transfer, as well as placing the desired selection pressure on fertility via the feeding program and/or length of the breeding season.

Heartland's prebreeding soundness exams, performed 35 to 45 days prior to breeding, results in an average 3% to 9% culling rate prior to breeding, she adds. Reasons include small pelvic area, infantile reproductive tracts and/or various functional soundness problems.

"When these poor replacement prospects are identified prior to breeding, it allows the rancher to merchandise them in a timelier manner, thus improving cash flow and reducing total carrying costs," Houghton adds.

However, nutrition is a critical component, Lake adds. "There is a fine line—we don't want to trick heifers into thinking that life is going to be a high-energy corn diet fed from a bunk. It is important, though, to get them in good shape to reach puberty early and cycle before the breeding season, especially if we AI them," he says.

"Develop heifers on a high forage diet with high feed intake to develop rumen capacity. Dry matter intake is important for growth and reaching puberty, but we want them to be dependent on a high forage diet," Lake says.

Houghton agrees, adding that their research advocates heifers being fed a high roughage/limit fed diet to weigh 60% of their mature body weight when bred for the first time. Some producers prefer to develop heifers to only 50% to 55% of their mature body weight with the idea it places more selection pressure on fertility, but Houghton prefers a very short 30- to 45-day breeding season.

"There is no better way to select for fertility than limiting the breeding season and not providing any excuses for open heifers. Additionally, if bred heifers are subjected to a rough winter, they are less likely to fall behind and need additional feed while pregnant," she says.

"Playing nutritional catch-up in mid- to late gestational bred heifers often results in more calving difficulty," she adds. When these management principles are followed, Heartland has seen an 8% improvement in second and third calf re-breed rates.

Building backbone. In New Mexico, Kris Wilson says an important part of his heifer development program is teaching animals to graze in rough canyon pastures. "This requires those heifers to really build foot and bone structure so they are able to cover country and walk to water," he says. "If I'm going to have fallout on heifers, I want it to be their yearling year, not later, because they are still valuable to feed.

"Through this, the heifers learn not to be herd-bound," Wilson adds. "We're stocking at 50 to 75 acres per head, so you really have to teach those cattle to spread out. The grass ecology is so fragile here–especially through a drought—that you'll get blown out areas or weed infestations if it is not managed well. Later, we see the additional benefit of cows calving all across the pasture, which mitigates calf disease challenges."

Make it to year three. Even with everything done right, a heifer's value hasn't begun to be realized until her calf is on the ground and she's rebred in year three. As she continues to grow and gestates her second-year calf, it's critical that her plane of nutrition remains steady or increases, as she is still growing herself, as well as the calf inside. After all you've done to get her this far, remain steadfast and set her on the right path to greener pastures.
What it means to me
Select replacement heifers that fit your production environment, including terrain, weather, forage type and availability, and progeny's end market goals.
A heifer's dam can a good measure of the daughter's ability to remain in good physical condition several years down the road.
Balance heifer nutrition programs between the growth needed to reach puberty and the high-forage diet they need to develop rumen capacity.

Maximize the Herd
The Maximize the Herd Series equips cattle producers with the specific information they need to steer their herds to the next level of profitability. Here's what is in store:

1. Opportunity with Drought
2. Buy Bulls for the Long Term
3. Raise Heifers to Be Better Cows
4. The Best Forages for Your Cattle
5. Handle the Herd with Care

www.BeefToday.com/Maximize_the_Herd
To contact Sara Brown, e-mail sbrown@farmjournal.com.