The Best Farmer Ideas From Cattle Producers, Continued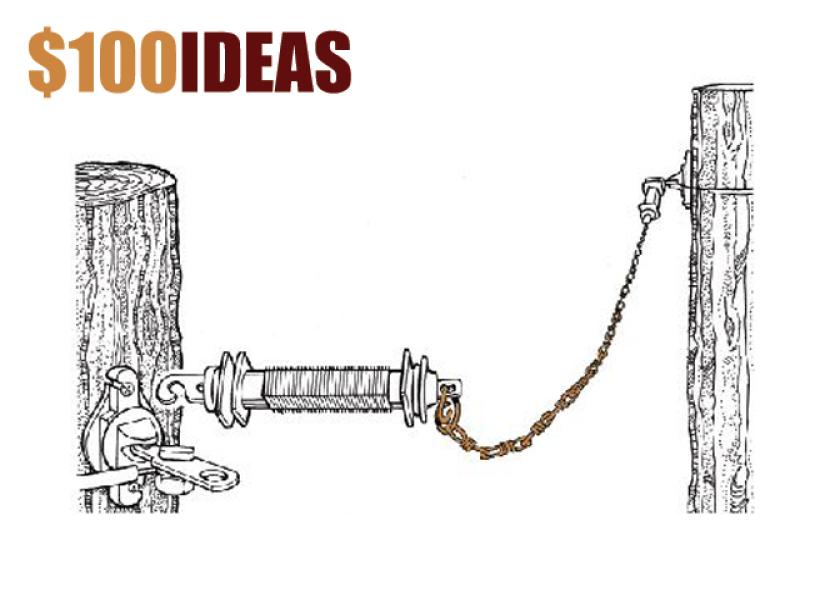 To read part one of this story, click here. 
Non-Kink Electric Fence Gate (pictured above)
Keith Blinson, Lenoir, N.C.
I made an electric fence gate from lightweight chain cut to the desired length. At each end, I added a ⅛"x¾" repair link to attach the plastic handles. I can lay the gate on the ground, then drive or walk over it. It will not kink, roll up, wrap around my leg or stretch. We use these gates on all our electric fences, and they're especially handy for rotational grazing.
Keep Calves From Getting Caught In the Bale Ring
Betty VanLeeuwen, St. Paul, Kan.
My husband, Larry, always had trouble with small calves getting caught in the hay bale ring, so he took some old hay baler belts and wove them around the bottom of the bale ring. The problem was easily solved. He wished he had thought of the idea years ago.
Gates Silenced
Simon Hofer, Sioux Falls, S.D.
My gates were always making loud banging noises that disturbed the cows during milking hours. So I took an old silicone milking inflation and cut off the larger end. I made a slit to insert the hose clamp and attached that to the gate.  Now when you close the gate, they are completely silent.
Net Wrap Holder
Kari Middendorf, Sauk Centre, Minn.
When dealing with large bales, we like to keep the net wrap handy. We used square tubing to build a net wrap holder that hooks over our tractor's front weight bracket. First, we welded four 12" vertical posts to a 40" horizontal base. Then we attached a pair of 7" hooks that slip over the weight bracket. Now the net wrap is always within reach, nestled in the space between the posts and the hooks.
---
Join the $100 Ideas Club
Think you have an idea worth $100? Here's how to submit it!
E-mail $100-ideas@farmjournal.com
Mail Farm Journal $100 Ideas, P.O. Box 1188, Johnston, IA 50131-9421
Be sure to submit your unpublished idea with a description, photo or sketch, address and phone number.
---
Related Articles: