USDA Invites Comments on Oral Rabies Vaccination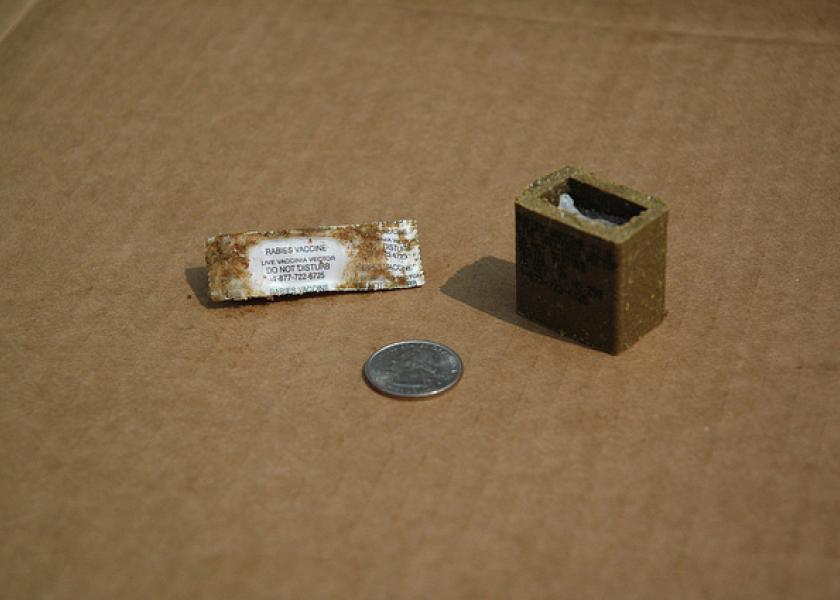 The United States Department of Agriculture's Animal and Plant Health Inspection Service (APHIS) is publishing an environmental assessment (EA) relative to an oral rabies vaccination (ORV) program in nine States. The USDA's ORV program is designed to control rabies in wildlife such as raccoons and skunks. In cooperation with the U.S. Forest Service, APHIS is proposing to expand the distribution of the ONRAB® vaccine in several States to enhance rabies management in the United States to protect human and animal health and to reduce economic and social costs.  The EA analyzes the proposed expanded use of ONRAB® vaccine-baits throughout the ORV distribution zone in Maine, New Hampshire, New York, Ohio, Tennessee, Texas, Vermont, Virginia, and West Virginia.  APHIS will accept comments on the potential environmental effects of this proposed program expansion through August 8, 2019. 
Over the past 30 years, rabies management has grown in complexity in the United States, as wild animals, including raccoons, skunks, foxes, coyotes, and bats have replaced the domestic dog as the primary reservoir for the disease. The USDA Animal and Plant Health Inspection Service's (APHIS) Wildlife Services (WS) National Rabies Management Program was established in 1997 to prevent the further spread of wildlife rabies in the United States. Through the program, WS works with local, state and federal governments, universities and other partners to address this public health challenge by distributing oral rabies vaccination baits in targeted areas. Through the efforts of APHIS and partners across the United States, the program has achieved three significant accomplishments – the elimination of canine rabies; the near-elimination of gray fox rabies in Texas; and stopping the spread of raccoon rabies from the Eastern United States into new areas.
You may review the EA and submit comments here.  
For more on rabies and the potential for vaccinating wildlife, see these articles from BovineVetOnline: USDA Deploys Vaccine Baits to Combat Rabies
Cattle Rabies is no Laughing Matter