Sale Barn Owners in Kansas Indicted in Multi-Million Dollar Fraud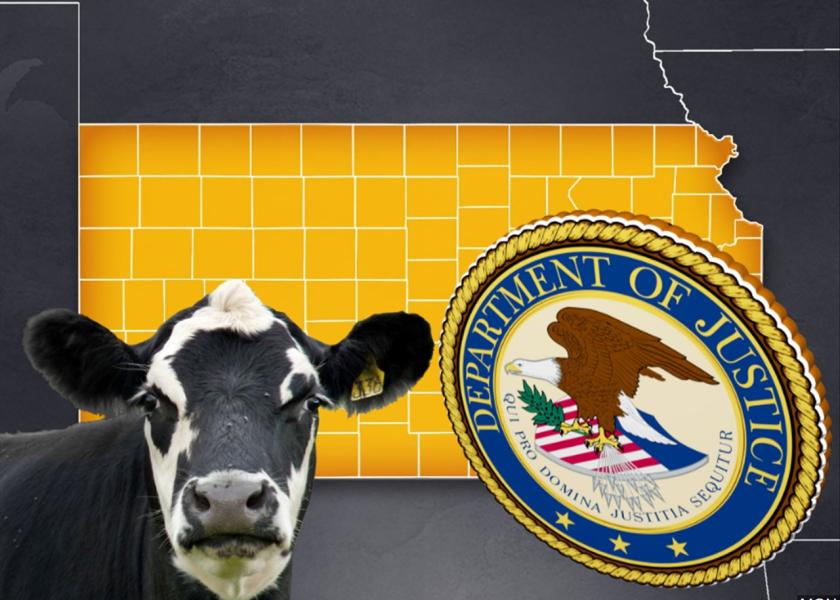 The owners of a sale barn in Kansas have been charged with carrying out a check kiting scheme by federal authorities after the fraud resulted in banks losing millions of dollars. Another case involving the livestock market has also tied up sale proceeds for local cattle producers.
On May 30, the Department of Justice announced that the previous day an indictment had been returned by a grand jury in Topeka. The indictment charges Tyler Gillum, 47, and his wife, Camden Gillum, 50, both of Plainville, Kan., with 31 counts of bank fraud and two separate counts of making a false statement. The Gillum's, who owned Plainville Livestock Commission in Rooks County, had applied for a $1.5 million loan with the Small Business Administration and a $500,000 line of credit with Almena State Bank, both of which were done using false statements.
The Gillum's are alleged to have defrauded Almena State Bank in Almena, Kan., Landmark National Bank in Manhattan, Kan., Colorado East Bank and Trust in Lamar, Colo., Astra Bank in Scandia, Kan., TBK Bank in Dallas, Guaranty State Bank in Beloit and The Bank in Oberlin, Kan.
In the scheme investigators allege that unfunded checks and wire transfers totaling more than $2 billion were sent by Tyler Gillum. From January 2015 to August 2017, a total of 409 wire transfers and 7,584 checks were found through the investigation. Court documents detail that Landmark National Bank incurred a loss at one time of more than $10,000,000. For instance, a list of check transactions shows that five separate checks were deposited to Landmark National Bank on July 21, 2017, totaling $4,717,373.95.
The U.S. Attorney's Office further details that Tyler Gillum was formerly a loan officer for Montezuma State Bank in Montezuma, Kan., and "was well familiar with banking and bank procedures."
Check kiting is defined as "a form of check fraud that takes advantage of the time between presentment of a check and the actual receipt of funds ('the float') to make use of non-existent funds in a checking or other bank account" in the indictment. Check kiting is used to falsely inflate the balance of a checking account in an effort to allow written checks to clear that would otherwise bounce.
Leading the investigation is U.S. Attorney Stephen McAllister and prosecution is being done by U.S. Attorney Rich Hathaway. The case against the Gillums includes investigators from U.S. Department of Agriculture – Office of Inspector General, the FBI, the Federal Deposit Insurance Corporation – Officer of Inspector General, the Federal Housing Finance Agency – Office of Inspector General and the U.S. Small Business Administration – Office of Inspector General.
Bounced Checks Impacting Cattle Producers
The Gillums' alleged fraud has also spilled over to cattle producers when a February 5, 2019, sale hosted by the Plainville Livestock Commission resulted in multiple cattle sellers not receiving payment. A report from KWCH shows that multiple producers had checks bounce from that particular sale day with proceeds totaling nearly $1 million for the day. Checks bounced in a range from several thousand dollars to more than $100,000.
Jason Rathbun, a cattleman who sold half of his calves at the sale on February 5, is out more than $30,000 because of bounced checks.
"We have notes due and our banker basically is working with us a little bit," Rathbun tells KWCH. "But we've had to pay interest on our note. They're giving us a little bit of time to cover the principle but we've had to take from everywhere else, all of our savings, etc. to cover the interest. So it's put us in a financial bind."
Phillips County rancher Derek Stockman has been in a similar case with a check for 41 calves bouncing from that sale. Stockman shared his dilemma on Facebook asking for people to reach out to elected officials about the bounced checks.
In an interview with the Hays Post, Stockman voiced his frustration.
"Everybody says you'll get your money, but I don't know. When is that going to happen?" Stockman asks. "Are they going to pay my interest or are they going to give my commission back? I doubt it."
The bounced check case is being heard in a Norton County court. Documents from that case show the Plainville Livestock Commission moved $916,652.29 from the custodial account to a general operating account. It is alleged that this was done to cover overdrafts in the general operating account.
For more on other cattle fraud cases read the following stories from Drovers: