"The Gut Is the Largest Immune Organ in the Body"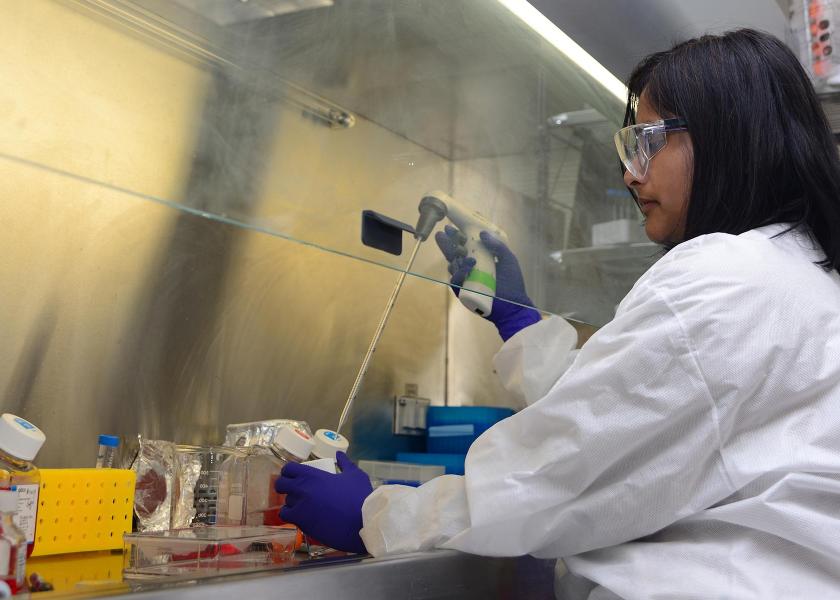 The gut is the largest immune organ in the body, and it may be the new frontier for human and cattle health.
As consumers call for decreased antibiotic use in livestock, the relationship between the digestive and immune systems could allow diet to boost immunity in lieu of medicine, says Ron Scott, Ph.D., director of beef technical innovation at Purina.
"The gastrointestinal tract absorbs nutrients the body needs to be healthy," Scott says, "but it's also a barrier to infection. The gut is the largest immune organ in the body."
Dan Grum, Ph.D., is a scientist at Purina's Emerging Technology Center.  He says the gut's role in fighting infection is aided by a large network of nerves around the digestive system and a population of bacteria within the digestive system.  
"We now realize all of these bacteria in your gut make chemicals identical to neurochemicals made by animals," Grum explains. "Those chemicals are interacting with the nerves, making us feel certain ways."
Scott says the gut also has physical structures to monitor and respond to pathogens.  Pyres patches act as sentinels in the intestines, alerting white blood cells when a pathogen is identified, he says.
The complexity of this system means vitality of the immune system influences the entire animal, Scott explains.
"By priming the immune system, we're influencing infection, oxidative stress, the microbiome, gut health, efficiency, consumption, and also the rumen microbiome," Scott says. "It's influencing a lot of different things."
Scott says this is why Purina's new feed supplement, RX3™ Immune Support Technology, may have such a large impact on boosting livestock immunity.  It prepares the animal to more quickly remove pathogens by priming the entire immune system – all without using antibiotics, Scott says.
"It isn't a drug," Scott says. "It enables the innate immune system to help catch and recover from sickness and to help prevent sickness, too."
Elizabeth Backes, Ph.D., a Purina Beef Cattle Technical Solutions nutritionist, says cattle's immune system on average recognize a pathogen two days sooner than cattle not receiving RX3™ technology.  The quicker immune response means the disease is less serious and typically requires less antibiotics. 
"Imagine it's your kid," Backes says. "It would be like catching a cold early versus letting it develop into strep throat."
Why does this matter? The food market is changing, says Scott, citing a recent Consumer Reports survey in which 78% of respondents said producers should stop giving antibiotics to animals.
"Consumers want us to reduce antibiotics, so what do we do?" Scott asks.
The RX3™ technology  is not the only way nutrition can influence immunity, Scott says. 
Other nutritional influences differ based on the type of immunity.