Demand to Set Another Record
In less than two months, as Russia burned literally and figuratively in its worst drought in history, we transitioned from an ample world supply situation to one in which supply and demand are much more in balance. "The U.S. is an island of supply in a world that needs supplies," says Dan Basse of AgResource. "With crops being trimmed worldwide, we will be the reliable supplier."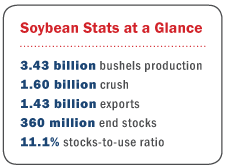 Domestic demand for corn promises to be firm, pegged at 50 million bushels above this past year and carryover equaling less than 10% of use. The soybean outlook isn't quite as rosy, with ending stocks climbing from this past year and equal to 11% of demand. However, "soybeans and meal could be the bigger story in the long term," says Jerry Gulke of the Gulke Group. "USDA has China's bean imports at 49.5 million metric tons [mmt]. Some say the total could be as much as 58 to 60 mmt. They'd have to import roughly a million tons a week."
Corn ethanol use, pegged at 4.7 billion bushels, is up 200 million bushels, just about offsetting feed use, which fell 175 million bushels. Total grain-consuming animal units are up a touch from 2009. Both dairy and beef cattle are down for the third year in a row, squeezed by red ink. Hogs, on the other hand, are up, and poultry is up modestly.
The July 1 cattle and calves inventory fell 1% from this past year. With the smallest calf crop in 50 years, the question is, "When will herd rebuilding start?" Traditionally, the cycle includes six to eight years of increasing numbers followed by three or four years of liquidation.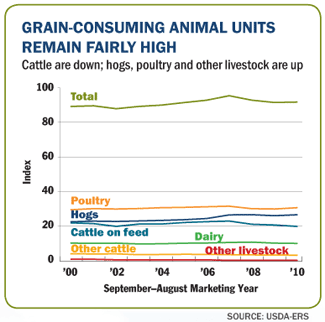 Cattle ranchers in the southern Great Plains lost about $34 on every breeding cow they owned this past year, following losses of $18 a head in 2008, according to Jim Robb, director of the Livestock Marketing Information Center in Denver. "There are some encouraging signs this year," says Tim Petry, livestock economist at North Dakota State University. "Most regions have the best pasture and range conditions in the past decade. Export demand for U.S. beef is improving, with sales up 25% compared with 2009. Cow, bull and feeder prices are better, so it's possible we'll see herd growth begin."
The recent corn price run-up will dampen expansion in hog breeding. Live hog prices surpassed $60 per cwt. this past spring, providing profits of $30 per head. But, based on a survey of 19 economists, pork production will be up only 1% this year, says Ron Plain, University of Missouri livestock economist. Through 2011, they predict quarterly live hog prices at $52.57 to $57.83.
USDA reports the broiler breeding flock is up nearly 2% this summer. Given the continued soft economy, any rapid increase is unlikely.
Exports. Export sales of new-crop soybeans are 35% ahead of 2009's strong pace, Gulke says. "And last year, we knew South America didn't have a big crop."
With USDA showing a net increase of 450 million bushels of corn, wheat and soybeans headed outside the country for the 2010 crop, our ports may be jammed as sales on the books are loaded and shipped out. "Big commercial elevators tell me their loading capacity is booked through December," Basse says. "Everything needs to move smoothly to avoid backlogs."
Jay O'Neil, senior economist at the International Grains Program at Kansas State University, says it will get done; the question is at what cost. "Heavy fall sales aren't particularly unusual," he says.
"If ports are congested, money will talk. Loading facilities can add shifts and work weekends. Some loads can be shifted to a different port. I haven't witnessed anyone turn away business."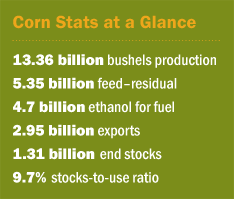 Outside Market Factors. There are economic headwinds that may have a dampening effect on demand, however. "We saw major sell signals in equities," Gulke says. After some improvement, unemployment in July dipped to 9.5%. That doesn't spell a return to luxury dining.
A final question mark is where crude oil is headed, given the relationship between oil and corn. The Energy Information Administration (EIA) expects world oil prices to slowly rise as demand increases because of projected global economic growth, slower growth in non-OPEC oil supply and continued production restraint by OPEC members. A gradual reduction in global oil inventories is expected to lend support to firming oil prices.
EIA projects that the West Texas Intermediate spot price, which ended July at more than $78 per barrel, will average $81per barrel in the fourth quarter and $84 per barrel in 2011. This could lend support to corn prices. —Linda H. Smith

---
Top Producer, September 2010