Texas Cattlemen Face Decisions As Drought Intensifies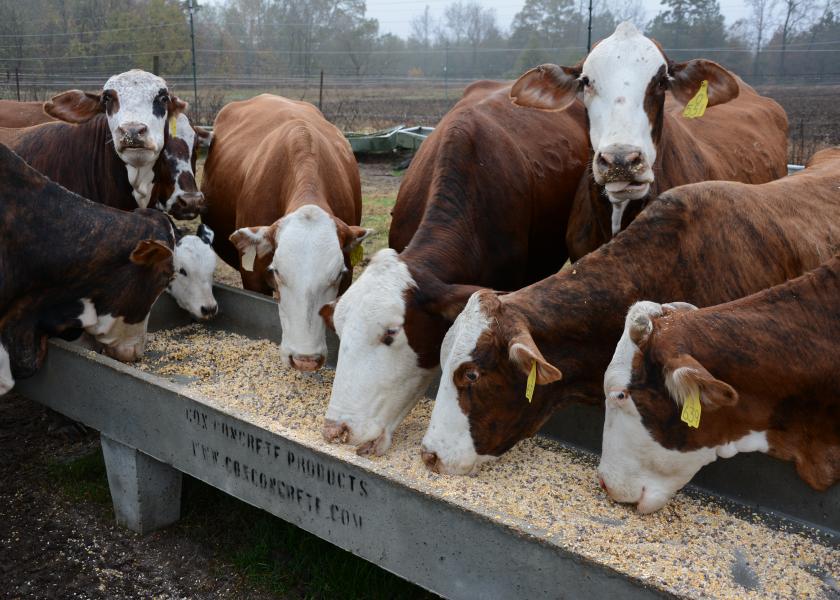 Drought conditions and a drier-than-normal winter has put Texas cattle producers in a common dilemma – try to preserve herd size with supplemental feed or cull to stretch limited forage resources for quality cows and calves, said a Texas A&M AgriLife Extension Service expert.
Jason Banta, Ph.D., AgriLife Extension beef cattle specialist, Overton, said fall and early winter sales and culling is an annual part of raising beef cattle, but the dry conditions will present difficult decisions for many producers around Texas.
The decision to make above-normal herd reductions is made less palatable by lower cattle prices, Banta said. But drought and an expected drier and warmer winter could necessitate decisions that will ultimately impact producers' bottom lines.
Cow and calf prices vary by size, class and locations around the state, but overall statewide beef cattle prices are slightly lower than at this time last year, Banta said. Prices should be rebounding a bit as the industry exits a seasonal dip, but it's time for producers to weigh potential cost-benefit scenarios associated with maintaining herd numbers through winter.
"Producers need to take a hard look at their herds," he said. "It's hard to feed your way out of most droughts in general, and this year is no different especially at current calf prices. Cattle prices will likely increase a little moving forward, but producers need to ask themselves if it will be enough to make up for the additional costs of feeding them until spring green-up."
Banta said producers in drier areas of the state should consider their hay stocks and begin looking to sell older animals or cattle that might be culled for other reasons. Considering the expected winter weather, it likely makes economic sense to move some of those cattle.
It's important for producers to inventory their available forage, whether hay bales, stockpiled pasture or other winter supplementation, and make decisions that will allow them to stretch those resources, he said.
"Some producers are and will be tempted to try and hold cattle until prices go up, because market cow prices generally do go up in March and April," he said. "But they need to consider what it will cost in feed to hold them and whether that potential price increase is enough to offset the expense."