Supply Chain Synergy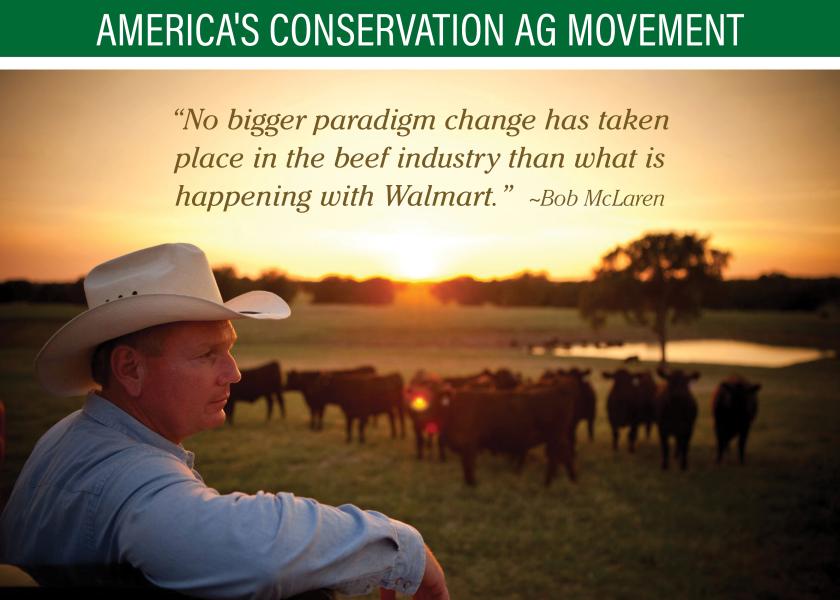 Building trust in food begins with empowering farmers through one of the largest and most diverse conservation- and sustainability-focused public-private partnerships in our nation's history: America's Conservation Ag Movement. To find the latest news and resources related to the Movement, visit AgWeb.com/ACAM.
---
Consumers are more vocal now than ever on how they want their food produced, packaged and provided. That trend is driving companies throughout the food chain to seek new producer alliances.
"Retailers are facing pressures to adopt sustainability metrics, and they're reaching back into their supply chains as a way to track, document and meet sustainability metrics," says Jayson Lusk, Purdue University economist.  
Such corporate initiatives are creating opportunities for producers. 44 Farms was already producing some of the highest quality Angus beef on the planet, and coupled with a family legacy stretching back four generations, it was a natural fit for an aggressive sustainability project by Walmart.
Branded Beef
In April of 2019, Walmart announced a partnership with 44 Farms to create a branded beef program for 500 of its stores in the Southeast. Cattle for the program are sourced by 44 Farms through its Prime Pursuits feeder calf program, with the cattle finished at Mc6 Cattle Feeders near Hereford, Texas.
The cattle are harvested at Creekstone Farms in Arkansas City, Kan., with further packaging completed at FPL Foods in Augusta, Ga.
"By enlisting a number of best-in-class companies to take part in the supply chain, we'll be able to provide customers with unprecedented quality and provide transparency throughout the supply chain," says Scott Neal, Walmart senior vice president of meat.
The retailer's new supply chain effort will create a steady demand for cattle from ranchers and feed-yards offering marketplace stability.
"No bigger paradigm change has taken place in the beef industry than what is happening with Walmart bringing high-quality, all-natural, no-hormones-added Black Angus beef to its customers," says Bob McLaren, CEO of 44 Farms.  
This partnership is an example of how cattle producers can capture more value for their products.
"Beef producers have been working directly with retailers to engage in alliances and relationships for many years to better serve consumers," says Russell Woodward, senior manager, product marketing for the Texas Beef Council. "This is an important relationship for both retailers and producers in the demand-building process."