2009 Soybean Diseases

The following information is a Web Extra from the pages of Farm Journal. It corresponds with the article "Whammed by White Mold" by Darrell Smith. You can find the article on page 44 in the November 2009 issue.



Here are some of the other diseases, in addition to white mold, that were common in Midwestern soybean fields this past season: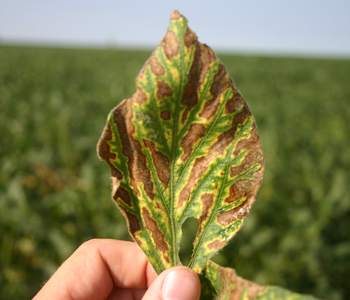 Sudden Death Syndrome

Sudden Death Syndrome (SDS).
"Cool, wet planting conditions were just right for this disease," says Farm Journal Field Agronomist Ken Ferrie. "There is no chemical control available. Some varieties are more susceptible than others."
Bacterial blight and brown spot (also called Septoria leaf spot). These two similar-looking diseases occur frequently, Ferrie says, and rank in the "nuisance" category for most growers.
Downy mildew. This disease shows up frequently in late summer, but usually doesn't impact yield. If seeds become infected, the symptoms can be mistaken for white mold infection.
For more information about Topsin M, Domark and Contans WG, visit these Web sites