Vermeer Celebrates 50 Years Of The Large Round Baler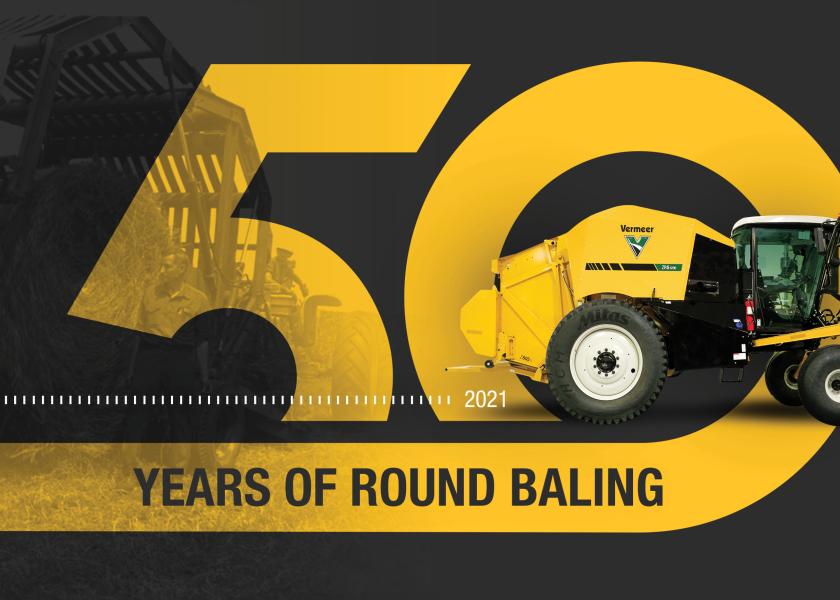 This year marks the 50th Anniversary of the first big, round baler. Gary Vermeer designed the baler – a "one-person hay system" – that he introduced in 1971. His invention had a major influence on how hay and cattle producers harvested hay.
To mark the occasion, the Vermeer Corporation, Pella, Iowa, plans a number of activities throughout 2021.
"When my grandfather successfully brought the big round baler to the market, it forever changed the landscape of hay and cattle farms around the world," said Vermeer President and CEO Jason Andringa. "From hay rings and new styles of hay barns to new attachments for tractor loaders and three-point arms, that baler became the center point of a whole new industry of hay tools. We are excited to celebrate with our team, our dealers and our customers as we reflect on my grandfather's original invention and many of the new innovations we offer today."
Vermeer's innovation in haymaking started a period of seismic evolution that yielded scores of new tools and implements, such as the ZR5-1200 self-propelled baler introduced in 2017. Subsequent innovations have touched nearly every aspect of the hay and forage industry, ranging from how it is harvested, stored and ultimately fed.
The 50th Anniversary will include the following:
Each Vermeer baler built in 2021 will feature a special edition 50th anniversary decal.

Customers and dealers will have access to unique vintage signage, apparel and accessories to celebrate the brand.

Vermeer employees and Pella residents will celebrate the invention of the Vermeer round baler throughout the year with events and displays on the Vermeer campus and throughout the community.

Vermeer will create a 50th celebration website, vermeerbalers.com, that will allow visitors to hear the story of how the Vermeer larger round baler came to be and changed the agriculture industry. Visitors will hear interviews from company leaders, dealers and Vermeer family members as they share memories of Vermeer founder Gary Vermeer. Video and photos are shown on a timeline to highlight the evolution of the Vermeer round baler over the last 50 years. 
To follow along as the company celebrates "50 years of the Vermeer round baler," visit vermeer.com, facebook.com/vermeeragriculture or instagram.com/vermeerag.