3 Tips for Developing Cattle Winter Nutritional Plans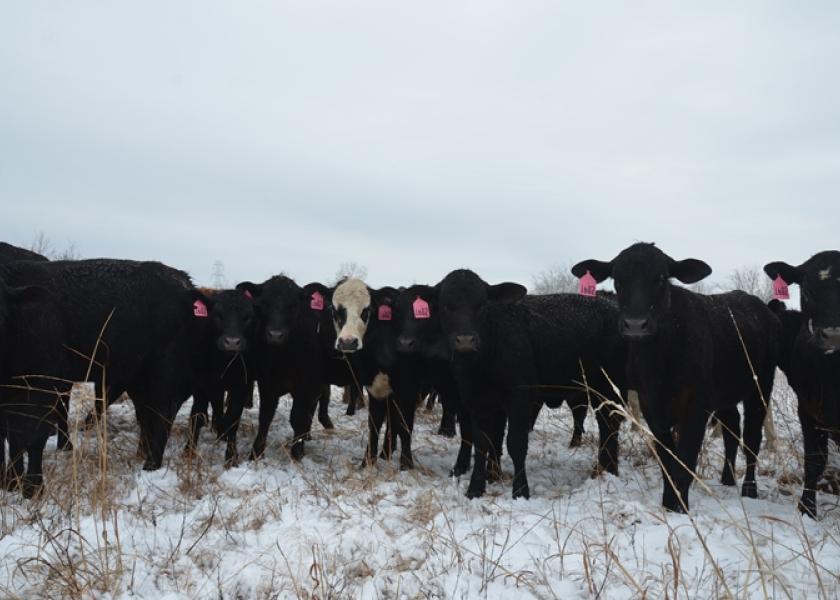 This story was written by Grace Vehige, one of the Sonja Hillgren Memorial Scholarship winners. The experiential scholarship program honors the late Sonja Hillgren, award-winning journalist, former editor of Farm Journal and former president of the National Press Club.  Learn more about Grace and other scholarship winners here. 
Ranchers need cattle to gain weight all year. Unfortunately, colder weather can make that challenging. Plan ahead today for a better, heavier animal tomorrow.
When it comes to preparing cattle operations for winter months, ranchers have many factors to consider. Decisions made prior to cold weather moving in are just as vital as choices made during winter months. Feeding cattle properly is a crucial management task in order to ensure a profit and maintain herd health.
Winter feed and nutritional supplements make up more than half of the annual cost of keeping a beef cow, according to the University of Minnesota Extension. With that in mind, here are 3 tips for developing a winter nutritional plan for herd upkeep and maintenance: 
1. Identify energy requirements for your herd
It is no surprise that energy requirements increase for beef cattle during winter months. One important consideration? Wind and rain. Keeping cattle out of wind and precipitation is key to reducing energy needs.
"The energy requirement of beef cattle increases about 3% for each degree that the wind chill is below 59 degrees F and increases even further in wet conditions," University of Minnesota Extension found.
Evaluating cow performance is another critical step in identifying energy requirements for your herd. Frame size, body condition and state of gestation in females are important factors to consider and can help determine if fed nutrients are being calculated correctly, as well as if the herd is being fed on an adequate distribution.
2. Know the forage you're feeding
To capitalize on feeding forages, understand the nutritional demands for your herd and the quality of hay available. Having forages sent in for analysis can help match forage quality with animal nutrition needs.
For example, "heifers and thin cows require a more energy dense diet, compared to older or fleshy cows," according to University of Minnesota Extension. "Sorting animals into groups based on body condition allows you to feed the available forage more effectively."
However, it is just as important to know if you are feeding too many expensive nutrients as it is to know if you are lacking nutrients. Cattle require energy for maintenance, growth and production; therefore, analyzing the energy, protein and overall nutritional content of livestock feeds is necessary to ensuring that day-to-day production continues.
It is never too late in the year to send forage samples for analysis. Typical laboratory testing results are returned within one week. County extension offices, as well as local feed elevators, have the capacity to test forages.
3. Provide necessary supplements for your herd
Forages do not have all essential nutrients required for healthy herd maintenance, which is why forage analysis is a great tool to identify nutrition gaps. Typical mineral deficiencies in mature forages are calcium and phosphorus.
One easy solution for low nutrients in forage is supplements. Note, mineral programs are dependent on total ration mineral composition.
A study by South Dakota State Extension provided basic recommendations for winter mineral supplementation programs, which include the following:
Provide a trace mineralized salt
Supplement phosphorous when forage is dormant (unless a distiller's grain is being used as a protein source)
Supplement copper if symptoms are present (monitor copper status to avoid reaching toxic levels)
When it comes to providing mineral supplements, many guidelines currently in place are based on generalizations. Therefore, it can be beneficial to develop a custom formula to meet individualized deficiencies dependent on each operation.
These 3 tips for developing a winter nutritional plan are stepping-stone instructions for weather preparation. One of the most important pieces of advice to remember is that preparation can never begin too early. It is better to feed cattle adequately year-round so that energy intake is increased prior to cold weather. After all, it is easier to act now rather than to try to catch up once the winter months are here.