With pastureland scorched, feed costs have skyrocketed. The past decade of setbacks has shrunk Canadian herd to 30-year low. ( Bloomberg )
A scorching drought in Canada's heartland that made grass worthless for feed is causing farmers to consider culling as much as 20 percent of the national cattle herd before winter in a "heartbreaking" nationwide effort.
Canada's cattle industry has suffered one blow after another, starting with an outbreak of mad cow disease more than a decade ago. That's been followed by drought, floods and labor shortages, driving the national herd down to 12.4 million cattle as of July, the smallest since 1988, government data show.
"This is one of the worst years we've ever had," said Larry Maxwell, 60, by telephone from his ranch in Trochu, Alberta. "That's our main source of income, and it was very hard for us to part with the cows. It was heartbreaking."
It can be brutal raising cattle in Canada's heartland. In the winter, you battle arctic winds and frigid temperatures. And in the summer, there can be scorching heat. But at least then there's usually rain to cool things down and make the grasslands green. This year, there was barely a drop.
Maxwell's pasture has been fried as a result, he said, leaving brown, brittle grass in its wake, useless for grazing. In order to feed his 150-cow herd, he's been trucking in expensive feed from 60 miles (97 kilometers) away that's nearly twice the price it was last year.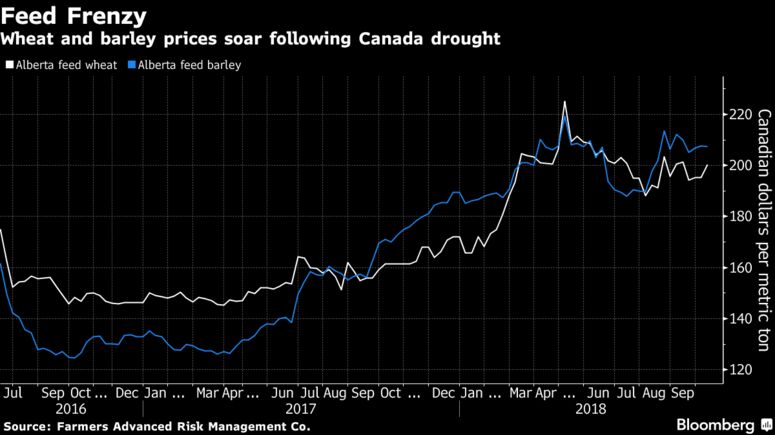 Maxwell had planned to keep his herd size stable this year, but the surging costs have already forced him to cull 30 of his animals, bringing him down to 120, and he's probably going to have sell as many as 10 more to raise the funds he needs to feed the rest during the winter freeze. It's a story playing out across Canada, the world's sixth-largest beef exporter.
Ranchers will probably cull as much as 20 percent of their herds this year, since animals usually need even more feed during the coldest months, said Charlie Christie, chair of Alberta Beef Producers.
"We've been wanting this herd to grow for several years now," said Christie, who moved his animals to a feed yard a month early and has been using canola straw to help supplement feeding. "We're going to see a smaller herd."
Unfortunately for consumers, the increased slaughter is unlikely to dramatically reduce domestic beef prices in the short term as demand remains relatively strong, Christie said. At the same time, there's been a boom in U.S. meat production, which will also keep global supplies ample.
Hay Costs Soar
For Canada's ranchers, the problems intensified this year when swaths of Alberta, the nation's largest beef producer, got less than 60 percent of normal rainfall throughout much of the crop-growing season. The dry conditions deteriorated pasture conditions and sent the price of hay soaring to twice as much as a year earlier. The cost of feed barley in Alberta is near the highest in at least three years, according to data from Winnipeg-based Farmers Advanced Risk Management Co.
As ranchers have been forced to sell more animals, cattle-auction marts opened earlier than they typically do in fall and sales have already been busy, said Brian Lemon, general manager of Manitoba Beef Producers. The number of cows for sale is up more than 10 percent this year, pushing some cattle prices to the lowest in years, said Brian Perillat, a senior analyst at Calgary-based Canfax, the market analysis division of the Canadian Cattlemen's Association.
"Moving forward, we thought we'd hopefully reverse the shrinking trend and start to grow," Perillat said by phone. Instead, "we'll continue to probably see our slaughter and marketings be above a year ago" as ranchers cull, he said.