Where's Your Herd Headed?
The national cowherd continues to decline and prices are good, but is it time to expand?
These are interesting times, for sure. Good prices usually mean that producers are ready to jump in with both feet and add more cattle. However, for some producers, it means carefully analyzing what the market is doing and creating a plan of action to put them in an optimal position to take advantage of opportunities, and that doesn't always mean expanding.

Back in 2003, Jack Reich, owner of Reich Angus near Zap, N.D., did just that. His family was having trouble finding and affording the manpower to maintain and grow beyond the 400-head commercial herd they had built.


"It is not that I would not like to expand, it is just hard for a family operation to do in this part of the country," Reich says. "North Dakota has the lowest unemployment in the nation due to the oil fields and good economy here. Anybody worth hiring already has a good job, and a ranch just can't compete."
Rather than fight for labor to manage a larger cowherd, Reich decided to downsize and change the focus of his production strategy. Fortunately, he sold off most of the commercial herd in December 2003, right before a BSE cow was reported in the U.S. and the cattle market was sent into a tailspin. The good prices he received helped him to pay off debt and better position his family's ranch to purchase and lease land closer to his home. It also allowed him to change his production strategy and create a business and lifestyle that was more manageable at 300 head.
For the next several years, the ranch's production moved from commercial to a seedstock Angus herd. "We chose to move to seedstock because it is value-added," Reich says. "What I mean by that is that you still have the same inputs with the land and feed, but you are able to get a better return on investment, as registered seedstock typically brings more than commercial animals."
Know what position you're in. Careful thought and consideration are needed to make these plans, which will impact your ranch for years to come. A key part of the process is to know your financial position. Kevin Dhuyvetter, a Kansas State University agriculture economist, analyzes average returns on farms for low-, medium- and high-profit cow–calf producers.

"Make sure you know where you stand relative to average in your region and state," Dhuyvetter says. He suggests participating in a benchmarking or Standardized Performance Analysis (SPA)program.

"Then, if you are better than average, seriously consider expansion if you can do so without going overboard on input costs," Dhuyvetter says. For instance, he explains, expansion might be profitable if you do not have to run up pasture rents to get additional land or you can add cows or heifers at a reasonable price. "Expanding needs to be consistent with long-term goals," he says.

For operations that are below average, first find out why and address that issue first. Expand only if it helps alleviate the problem.  For example, expansion might help you become more competitive if it allows you to capture economies of scale. 

David Anderson, economist at Texas A&M University, says anyone looking to expand should carefully analyze cost of production and break-even calculations to understand what impact an expansion will have on costs, not just potential returns.

Dhuyvetter adds, "Develop projected returns from the expansion and do sensitivity analysis around key factors, such as prices and costs, to see how being wrong will impact your business."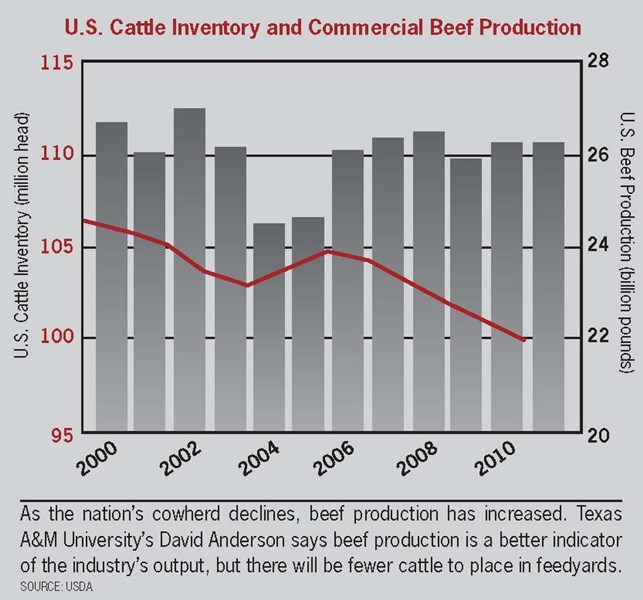 Dealing with increasing costs. Yes, cattle prices are good now, but so are prices for inputs—including replacement animals, tractors, fertilizer and land.

"The tractor I bought several years ago now would cost $140,000 to replace, and a baler that I bought for $15,000 now costs $35,000 to replace," Reich says. "While cattle prices have gone up, they aren't double."

That's why careful analysis of costs is essential to planning the future direction of any business. Taking on more debt to expand may not be wise if it will eventually force you out of business when interest rates rise or the tax structure changes.

Also consider the availability and cost of land. "Crop prices have supported land values," Anderson says. "The need for more cropland is reducing the amount of pastures available for grazing." Land values, like all input costs, will continue to fluctuate. The key is to be in a position to take advantage of opportunities when they present themselves.

Reich takes the approach that when cattle prices are good and the tax structure is favorable, he uses any extra money to pay down debt so that when land becomes available in close proximity to the home place, he can purchase or lease it.

"Right now, my oldest son is nine. Eventually he may grow up and want to be a part of this ranch business, and then we may want to expand," Reich says. For now, his approach is to keep herd numbers manageable, and then see when his kids are older if expanding makes good sense for the business.