Three Steps to Help Stop BRD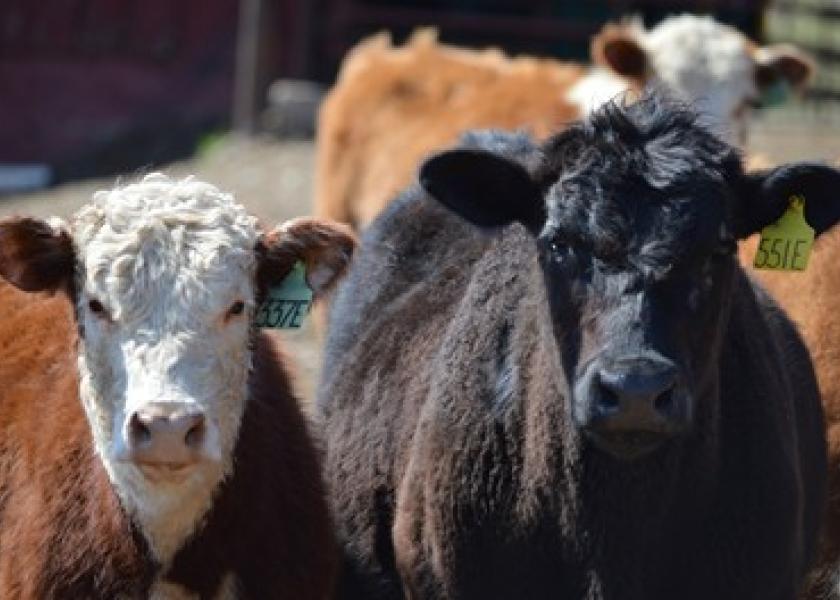 According to a recent study, there's a direct correlation between a calf persistently infected (PI) with BVD and the need to treat it for BRD in the feedlot. 
Che Trejo, DVM, MS, of Zoetis Beef Technical Services, outlines how three key management strategies can help cattlemen reduce exposure to BVD, improve the overall herd health and arm them for winning the battle against BRD in calves at marketing time. 
It's estimated that nearly 9% of beef cattle operations have a calf persistently infected (PI) with bovine viral diarrhea virus (BVDV).1 This might seem like a small percentage, but presence of BVDV can mean a risk for something more. Producers are 43% more likely to need to treat bovine respiratory disease (BRD) in feedlot calves exposed to a BVD-PI animal, a study found.2
Reducing exposure to BVDV is an important place to start in the battle against BRD: 
• Step 1: Vaccinate the cow herd before breeding. Only 28% of operations report vaccinating cows for BVDV.1 Yet, a nonvaccinated cow herd is like an uninsured driver out on the road. No contact, and you likely won't have any issues. But any contact, and you could have a costly disaster. 
Modified-live virus (MLV) vaccination program: BVDV is most commonly spread by a PI animal acting as a carrier for the virus, so using MLV vaccines that offer protection against BVD-PI calves are the most effective way to protect the cow and unborn calf.3,4 Look for a specific statement on the vaccine label that the vaccine prevents calves from being persistently infected with BVD Types 1 and 2 viruses. 
Alternative vaccination program: If you can't implement or maintain a pregnant cow MLV vaccination program, research demonstrates there's an effective alternative. Heifers can be given two prebreeding doses of Bovi-Shield Gold FP® 5. This can be followed by either annual revaccination with the same MLV vaccine or CattleMaster Gold FP® 5, a combination inactivated BVD vaccine containing a temperature-sensitive infectious bovine rhinotracheitis (IBR) component. The study demonstrated effective protection against BVD or IBR exposure with both cow herd vaccination program options.5 
• Step 2: Test and remove PI calves. While producers are generally aware of BVDV, a study shared only 4.2% of operations reported testing calves for persistent infection with the virus.1 However, 70% to 90% of BVD infections are subclinical — so most PI calves appear normal — but these animals continually shed the virus and pose a constant risk of exposure to nonprotected cattle.3 
Test all calves before bull turnout and any incoming cattle, including heifers, cows, bulls and calves born from purchased pregnant cows or heifers. Dams of any positive calves also need to be tested. 
• Step 3: Protect young calves from BVDV. Protecting the unborn calf with a cow herd vaccination program is step one. Another important step is implementing an effective young calf respiratory program that protects against bovine respiratory syncytial virus (BRSV), IBR, parainfluenza 3 (PI3), BVD Types 1 and 2 viruses and Mannheimia haemolytica. BRD has many causes and complexities, but BVDV Types 1 and 2 are two of the major viral causes of BRD. BVDV also suppresses the immune system, which can lead to secondary infections from BRD pathogens. 
BRSV vaccination at birth with an intranasal vaccination followed by a booster vaccination at branding may have some disease-sparing effects during summer exposure to BRSV, according to a study in Montana.6 
Vaccination on arrival at the feedlot alone with Inforce 3® and One Shot® BVD (no antibiotic on arrival) has been shown to significantly reduce (p = 0.01) second and third treatments for BRD when compared with another vaccination protocol.7 
These steps to help control BVDV in the cow/calf operation can reduce the potential of a BVD-PI animal, improve overall cattle health in your herd and help reduce the risk for BRD in the calves you sell. 
For more information on controlling BVDV in your cow/calf operation, work with your herd veterinarian or visit FetalCalfProtection.com for information on a complete range of cow herd vaccinations from Zoetis. For more information and articles about managing BRD, visit BRD-Solutions.com/Insights. 
References:
1 U. S. Department of Agriculture Animal and Plant Health Inspection Service. Prevalence and Control of Bovine Viral Diarrhea Virus on U.S. Cow-calf Operations, 2007 08.                                                                                                                                                                   
https://www.aphis.usda.gov/animal_health/nahms/beefcowcalf/downloads/beef0708/Beef0708_ir_BVD.pdf.  Published August 2010. Accessed May 1, 2019. 
2 Loneragan GH, Thomson DU, Montgomery DL, Mason GL, Larson RL. Prevalence, outcome, and health consequences associated with persistent infection with bovine viral diarrhea virus in feedlot cattle. J Am Vet Med Assoc 2005;226(4):595-601. 
3 Khodakaram-Tafti A, Farjanikish GH. Persistent bovine viral diarrhea virus (BVDV) infection in cattle herds. Iran J Vet Res. 2017;18(3):154-163.
4 Newcomer BW, Givens D. Diagnosis and control of viral diseases of reproductive importance: infectious bovine rhinotracheitis and bovine viral diarrhea. Vet Clin North Am Food Anim Pract. 2016;32(2):425-441.
5 Walz PH, Givens MD, Rodning SP, et al. Evaluation of reproductive protection against bovine viral diarrhea virus and bovine herpesvirus-1 afforded by annual revaccination with modified-live viral or combination modified-live/killed viral vaccines after primary vaccination with modified-live viral vaccine. Vaccine. 2017;35(7):1046-1054.
6 Data on file, Study Report No. 16CARGBIO01, Zoetis Inc.
7 Krehbiel CR, Hixon C, Step DL, et al. Evaluation of commercially available multivalent modified-live viral vaccines on health and performance in feedlot cattle. JJ Vaccine Vaccination. 2015;1(3):1-8.
Sponsored by Zoetis